Ocean and Air Freight Market Update – July 2023
Trading Giants Unveiled - Main Carriers' Specializations and Global Dominance Revealed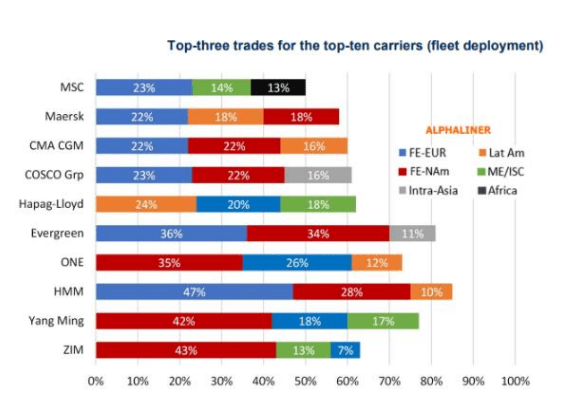 Leading carriers in the shipping industry have distinct trading profiles, as revealed by Alphaliner's analysis. Market leader MSC has a significant presence in the Middle East/Indian Subcontinent and Africa-related loops. Hapag-Lloyd takes the lead in Latin American trades, while Cosco and Evergreen specialize in intra-Asia routes. CMA CGM and Cosco deploy the majority of their fleet on Asia outbound lanes to Europe and North America. HMM focuses on Far East-Europe trading, while Yang Ming prioritizes the Transpacific trade. Although Zim still dominates the Transpacific route, it has also expanded its operations on the Asia-Europe route independently after terminating its cooperation with 2M.  
It's important to note that these profiles are based on ship capacity and may differ when considering actual carryings or operating income. Additionally, trades with longer sailing distances require more tonnage and can influence the allocation of resources. 
Ocean Freight Updates – July 2023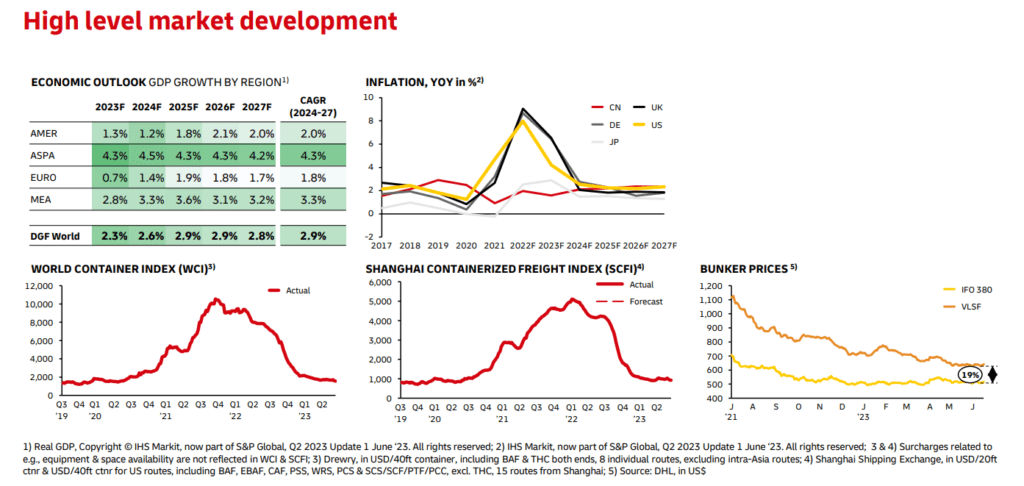 Key 

++ 

Strong Increase 

+ 

Moderate Increase 

= 

No Change 

– 

Moderate Decline 

— 

Strong Decline 
Middle East – North America
The space is available on the USEC and USWC. The only direct services to USEC will be available when IN2 will call JED. The FAK rates remains above the pre-Covid levels. 
Capacity — (+) 
Rate — (+) 
Note: The carriers are aggressively pricing the NAC deals.
The carriers are offering open allocations and special spot rates for this trade lane; whereas the rates continue to drop.  
Capacity — (=) 
Rate — (-) 
The space is fairly available for this trade lane and the freight rates are still competitive.  
Capacity — (=) 
Rate — (=) 
Middle East – Latin America
Most of the carriers have opened the space and with advance forecasting, the bookings can be managed. 
Capacity — (=) 
Rate — (=) 
As the demand for white goods resurged, the volume remains strong in the Middle East. Some of the carriers have deployed the extra loaders silently.
Capacity — (-)
Rate — (+)
Note: Space is predicted to be full for the month of July.
North America – Middle East
The overall market is competitive; however, the signs are indicating a step toward stabilization.   
Capacity — (=) 
Rate — (-) 
Latin America – Middle East
The overall export rates of Latin America are decreasing; however, the market rates remain stable for the Mideast. 
Capacity — (=) 
Rate — (-)
Few departures with the Ocean Alliance are fairly utilized and shipping rolling notification is received. The rate level in July is expected to be softer in comparison to June.  
Capacity — (=) 
Rate — (=/-) 
Note: 2M and The Alliance are open for bookings. 
Air Freight Updates – July 2023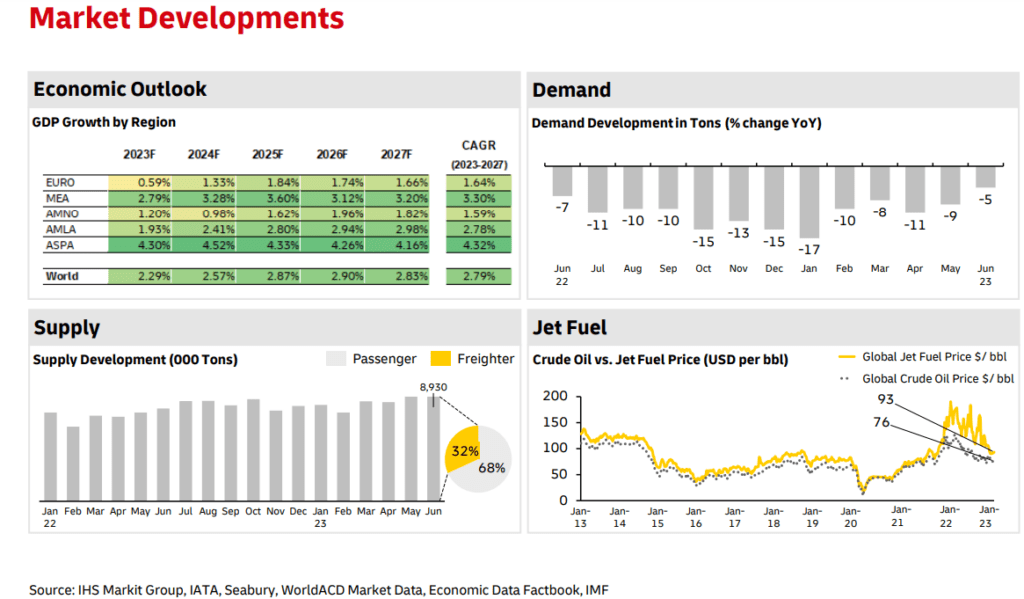 Demand: Volumes remain low; however, there is an increase observed in MoM. The increase in inflation is still influencing the world economy, which has led to high inventories and low purchasing powers, leading to lower demand. 
Capacity: There is fair capacity available for the current levels of volume. The belly capacity has improved as passenger travel has increased.  
Rates: There are competitive spot rates across most trade lanes, with a slight increase observed in specific trade lanes. The predictions have indicated stability in long-term rates toward H2 2023.  
The Middle East and Air Carriers
In May 2023, Middle Eastern carriers witnessed a 3.1% decrease in cargo volumes compared to the same month in the previous year. However, this represented a slight improvement in performance compared to the previous month, where they experienced a decline of 6.7%. Additionally, capacity in the region increased significantly, rising by 15.6% compared to May 2022. 
With the upcoming Northern Hemisphere holidays, the air freight capacity is now recovering and improving. Furthermore, the ecommerce cargo is experiencing stable demand; whereas the demand for general cargo remains weak. On the other hand, the rates are still holding and are stable. 
In May 2023, North American carriers experienced a decline in cargo volumes for the third consecutive month. However, the decrease of 8.1% was slightly better than the previous month's performance, which saw a decline of 12.4%. Notably, the North America-Europe trade lane witnessed a contraction in volumes for the third month in a row, with a decline of 10.3%. On the other hand, capacity in the region increased by 1.2% compared to May 2022. 
In contrast, Latin American carriers had a positive performance in May 2023, with a 3.6% increase in cargo volumes compared to the same month in the previous year. This improvement in performance was a turnaround from April, where they saw a slight decline of 1.6%. Additionally, capacity in Latin America experienced significant growth, rising by 14.7% compared to May 2022. 
In May 2023, European carriers experienced a decrease in cargo volumes, with a decline of 6.7% compared to the same month in the previous year. However, this performance was better than the previous month's decline of 7.7%. One factor contributing to this improvement was the smaller annual contraction in international Cargo Tonne-kilometers (CTKs) on the Europe-Middle East trade lane, which decreased from -4.7% in April to -2.9% in May. The decline in international cargo traffic within Europe also showed improvement, decreasing from -16.2% in April to -7.8% in May (seasonally adjusted). Additionally, capacity in the region increased by 5.6% compared to May 2022. 
Shipping News – United Arab Emirates – July 2023
UAE GCAA has published the list of Dangerous Goods Certified Entities as of 5th June 2023. Read More
Effective from 15th June 2023, it will be mandatory to get ECTN for all the shipments heading to Djibouti. The shippers, freight forwarders, and exporters can obtain it from the port of loading. Read More 
One has launched a bank direct debit/credit card payment feature in their online payment services. The customers can now submit the payment online for requesting a Delivery Order (DO) using Dubai Trade Portal. Read More 
Dubai Trade is now facilitating the importers and the agents to request for Delivery Order electronically, make online payments, and exchange documents using a secure login. Visit the website for details. 
CMA CGM has revised the Late BL fees. This will be applicable to export shipments of all sectors. Read More 
CMA CGM is implementing empty container drop off fee on all the cargo bound for Zanzibar, with DAR es Salaam of Mombasa as ports of discharge on the BL. Read More 
Shipping News – United Arab Emirates – July 2023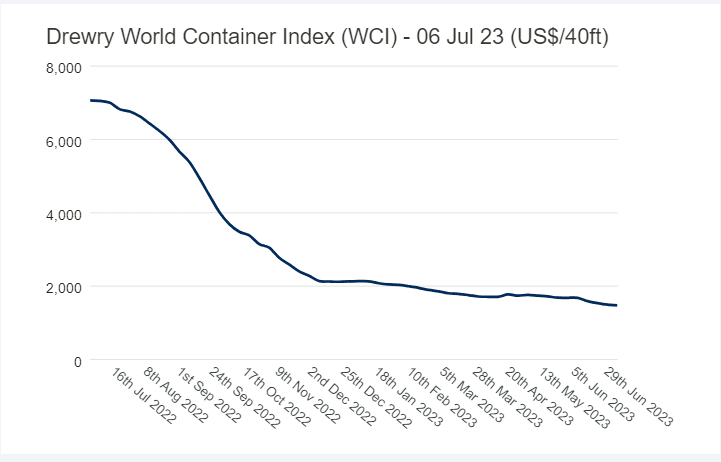 The Drewry's World Composite Index (WCI) has reduced by 1.3% and reached $1,474.32per 40-ft container in the first week of July 2023. 
United States of America (USA)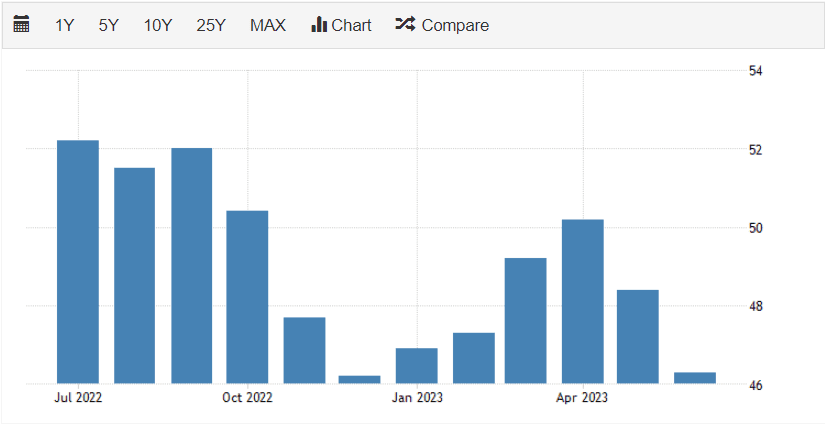 The Drewry's World Composite Index (WCI) has reduced by 1.3% and reached $1,474.32per 40-ft container in the first week of July 2023.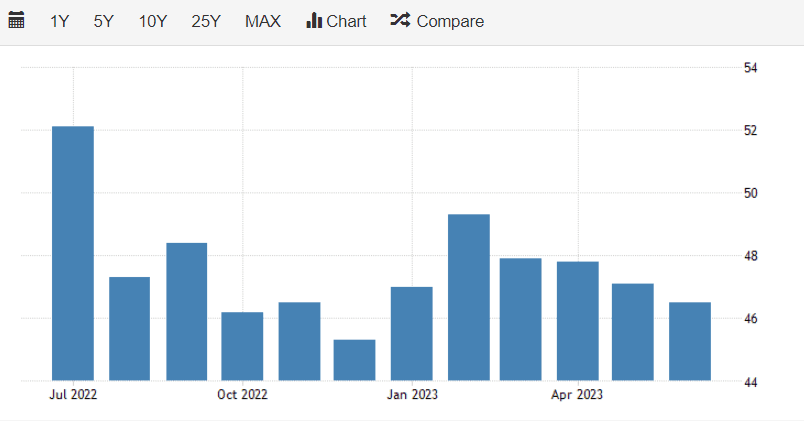 The manufacturing PMI of the UK has increased to 46.5 in June 2023. However, the latest value is the lowest noted in the 6 months. It is due to a contraction for the last 11 consecutive months. The output has been contracting for the last 4 months, but the pace of reduction is slower this month.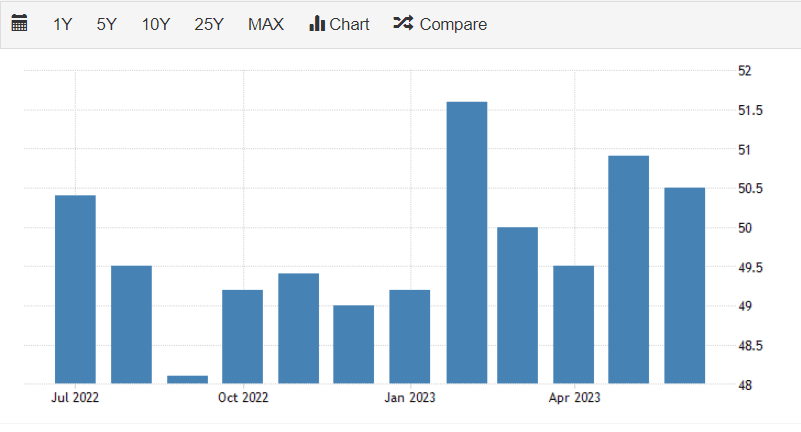 The manufacturing PMI of the UK has increased to 46.5 in June 2023. However, the latest value is the lowest noted in the 6 months. It is due to a contraction for the last 11 consecutive months. The output has been contracting for the last 4 months, but the pace of reduction is slower this month. 
United Arab Emirates (UAE)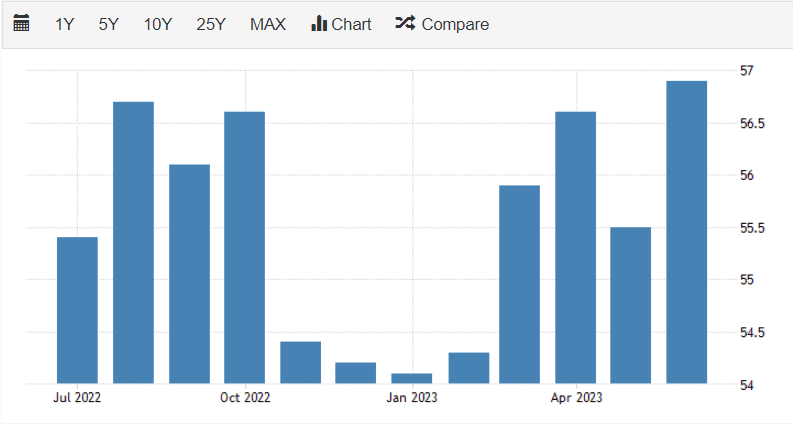 The PMI value of the UAE has increased to 56.9 in June 2023 from 55.5 in the previous month. This shows a significant improvement in the business conditions. Furthermore, stronger customer demand has led to an increase in the new orders and the promotional activities have caused the expansion in the output.  
Global Interesting News – July 2023
Digital Pulse: Air cargo industry migrates to e-booking Read More
Air India affiliate bolsters local fresh produce shipments Read More
Europe's airports return to profitability Read More
Air cargo market to rebound slightly in 2024 Read More
Drones to deliver dangerous goods in Canada Read More
DHL Group plans fully automated Helsinki facility Read More
Maersk bolsters intercontinental airfreight network Read More 
IAG Cargo adds Heathrow to Cincinnati route for e-commerce Read More 
IATA looks to bolster African air safety Read More
Renovated warehouse opens at ORD Read More
Robot in 1st test run at Munich Airport cargo terminal Read More
Flat air cargo market continuous through June Read More
MSC Air Cargo partners with IBS Software to power its global air cargo business Read More
Etihad Cargo boosts pharmalife product efficiency Read More 
Lufthansa Cargo adds third A321 freighter Read More
EL AL interlines with Bamboo Airways and Astral on cargo Read More 
Air China Cargo extends partnership with Lufthansa Cargo in Chengdu Read More 
EV Cargo expands in Southeast Asia Read More 
Qatar Airways Cargo to host IATA Cargo Hackathon Read More
Cargo handler CHI completes TIACA sustainability programme Read More
Swissport adds new Dublin Airport pharma facility Read More
Boeing delivers Iraqi Airways' first 787-8 Dreamliner Read More
Qatar Airways Cargo is the First Airline Globally to Complete the Suite of IATA CEIV Certifications Read More
Etihad Cargo expands European Road Feeder Services to 90 Airports across 27 Countries Read More
JAL to start domestic freighter next year Read More
Maersk Air Cargo strengthens growing network Read More 
Changi Airport outlines top priorities for cargo Read More
Emirates SkyCargo and Air Canada Enhance Cargo Interline Cooperation Read More
Emirates SkyCargo to Double its Capacity in Next Decade Read More 
Omni Air International operates Asia-Europe routes for MIAT Read More 
Dubai's DP World keeps London on container trade map Read More 
Container spot market: up or down ahead of late peak season? Read More 
Tentative US West Coast port contract deal reached, union and employers say Read More
Seafarer labour market tightest on record Read More 
Canada dock strike continues as mediation resumes Read More 
Blank sailings hit lowest level since the pandemic Read More
MSC continues purchase spree of secondhand ships Read More
Emerging from pandemic fog, global reefer market reverts to type Read More
Container volumes getting back to trend after pandemic surge: analyst Read More 
Schedule reliability continues to improve Read More 
Greece seen stalling on new EU sanctions package on Russia that targets dark fleet ships Read More
Critical level approaching for trans-Pacific spot rates Read More
Saudi Arabia Urges Improved Maritime Security in Gulf Read More 
Mitsubishi Shipbuilding and NYK Line obtain approval for ammonia and LCO2 carrier Read More 
Valencia port establishes hydrogen pathway for European ports Read More  
Hapag Lloyd increases rates from Middle East / Indian Subcontinent to US East Coast Read More
CMA CGM revises peak season surcharge from Indian Subcontinent to US East Coast Read More
Port of Oakland gets "green light" and funding for green power project Read More
THE Alliance set to raise capacity on Asia-North Europe service Read More 
Congestion at Mundra Port hits vessel productivity for carriers Read More
CMA CGM updates service connecting Med ports with Turkiye Read More
Vietnamese port launches container handling service Read More
HMM announces new service linking Far East, India and Mediterranean Read More 
Little sign of congestion on day three of Canada's port strikes Read More 
Ascent, Descent and Crescent in the ocean freight industry – an independent analysis Read More
A.P. Moller – Maersk adds Sohar port call to the 'Shaheen Express' further strengthening its commitment to Oman Read More
DP World in talks to expand East African coverage to Tanzania Read More
Nations Haggle Over Targets to Cut Shipping's Huge Emissions Read More
COSCO finalizes Hamburg terminal stake buy Read More 
Contract rate decline puts capacity at risk Read More
Teamsters at ABF Freight ratify new labor deal Read More 
United Road under new ownership in swap of debt for equity Read More 
Trucking spot rates should be on the rise: ACT Research Read More
Batteries on freight trains could be tapped to support the power grid in emergencies: study Read More
Tracking the speed, dwell and cars of Class I railroads Read More 
U.S. rail carload and intermodal volumes are down, for week ending June 24, reports AAR Read More
Rose Rocket, whose platform helps transportation companies communicate, raises $38M Read More
Trucksters shifts into high gear with €33 million series B funding Read More 
Munich-based FERNRIDE raises €29 million to solve autonomous trucking with human-assisted approach Read More
Logistics Startup Next Trucking Tries to Sell Itself Read More 
US to conduct safety review of all major railroads Read More
Trucking marketplace Convoy makes more layoffs, citing customer-service efficiency gains Read More 
Electric Vehicles Continue to Race Ahead in Market Share: Study Read More 
'AI revolution' set to drive into Felixstowe with robot truck fleet Read More 
Gebrüder Weiss strengthens German air and sea network with acquisition Read More
DSV is ready to deliver packages to ships and wind turbines with drones Read More
The negotiations for shipping's new climate targets are gridlocked Read More 
Bank points to capacity as the box market's biggest challenge Read More 
Valencia promotes hydrogen for green terminals Read More 
Co-operation needed on lithium-ion battery carriage risks Read More
Borderlands: Texas vertical farms designed to disrupt fresh produce supply chains Read More
Consumer staples earnings reports bring yet more evidence of demand weakness Read More
Improving operations and reducing costs through better facility data Read More
5 things shippers should know about real-time freight procurement Read More
FedEx to close sites in Texas, Georgia Read More
AD Ports Group completes Noatum acquisition Read More
Global shipping can halve emissions without impacting trade: New study Read More
MSC reports progress in sustainability initiatives Read More
Supply chain startup Baskit supports Indonesia's middlemen Read More 
Insight Partners backs Germany's SPARETECH in €10M round: Know more Read More
Y Combinator-backed Rever aims to modernize refunds and returns Read More
Nigeria's Haul247 raises funding to scale its logistics platform Read More 
enabl sammelt 3.2 Millionen Euro in Pre-Seed Finanzierungsrunde ein Read More 
Onebeat secures $10 million Series B for AI-enabled supply chain solutions Read More 
Revolutionising freight forwarding: Cargofive snaps €1.8M to drive digital transformation Read More 
All you need to know about Cold Treatment Sterilisation for shipment of fresh produce Read More 
Retailers Are Shrinking Logistics Operations in a Changing Consumer Market Read More 
Prologis To Acquire 14msf Blackstone Industrial Portfolio In $3.1 Billion Deal Read More
Kuehne+Nagel Acquires South African Freight Forwarder Morgan Cargo Read More
DoKaSch Temperature Solutions Announces Business Expansion in Asia-Pacific Read More
China Smartphone Shipments Back to Double-Digit Growth in May Read More
Flotilla of Saudi Oil Tankers Near the Suez Shrinks a Little Read More
Gebrüder Weiss acquires freight forwarder B+A Read More
DRY BULK QUARTERLY: Atlantic Supramax market adopts a cautious stance Read More
Kazakhstan Kashagan expansion projects progressing 'well,' amid legal battle Read More
GPT-4 is set to radically change supply chain network design Read More
AD Ports Group acquires Spanish logistics major Noatum for $720 million Read More 
Proposed US bill targets China, Russia imports Read More 
Solid economic conditions for shippers remains intact, observes FTR's SCI report Read More
ICC releases eUCP V2.1 (Uniform Customs and Practice for Documentary Credits) Read More
Enigio completes first end-to-end paperless digital trade document transaction Read More
China's Share of U.S. Goods Imports Falls to Lowest Since 2006 Read More
U.S. Struggles to Turn Steel Imports 'Green' With Tariffs Read More
DHL Express Expands Export Service from Thailand to the United States for Non-Perishable Plants Read More
China's Chip-Metals Producers Surge on Export Restrictions Read More
China's Importing So Much Coal That Local Miners Are Suffering Read More
Wheat Climbs to Four-Month High as Traders Assess Russia Risks Read More
South Korea Early Exports Hint at Budding Global Recovery Read More
Germany Secures a Deal to Get Kazakh Oil for Crude-Starved Refinery Read More
Indonesia to Ban Copper Exports Once Freeport, Amman Plants Open Read More
Oil Tankers Avoid Nigeria After Multimillion-Dollar Tax Bill Read More
Africa gets single portal for trade services Read More 
UK targets e-commerce exports boost with new trade commission Read More 
Ukraine axes ban on ECA-backed loan repayments Read More
Digital trade set to propel intra-Commonwealth trade to US$2tn Read More
Facilitating trade and transit in developing countries Read More
India initiates safeguard investigation on metcoke imports Read More
Ukraine grains exporters turn to Danube ports, heating competition with iron ore, steel shipments Read More
Brazil's record $91.8 bil funding to boost agriculture, support global food security Read More
France, Germany, Italy agree to strengthen cooperation on critical raw materials supply Read More
Iraq launches 6th licensing for gas exploration blocks to halt Iranian imports Read More
UN defends grain deal and progress on facilitating Russian agricultural products Read More
Consultant's Insight: FedEx invests in Floship to expand cross-border e-commerce capabilities Read More
DHL rebrands corporate name, e-commerce division Read More
Philippine Ecommerce Marketplace Startup Shoppable Business Closes $1.15m Pre-seed Round Read More
ShipBob Taps Former Amazon Exec, Takes E-Commerce Services to Stores Read More 
Amazon doubles storage capacity with new fulfilment centre in Riyadh Read More 
FedEx, Floship Partner To Provide Enhanced Logistics Services To E-retailers Read More
Maersk guns for Indian e-commerce fulfillment pie Read More
Our customer service team is happy to assist you with planing your next booking.