Global Shipping & Logistics Market Update – April 2023 
Slowdown Visible in Fourth Quarter of 2022 – Carrier Financial Results
The year 2022 was considered to be a record year for container carriers, however, the last quarter showed another story. Therefore, when the carriers showed their record results, they also alerted us that the current year will be very different.   
In 2023, Hapag Lloyd expects a big decline in their earnings. Furthermore, they estimated that the EBITDA will be in the range of USD 4.3-6.5 bn in comparison to the USD 20.8 bn in the previous year. 

 

Maersk Line has predicted an EBIT of 2.0-5.0 bn, which was USD 33bn in 2022. This forecast was made on the expectation of very low profitability of Ocean shipping division in the last 2 quarters of 2023.

 

Similarly, CMA CGM also expects a market slowdown in the last quarter of 2022 to continue in 2023.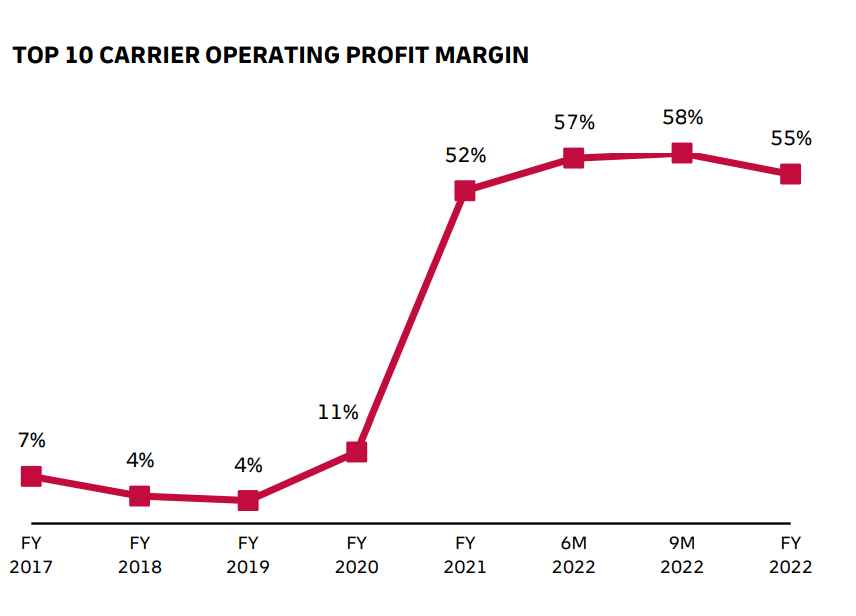 Ocean Freight Market Updates - April 2023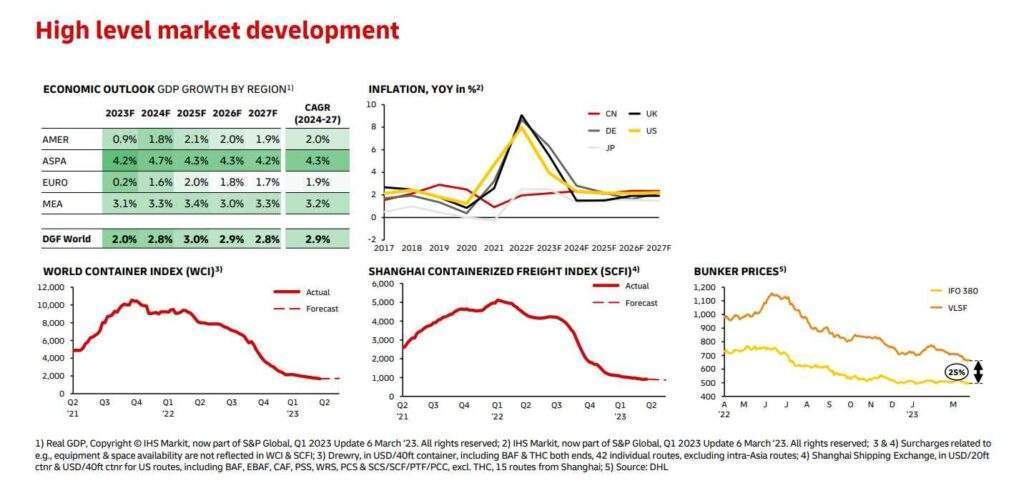 Key 

++ 

Strong Increase 

+ 

Moderate Increase 

= 

No Change 

– 

Moderate Decline 

— 

Strong Decline 
Middle East – North America
Space out of the Gulf is tight that is causing the rates to increase. More so, the capacity is increasing month over month.  
Capacity — (+) 
Rate — (+) 
Note: Spot rates are flat all through this month.
The Gulf services in the Asian region continue the rate rebound after the Chinese New Year. The capacity available for this trade lane is expected to remain flat month after month.  
Capacity — (=) 
Rate — (+) 
Note: Spot rates are flat for this month.
The rates out of the Gulf are now more stable. Even though space is available, the capacity is expected to remain flat month after month. 
Capacity — (=) 
Rate — (=) 
Note: Spot rates are flat for this month. 
Middle East – Latin America
Rates out of Gulf are flat; however, the space is available. The situation of space is improving as the carriers are less active on this trade lane.  
Capacity — (=)  
Rate — (=) 
Note: Spot rates are flat for this month. 
The Middle East and Red Sea Market has an impact of Ramadan, which is causing the rates to decline. However, if not for huge-scale blank sailings, there is a risk that pre-Covid rates will appear again.  
Capacity — (-) 
Rate — (-) 
Note: In general, equipment is healthy across Asia.
North America – Middle East
There are signs of aggressive positioning in the Mideast market for some carriers. This is due to the continuous decrease in the rates. 
Capacity — (+) 
Rate — (-) 
Note: More concessions are available on side conditions. 
Latin America – Middle East
Due to the current market conditions, the exports in Central America are softening. The exports of Mexico to Med and Mideast are softening as well. Whereas the SAEC market in these contracting conditions continues its quick downward trend, which has caused the rates to go back to pre-Covid levels. 
Capacity — (=) 
Rate — (-) 
Note: Vessels are open. 
Capacity in the East Med is available, and rates continue to soften for both short and long-term contracts. The space is also available. 
Capacity — (=) 
Rate — (=/-) 
Note: No equipment issues. 
Air Freight Overview – April 2023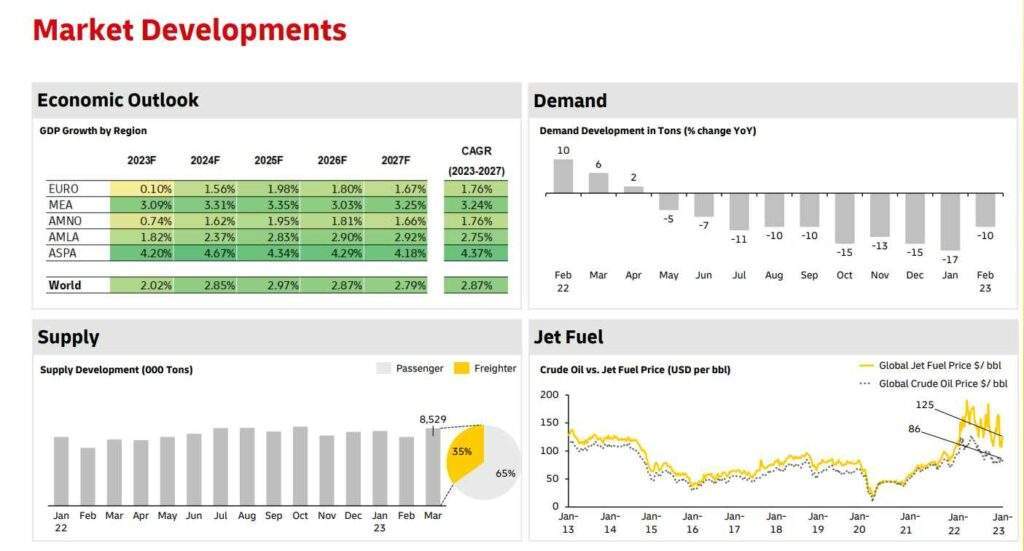 Demand: The PMI index has improved for the emerging markets with higher export orders. With the increasing interest rates and Ukraine crisis, the world economy is adversely affected. However, with the opening of ASPA market again, there is likely to be a quick global economic recovery.
Capacity: There is a continuous improvement in the capacity. The belly capacity is also following the same increasing trend as passenger travel capacity. There are no bottlenecks expected in the coming months; however, the current labor disputes can have operational impact.
Rates: There Is a competitive spot market in many of the trade lanes with a slight increase in charter and ad hoc rates. As we move along 2023, there will be more stability in the long-term rates; while tonnage growth trend will play a vital trend.
The Middle East and Air Carriers
The pace of recovery in the Middle East aviation has improved over 2022 and is expected to only get better in the next decade with its share in the global fleet to increase. Based on the report, the fleet share of Middle East will increase from 4.9% in 2022 to 6% in 2023.  
There has been a slight uptick in the demand after Chinese New Year, which will be expected to further increase in the coming months. The available capacity is sufficient to support the soft demand and the rates will stay competitive in the market.  
For the Asia to Europe route, the demand remains soft, causing the rates to decrease and capacity to increase. Whereas, on the Asia-North America route, the providers are adding more flights; but an improvement isn't expected till the 3rd quarter due to importers selling through the existing inventory. 
In the United States, the capacity is open, but the rates are still trending downwards. Because of the increase in travel demand in the coming months, additional capacity in the market is expected. The capacity for the North American trade lanes is expected to remain flat month over month. Whereas the spot rates will remain flat for Africa, Latin America, and Middle East; and decrease in Asia, Europe, and Oceania. 
In the Latin America market, the overall capacities are expected to remain flat, while the spot rates will increase for all the trade lanes.  
Due to the ongoing return of regular schedule passenger flights out of Europe, the capacity continues to increase. For the trade lane of Asia, the demand will stay moderate this month, which will allow for easier capacity access. The Latin America market is overall stable; whereas, in North America, the capacity is expected to grow as the summer schedule will be effective from the second quarter.  
The spot rates from Europe to Africa, Asia, Latin America, and Middle East will remain flat; and will decrease for North America. 
Shipping Local News – United Arab Emirates – April 2023
CMA CGM is revising its BAF on the RORO services that connects France to Algeria, Tunisia, and Morocco. The new surcharges will be effective from 1st of April 2023. Read More 
Maersk has announced a new update on Nhava Sheva Port. Due to the traffic and queues outside the port, there will be an overall surge in export demand. Read More 
Ocean Network Express (ONE) has announced new surcharges that will be applicable across all trade lanes to/from UAE. The changes will be effective from 1st April 2023. Read More 
Ocean Network Express (ONE) announced new demurrage and detention tariffs for UAE that will be effective from 1st April 2023. Read More 
CMA CGM has announced the launch of BIGEX services that will connect Bangladesh to India and UAE. This is the only product that will connect Bangladesh to Jebel Ali and Khalifa. See More 
Emirates Shipping Line LLC has implemented an Environmental Fuel Surcharge (EFS). This will be imposed based on Low Sulphur fuel price between USD650 to USD700 per ton, effective from 1st April 2023. Read More 
Hapag Lloyd has updated the local charges for the Middle East, Indian Subcontinent, and Africa. Read Details 
Hapag Lloyd will introduce West Africa Service (WA1) in May 2023 that will help factor in strong schedule reliability and extended port coverage in cargo planning. Read More 
Cargo Gulf is re-launching Arabian Gulf Indian Subcontinent (AGISC). Read More 
Ogefrem Head Office has released a Circular Letter regarding the shipments that will arrive in DRC without FERI. Read More 
Global Factory Output – Overview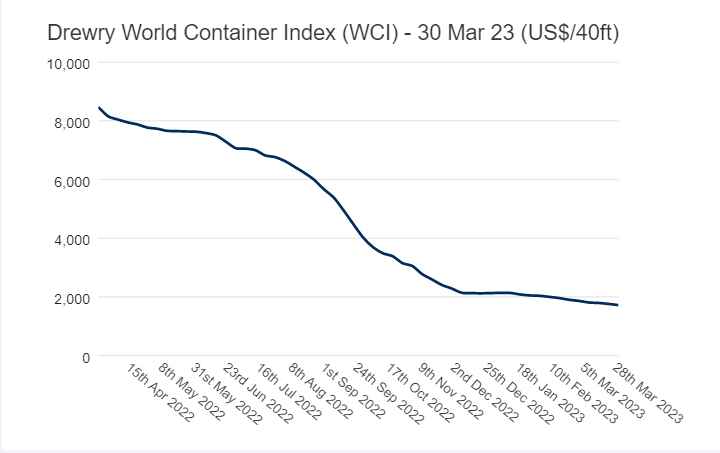 The Drewry World Container Index (WCI) decreased by 2% to reach $1,716.85 per 40ft container in the last week of March. The current PMI value is 36% lower than its 10-year average of $2,690, indicating that the prices are reaching their normal level.  
United States of America (USA)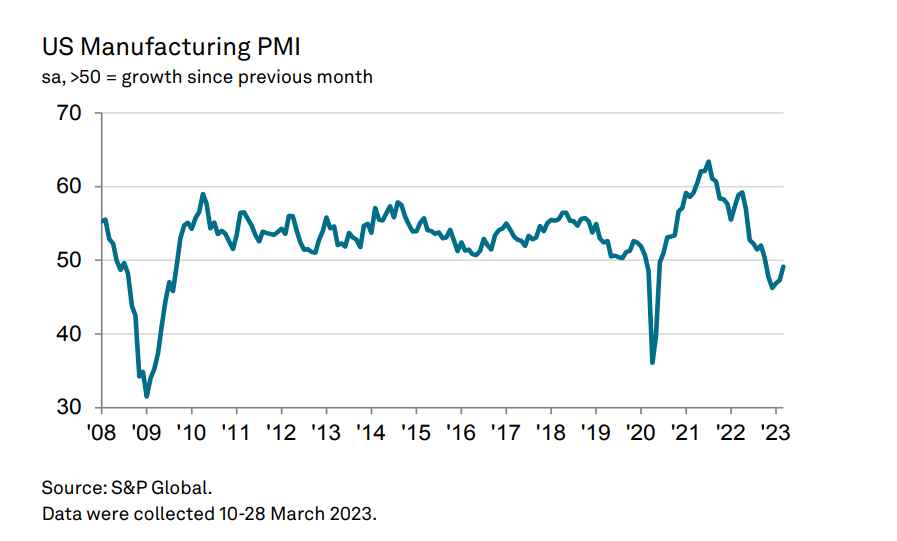 The manufacturing sector of the US is showing concerning trends during March. Although output has increased since last October, growth was still fractional supported by the ramping up of production. The timely delivery of input has allowed the firms to work through the backlogs. However, there is a scarce demand due to pressure on customer spending as a result of high interest rates and inflation.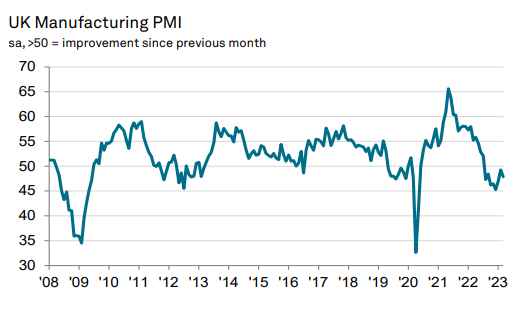 UK manufacturing production has fell back to contraction at the end of the first quarter because companies scaled back their production as a response to subdued market conditions. There is a fractional increase in the new orders, followed on from a nine-month sequence of contraction; while showing the overall order book levels remain low. The declining new export orders remain a drain on demand, balancing the signs of a revival in the domestic market.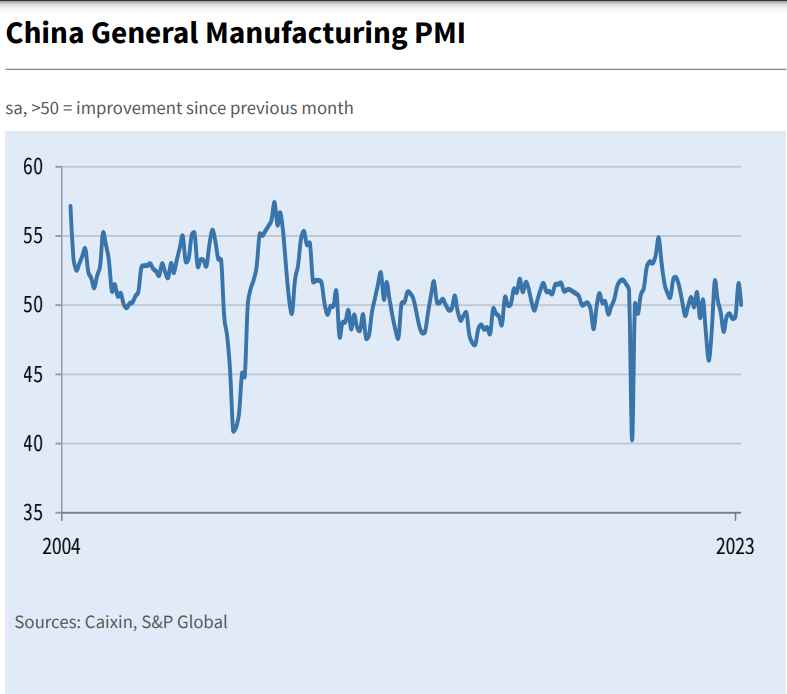 After a solid increase in output and new orders in February, the Chinese manufacturers have reported soft gains at the end of first quarter of 2023. The sustained upturn in demand supported a further increase in purchasing; however, the inventory continued to fall as most firms kept their cautious approach to stock building.  
United Arab Emirates (UAE)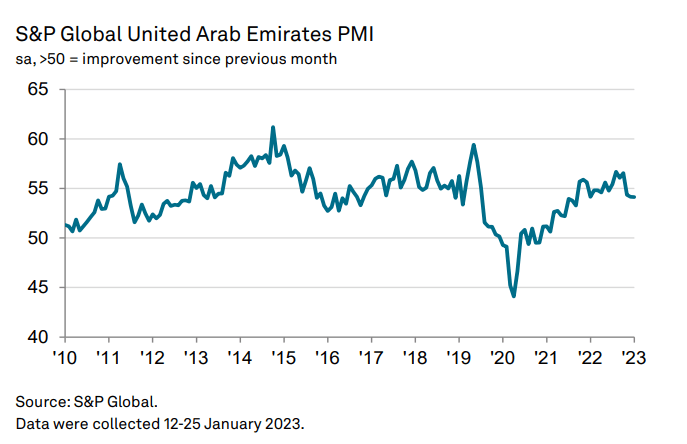 The PMI index of UAE has reached the value of 54.3 in February from 54.1 in the previous month. For the first time in four months, the output grew because of the increasing sales and initiation of new projects. The new orders have increased as well; however, the expansion rate was the weakest since September last year.  
Global Interesting News – April 2023
Narita Airport to build $2.7B cargo logistics facility Read More
Another warning strike brings Germany's main airports to a halt again Read More
YEG to pilot hydrogen technologies to advance air cargo Read More
Air cargo seeing little impact from French general strike Read More
Deadline looms for freighter operations to change airports in Mexico City Read More
Etihad Cargo streamlines dangerous goods, pet bookings online Read More
IATA: Soft start to 2023 for air cargo industry Read More
LATAM Cargo announces the addition of a new Boeing 767 BCF Read More
DHL Global Forwarding reports record airfreight revenues Read More
FedEx to transfer LAX airport maintenance to Indianapolis Read More
Maersk's new air freight service to connect Denmark with China Read More
Changi team up with Brussels airport on cargo Read More
CargoAI takes in more airline partners Read More
DACHSER offers daily air freight service from China and Hong Kong to Frankfurt Read More
Saudia Cargo awards multi-station contract to WFS Read More
Air Cargo closes 2022 near Pre-Pandemic Levels Read More
LATAM Cargo connects South America with Brussels Airport Read More
Messe München brings first logistics multimodal trade fair to Singapore Read More
UPS expands hub at Changi Airport, nearly doubling capacity Read More
New EU law 'marks the beginning of the end of dirty fuels in shipping' Read More 
Retail giants launch new alliance for green sea freight Read More 
Labor shortage puts pressure on deliveries of new ships from South Korea Read More 
Maersk Supply Service wins three-year contract on three L-class ships Read More 
Maersk enters methanol collaboration with world's largest port Read More 
Freight thieves in US ports target food products Read More 
Major US port enters deal about green corridor to Japan Read More 
DP World to invest USD 35m in Brazilian port Read More 
Maersk opens first freight route to Ukraine since war began Read More 
House panel eyes ending ocean carriers' antitrust exemption Read More 
Trans-Atlantic container rates still double pre-COVID levels Read More 
Norway's leading car port seeks expansion to meet growing EV imports Read More 
Russia-bound Containers Stuck at Antwerp Port for Year Read More 
See-Saw effect in ocean freight rates affecting supply and demand equilibrium Read More 
CMA CGM applies new overweight surcharge from Saudi Arabia to North Africa and Morocco Read More
Jeddah Islamic Port enhances decarbonisation activities Read More 
DP World adds inland container depot at India's Hazira Port Read More 
Record container throughput for King Abdulaziz Port Read More 
YILPORT integrates Navis TOS into Portuguese box terminal Read More 
Port of Rotterdam supports green hydrogen project at Maasvlakte Read More 
DP World to build new edible oil terminal in Berbera Port Read More 
Maersk Supply Service extends long-term contract in Taiwan with Seaway7 Read More 
Chittagong port to receive larger vessels Read More 
The Suez Canal breaks record for single-day vessel registration Read More 
COSCO and China Merchants tipped to bid for stake in Hutchison Ports Read More 
CMA CGM, COSCO and Hapag-Lloyd line up further orders Read More 
Strikes at UK Airports and Ports – Cargo operations may be impacted Read More 
Beijing and Moscow develop rail trade with new route and river bridge Read More 
Lawmakers introduce 'clear path' to more truck parking Read More 
Transport prices in France see a timid rise in February Read More 
EAEU mulls over transport hub in United Arab Emirates Read More 
Russia's Transport Industry Adapts to a New Way of Life Read More 
The Ministry of Transport of Uzbekistan is negotiating the transportation of goods to Europe through Lithuania Read More 
Kazakh deputy minister talks Middle Corridor's benefits for global trade dev't Read More
Intra-Asia trade could surpass $13T by 2030 Read More 
European Commission proposes Net Zero Industry Act Read More 
IAG Cargo sets sights on digitalization, new routes Read More 
Qatar Airways Cargo to use AI to optimize overbooking Read More 
IAG Cargo adds Aruba and Guyana to its network Read More 
86% of pharma and biotech companies plan to invest in 'digitally agile' supply chains in the next 12 months Read More 
DP DHL outlines criteria for any DB Schenker bid Read More 
Supply chains 'finally beginning to stabilise', says Maersk Read More 
For Shippers, Disruption Means Opportunity to Rethink Carrier Strategy Read More 
Guidelines for shipment of Lithium-Ion Batteries by sea published Read More 
Are there really any limits to artificial intelligence in shipping? Read More 
A.P. Moller Capital to acquire South African frozen logistics operator Read More 
AD Ports Group commences new Ro-Ro service between UAE and Kuwait Read More 
CMA CGM to launch BIGEX, a new service connecting Bangladesh and India with the Gulf Read More 
DHL forms joint venture with Saudis Aramco Read More 
Saudis' newest carrier to fly with all-Boeing fleet Read More 
Dachser expands in Oceania with acquisition Read More 
DHL Express launches GoGreen Plus Read More 
DB Schenker uses ultra-thin high-tech labels for shipment tracking Read More 
Global trade growth powered by green products, UNCTAD finds Read More 
Navigating the 2023 Supply Chain: Opportunities and Challenges Ahead Read More 
Freight Forward: Volumes slowly growing Read More 
Cargo theft, led by food and beverage, is surging across the U.S. Read More 
UPS Healthcare opens first dedicated pharma facility in Germany Read More
DP World announces $200M cargo hub in Dominican Republic Read More
Delta Cargo's unveils largest cooler facility at JFK Read More
Milwaukee Mitchell International Airport plans new cargo facility Read More
Optimizing inventory key for SMBs to beat shrinking warehouse landscape Read More
APM Terminals to partner on new Vietnam facility Read More
DP World opens reefer container facility in Sydney Read More
DHL global forwarding opens Brisbane facility Read More
Locus launches ShipFlex for flexible third-party delivery Read More
MET taps 15 lenders for €1.23bn facilities Read More
Freight Forward – Slowdowns but opportunities increase Read More
Home Delivery Performance: Ticking Time Bomb Or Market Opportunity? Read More
Scalable automation that optimizes core warehouse functions Read More
GemOne: how telematics is helping warehouse businesses become safer, more efficient, and digitally mature Read More
Barcelona to tax logistics companies Read More
China's exports continue to slide – adding pressure to economy Read More 
Electronic bill of lading provider leverages Singapore legal reform to rip up the rulebook Read More 
Letter of credit payments permitted despite Russia sanctions, UK court rules Read More 
Ukraine grain deal faces fresh uncertainty as Russia struggles with agri exports Read More 
WTO stays glum on trade prospects Read More 
REVISED COVID-19 Point Of Entry Guidelines (Zambia, 2023) Read More 
Industry bodies unite in producing Guidelines for safe transport of Lithium-ion batteries in containers Read More 
Single window for ship data exchange to become mandatory Read More 
UNCTAD and World Customs Organization enhance cooperation Read More 
Israel-UAE free trade deal takes force as customs agreement inked in Jerusalem Read More 
DB Schenker opens automated e-commerce logistics hub in Spain Read More 
Is inflation crushing e-commerce volume growth? Read More 
Ethiopian Airlines and MailAmericas launch E-commerce Logistics Services Read More 
Slowdown in E-Commerce Hitting Logistics Companies' Payrolls, Experts Say Read More 
Global e-Commerce Logistics Market Report 2023: Market to Grow 7.9% in 2023 to Reach a Value of €451+ Billion – Forecasts to 2027 Read More 
Preparing for the peak: how retail, FMCG and lifestyle brands can build an agile e-commerce strategy Read More 
5 trends Indian Ecommerce industry can expect to see in 2023-24 and how to prepare Read More 
U-Freight gains recognition for e-commerce logistics product Read More 
E-Commerce Giant Alibaba Will Become 6 Different Entities Read More 
Our customer service team is happy to assist you with planing your next booking.