Warehousing Services in Umm Al Quwain
We can see that the work dynamics are shifting. More and more people are welcoming cloud technology and entering the e-commerce business. It automatically causes a surge in demand for warehouses; even Amazon uses 3PL services.  
Besides, numbers don't lie! Statista report says; in 2018, the Middle East warehouse automation market was estimated to be worth around USD 500 million.  
In 2025, it is predicted to triple in size, reaching a value of 1.6 billion dollars. Warehouse investments have been steadily increasing. It is due to rising levels of automation and supply chain integration. 
Considering the situation and increased demand for warehousing needs, many businesses seek out a warehousing company in Umm Al Quwain. As they believe that third-party warehousing can help with a variety of storage and distribution issues. If they need to store the food items, petroleum, or any other inventory for short-term or more than a few years, the different types of warehouses play a vital role.  
Other than storage, various logistics and warehousing services in Umm Al Quwain are also the providers of customer fulfillment services. It revolves around location-based and storage time needs.  
Most businesses require a warehouse near the port or efficient transfers. It reduces the delivery time of goods and overall improves the delivery – making the whole process of distribution more efficient.
Moreover, flexible contracts make it easier to manage inventory for the time of their choice and need. 
To help you understand how the specific warehouse solutions help the supply chain efficiency, we will discuss the best possible warehouse solutions in detail. 
Warehousing Solutions: Free Zone Vs Non-Free Zone 
Warehousing solution providers are the business investors too, and to set up warehouse storage solutions, they usually have two options: Free zone and non-free zone. 
The free zone is the area in the UAE where ownership is 100% of the investor, and it's duty-free too. However, when trading in the free zone, you can either trade and ship in the free zone areas or run your import-export operations to foreign places. 
Non-Free Zone: What it means 
The non-free zone is not a commercially dedicated or industrial area. Unlike the free zone, a non-free zone area gives you the authority to trade anywhere around the UAE and outside of it. However, your business will be applicable to most of the trading taxes. 
Free zone vs. non-free zone: How They Differ 
Choosing a free zone or a non-free zone can influence a lot of things. While you choose the warehousing services in the free zone, you might have the duty-free services, but the trading area is limited. So, it will be location-based; however, if you choose a warehouse services provider in the non-free zone, you will have a different set of requirements in terms of shipment and taxes. 
The Dynamics of Al Sharqi Warehousing Services in Umm al Quwain
You can have the most facilitated logistics and warehousing services in Umm Al Quwain with the right warehousing company. However, for your better understanding, the following are all the warehouse services explained according to their functionalities. 
Warehousing services as a function of time 
Businesses have different needs regarding storage. Sometimes they need a few items to be stored for a very short time, while at other times, they might require months for storage before they ship their products or get the inventory.  
Any items that are held for less than 60-90 days are considered "short-term" warehousing services. Customers will be able to shuffle their inventory and transfer small or large numbers of things fast and with little notice as a result of this. 
Long term warehousing storage
Long-term storage is a type of warehousing that lasts longer than three months. Having a third-party long-term warehouse space can allow you to store a safety stock for lengthy periods and easily access it when you need it, whether your supply chain activities require months or even years of storage. 
Based on budget and requirements 
Warehousing services also depend on the needs of the business and the time of storage. Usually, businesses are range in size, so their requirement for warehouse differs. For example, startups may need to keep just a few items for a short time. So, they can use shared warehousing. On the other hand, a large enterprise may require huge space to store its items and maybe for more than a year as well. 
Duration and requirements of the services will directly impact the cost and the type of services any business owner needs. For example, if you will select shared warehousing, it will certainly cost you less. On the other hand, dedicated space is a long-term contract, and you are the only business holding this place for their supply chain operations; it will surely cost more than a shared space. Let's dive more to understand each of the categories: 
A shared warehouse (also known as a public warehouse) is a campus-like setting where numerous enterprises share resources and use the same distribution facility.  
Small-to-mid-sized enterprises, such as those who are new to the market or have seasonal products and demands, are generally served by shared warehousing.  
Transactional-based pricing is commonly used in shared warehousing. Fixed storage fees for the amount of space are required, as well as "pallet-in-pallet-out" fees are for each pallet of product. 
A dedicated warehouse is a single structure that only serves one enterprise. This usually necessitates a multi-year contract as well as all of the costs associated with warehouse maintenance. 
A dedicated warehouse usually requires a multi-year commitment, ranging from 3 to 7 years, in which the shipper and 3PL sign a contract and align to a warehouse service agreement. The agreement covers labor structure, capital equipment expenditures, warehouse management system implementation, and other operational processes. 
The cost structure between you and the service provider in a dedicated warehousing model could be transactional-based costing, cost-plus, or a combination of the two.  
Based on storage facilities 
You may be looking for warehouses with storage facilities. Then all the warehouses are storage facilities, but some of them have different types of storage to fulfill different needs. 
Open yard warehouses are usually the ones needed for the bulk inventory or huge cargoes. For example, if a customer needs to store the cars, trucks, or such items, they will always ask for open yard storage.  
Closed yard warehouses are the ones with closed spaces to store the products. They unusually have a dedicated space for the storage of items like coal.  
Dry warehouses are usually the ones needed to store beverages, medicines, electronics, paper, and a lot more. The temperature is set specifically according to the items.  
Closed temperature warehouses
Temperature settings according to the products or stored items are a must. For example, liquids and food have different temperatures.  
Ambient Temperature

 

Air-Conditioned Storage

 

Refrigerated storage

 

Cold Storage

 
Heavy inventory, lightweight inventory, or dangerous products; all of these cannot be stored in the same capacity. Therefore, there are different types of storage services for them depending on the type of the cargo: 
General cargo (also known as break-bulk freight) refers to all types of processed and finished goods that are transported in bulk or packed form. It is distinguished by a consistent exterior load form and the ability to separate smaller cargo units from further division during handling and reloading. 
Dangerous Goods (DG) storage 
It's the kind with the distinctive containers.  Dangerous goods shipping containers are suitable for transporting or storing chemicals, gas cylinders, flammable liquids or solids, corrosive substances, and any other potentially hazardous material. 
Temperature-controlled logistics is concerned with the storage, preservation, and transportation of cargo that is temperature-sensitive and must be kept at a specific temperature. This is critical for many pharmaceutical items, as rotten medications can have major health and safety effects. 
Based on the packaging system 
A packaging system with the right method is the ultimate reason you can guarantee the safety of cargoes to your customers. The best option is to ask businesses before you apply your methods. Let them choose if they want to pelletize packaging or non-palletized packaging.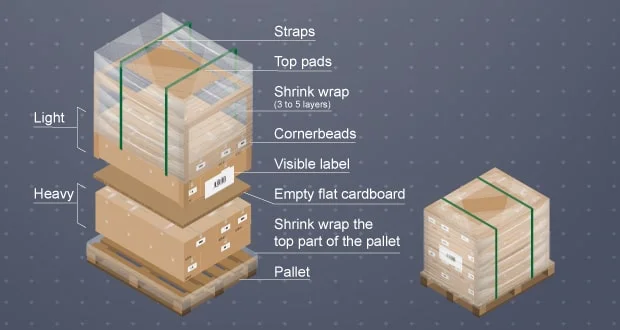 Palletization is the process of loading items or materials onto pallets, whether packaged or in bulk. The pallet serves as a platform for goods and materials, allowing for more effective storage, handling, and transportation of the unit load, which is made up of items and the pallet base. 
The standard size of the pallet is 40-by-48 inches. More available sizes are: 
42-by-42 inches

 

48-by-48 inches

 

48-by-42 inches

 

40-by-40 inches

 

48-by-45 inches

 

44-by-44 inches

 

36-by-36 inches

 

48-by-36 inches

 

40-by-24 inches

 
Non-palletized goods are loads that cannot be transported on regular pallets due to their shape or size. The majority of these items are machinery, carpentry, valves, actuators, and work vehicle tracks.  Non-palletized freight can also include loose materials such as cartons or containers that have not been attached to a pallet. Each loose object is counted as a single unit. When deciding whether or not to palletize your shipment, keep in mind that minimum billable charges can have an impact on how your shipment is billed. 
A warehouse racking system is a storage solution that stacks things horizontally in many levels in horizontal rows. These systems can aid in the management and better utilization of your warehouse space, as well as the organization of freight to streamline operations. 
Pallet racking systems are a type of storage that takes advantage of vertical space to store single objects or palletized loads. 
Pallets and other commodities stacked on shelves are typically placed and retrieved using forklifts. 
Hanger racking for fashion clothing
It's a sort of racking that's also known as garment racking. Garment racking is intended primarily for high-density clothes storage in retail stockrooms, warehouses, and distribution centers. Clothes are frequently hung from racking structure rails or stacked flat-packed or folded on industrial shelves. 
Specialized Warehousing Services 
Al Sharqi offers all kinds of specialized warehousing services across Umm al Quwain. While you are looking for your options, here are the ones to consider:  
A bonded warehouse is a storage and processing facility for goods being imported into a new market. Customs duties do not apply to goods held in bonded warehouses (a type of tax). Any applicable duties become due when the items are delivered to their final destination. Bonded warehouses, which can be held by the government or private firms, can aid with inventory and cash flow management. 
The procedure of holding your goods before they're sold online is known as eCommerce warehousing. 
However, eCommerce warehousing is more than just a place to store your inventory. It's also about storing your products safely and securely, keeping track of your complete store inventory's in-stock status, and tracking the movement of your items. 
A food-grade warehouse is a specific facility that offers options for storing food in ambient, refrigerated, and frozen temperatures. These management systems have to ensure that they are following all the food management regulations given by the authorities of the UAE. 
Hazmat and Chemical storage 
If you have dangerous chemicals to transport, you need to go to the Hazmat and Chemical storage facility. This is a type of storage that is designed to store and carry distribution operations. And specifically for hazardous items like chemicals, petrol or oil tanks, etc. 
Why Choose Umm al Quwain For Warehousing? 
Umm Al Quwain free zone is known to be a progressive and investor-friendly free zone. Besides, it is only located 45 minutes from Dubai International Airport. It was designed primarily to help SMEs and micro-businesses, who will benefit from low startup costs, 100% corporate ownership, and no currency limitations. 
Developed on Industrial and Economical level 
It's no news that Umm al Quwain has gained massive development in previous years. This development has made the place industrial friendly and a powerful economic booster. It also offers a variety of licenses, including Commercial, General Trading, Freelance Permit, Consultancy, Service, and Industrial, in addition to the tax exemption. 
Presence of high-quality warehouse service providers/logistics firms like Al Sharqi 
It also has amazing warehousing solutions available. Businesses can easily access warehousing services from reliable companies like Al Sharqi.  
Inventory shipments require ease of travel, and the road to and from Umm Al Quwain is all about the perfection of road and transportation networks – making all kinds of trading hassle-free. 
It is only 45 minutes away from the airport, and nearby ports make it more reliable, especially for the startups looking to start from low budgets. 
What are the Ideal Locations for Warehouses in Umm al Quwain? 
You can find the facilities nearby Umm Al Quwain – ready to use infrastructure for the best logistics and warehousing services, like Emirates City Umm al Quwain. The plot can be around 5000 sqm to larger sizes (it can be less or more, depending on the provider). For enterprises or investors desiring to establish their warehouse facility, it provides a perfect and strategic position. And it is due to quick access to all economic and logistics hubs via Sheikh Mohammed Bin Zayed Road Exit 103, which runs via Dubai, Jabel Ali, Sharjah, Ajman, Ras Al Khaimah, and Fujairah. 
What Al Sharqi Provide in Warehousing Solution? 
Al Sharqi is all you need for warehousing. It is a perfect partner for hassle-free warehousing and distribution service in Umm Al Quwain at an affordable price range.  
Variety of warehousing solutions 
We have discussed the possible warehousing solutions, and all of these services are available at Al Sharqi. Services include bonded warehouses, non-bonded, for food, medicines, and a lot more. 
An optimized process with smart technology 
The world is moving at a fast pace. And to maintain the right pace, we have all the automation processes intact to keep the documentation and records of the inventory in a store. Additionally, the technology solutions also help us in keeping track of the available inventory. Whether in the warehouse, shipped items, or delivered ones too, along with their invoices. 
Al Sharqi uses high-tech CCTV, and security guards are always on the duty to prevent any kind of security breach in the warehouse facility. 
Along with the above facilities, Al Sharqi offers more value just to provide an optimal all-around storage experience. These services include;  
Stamping and labeling 

 

Packaging and repackaging 

 

Piece picking 

 

Promo pack activities 

 

Carton/case picking 

 

Cross stuffing 

 
Finding warehousing services in Umm Al Quwain is no more a difficult task. If you want to get the services, all you need is the right warehousing company in Umm Al Quwain, like Al Sharqi. Al Sharqi itself is an establishment that aims to help you make your shipping and logistics operations as smooth as possible.  
Our customer service team is happy to assist you with planing your next booking.