Shipping from UAE to Uzbekistan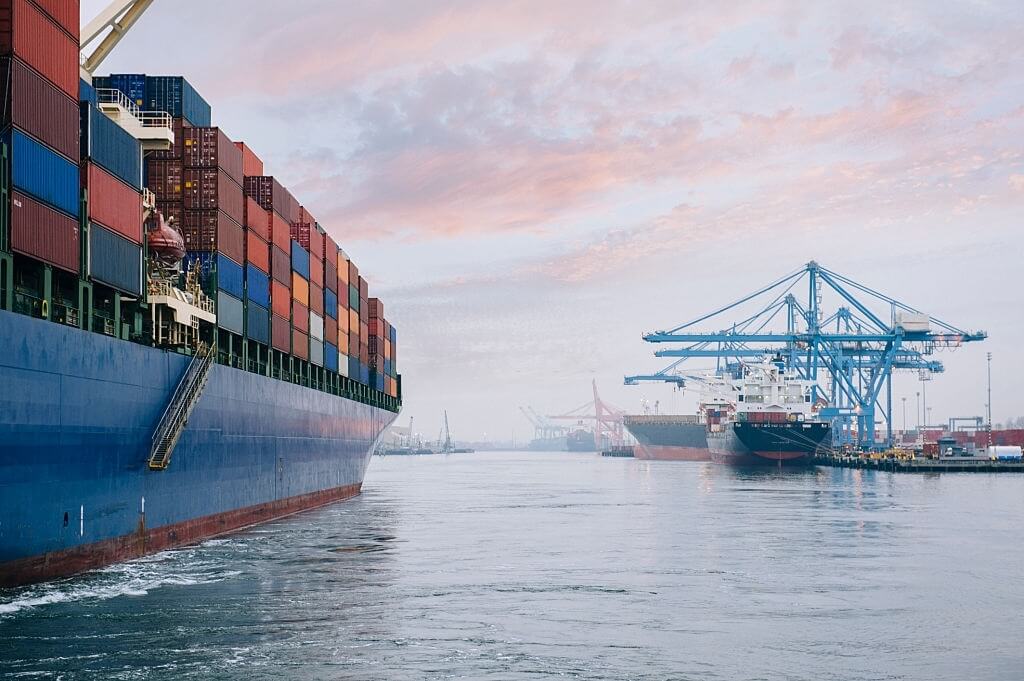 UAE to Uzbekistan is one of the trade lanes with good opportunities but not fully explored. With both economies doing pretty well, there are assured emerging markets for the locals and foreign investors. This trade lane facilitates the movement of cargo to Uzbekistan from the UAE. 
With the increasing consumer needs in Uzbekistan, more imports are required and inevitable. So, UAE has established itself as one of the efficient shipping points to get products into Uzbekistan to meet consumer needs. The trade lane between UAE and Uzbekistan aids import, which in turn influences Uzbekistan's market activities and economy.  
This post will provide deeper insights into the trade lane between UAE and Uzbekistan. 
Overview of Trade Lane Between UAE and Uzbekistan
The trade lane between UAE and Uzbekistan has proved efficient and productive over time. The records are impressive as a significant upshot was experienced in 2005. Between 2005 and 2021, cargoes from Dubai to Uzbekistan were on an increase from a worth of $42.2m to $280m. There was a trade turnover of $508.8m in 2022 and this number is projected to have an uptrend in 2023. The major products on this trade lane include computers, cellulose, and integrated circuits- with the energy, pharmaceutical, textile, logistics, and agriculture industries being dominant. 
Let's dig deeper into the overview of both economies to identify the potential for the trade lane.  
The UAE economy thrives on diversification as several industries contribute to a booming economy. However, the key industries include: 
The logistics and transportation industry, which is estimated to go above 16 billion USD by 2026.

 

The retail industry

 

The e-commerce industry is expected to hit 19.83 billion USD by 2027.

 

The Manufacturing industry, which contributes 9.7 percent to the UAE GDP.

 

Oil and gas/ energy industries

 
UAE is one of the major exporters of Crude oil and its derivatives. Other top exports include: 
Food materials

 

Machine parts

 

Vehicles

 

Precious metals and stones

 

Aluminum 

 

Copper

 

Fabrics, etc.

 
UAE exports to over 32 countries globally. However, some countries continue to stand as UAE's' major trading partners. They include China, the US, Japan, Iran, Oman, Turkey, Kazakhstan, Uzbekistan, Vietnam, the UK, and Germany. 
Since Uzbekistan embraced modernization and a market economy, its economy has experienced a positive stride in recent years. 
With a population of 36 million, Uzbekistan remains a potential ground for growing and booming businesses. Uzbekistan also boasts over 50% of the qualified youth workforce that can trigger productivity. The country's market also has direct access to a large market of neighboring countries with a population of 82 million USD. 
Uzbekistan's economy experienced a GDP increase of 5.7 percent in 2022, hitting about 70 billion USD. Its average GDP growth between 2022- 2026 is estimated at 4.8 percent. This reflects a GDP per capita of 2,071 USD.  
These industries stand as the key contributors to Uzbekistan's economy – Manufacturing, Agriculture, Service, and Construction. The agricultural sector contributes about 25% to the country's GDP, Manufacturing contributes 26.7%, Construction has it at 6.7%, and Services contribute 41.5%. 
Why Choose for Investment?
Uzbekistan has developed to be a fertile ground for growth, development, and investment. Several businesses have discovered trade opportunities and have invested in the Uzbekistan market. However, business owners are still in search of reasons to invest. Here are the reasons why investing in the Uzbekistan market is not a bad idea. 
Uzbekistan boasts a steady positive economic trend. Backdating to 2021, the country's GDP has been impressive with an increase of 7.4% in 2021, a 5.7% increase in 2022, and it's to grow by 5.0% between 2023 to 2024.

 

A skilled and competitive labor force makes Uzbekistan a viable investment ground. With more than 50 percent of the workforce being youth, there is much energy and zeal toward productivity. 

 

Political stability, creating conducive trade rules, and eliminating several forms of unrest. 

 

Uzbekistan is accessible to large local and regional markets.

 

Competitive cost of doing business.

 

Government support.

 

Developing infrastructure.

 
Gold tops the list as the most exported item from Uzbekistan, hitting $4.54 billion. Other top exports include: 
Cotton (1.6 billion USD)

 

Petroleum gas (722 million USD)

 

Copper (741 million USD)

 

Radioactive chemicals (407 million USD)

 
On the other hand, the top imports include: 
Wheat

 

Packaged Medicaments

 

Cars

 

Vehicle parts and accessories

 

Petroleum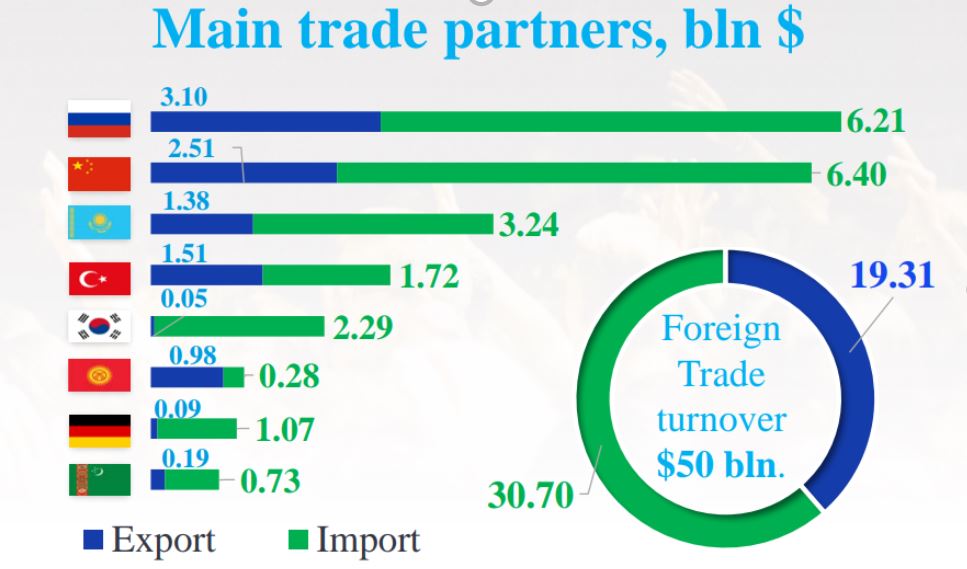 Uzbekistan continues to expand its trade regions. However, at this time, the country trades majorly with China, Turkey, the United Kingdom, Kazakhstan, Switzerland, and UAE. 
Shipping Routes and Mode of Transportation
It's impossible to discuss the UAE – Uzbekistan trade lane without touching the shipping route and transport mode. Concerning Uzbekistan's shipping, the transport corridor should be the first point of discussion. 
The transport corridor refers to all transport modes or networks that facilitate the movement of goods from one region to another. In this case, it is the transport network including modes that will see goods move between UAE and Uzbekistan.  
The transport corridor can include highways, road networks, rail systems, waterways, or airways between UAE and Uzbekistan.  
East Transport Corridor to Uzbekistan
The east transport corridor consists of rails, roads, and air links. It connects Uzbekistan to Asian countries such as Turkmenistan and Afghanistan. This means to employ this corridor; one can access Uzbekistan through Afghanistan or Turkmenistan. There are rail lines in Afghanistan that connect directly to Uzbekistan's popular cities such as Tashkent, Termez, etc.  
West Transport Corridor to Uzbekistan
The west transport corridor will see goods move to Uzbekistan through its border nations – Kazakhstan and Iran. On getting to Iran, goods can then move through rails or roads to Tashkent and Termez. On the other side, goods can also move to Samarkand, Tashkent, and Bukhara using the Kazakhstan axis.  
South Transport Corridor to Uzbekistan
The south transport corridor is in its development phase. However, it's a path that tends to access Uzbekistan through the Northeastern part of Iran.  
Sea freight is moving goods through cargo ships from UAE to Uzbekistan. This is technically connecting ports between UAE and Uzbekistan. 
Major Ports in UAE and Uzbekistan
There are five major ports in UAE; 
Port of Abu Dhabi, located in the city of Abu Dhabi. 

 

Port of Jebel Ali, located in Dubai. This facilitates the movement of cargo from

Dubai to Uzbekistan.

 

Port of Sharjah in the city of Sharjah.

 

Port of Khalifa, another port located in Abu Dhabi.

 

Port of Fujairah

 
On the other hand, Uzbekistan has inland ports rather than seaports since it's a landlocked region. They include: 
Bukhara River Port. This will aid the movement of goods in and out of the city of Bukhara.

 

Tashkent Inland Container Depot. As the name implies, it's located in Tashkent, which is the capital city of Uzbekistan. So, this will be an ideal port if one is

shipping from Dubai to Tashkent

.

 

Termez River Port is in the city of Termez.

 
The use of sea freight for transportation between UAE and Uzbekistan isn't that straightforward since there is no outright or direct shipping route to landlocked Uzbekistan. However, ship cargo can be transported to ports of neighboring countries, such as Iran and Afghanistan. Then, the goods can be moved via other transport modes into Uzbekistan. 
The transit time of sea freight varies due to different factors. Since sea freight and shipping from Dubai to Uzbekistan isn't a straightforward route, cargoes will have to first reach neighboring countries before using a different transport mode to Uzbekistan. However, it's estimated to take 15 to 30 days with sea freight. 
This is the fastest means of transport available and has developed over time to carry a good volume of goods. There are different air freight solutions, such as standard shipping or expedited shipping. The latter transports goods faster than the former.  
Airports in UAE and Uzbekistan
The following airports are available in the UAE: 
Abu Dhabi International Airport. It has an established cargo terminal to facilitate air freight. 

 

Dubai International Airport. This is a busy airport and the largest in the UAE.

 

Al Maktoum International Airport. This airport is also located in Dubai. 

 

Sharjah International Airport. It is located in the city of Sharjah.

 

Ras Al Khaimah International Airport. As the name implies, it's located in Rad Al Khaimah.

 
Uzbekistan boasts five airports that effectively handle air freight internationally. 
Samarkand International Airport

 

Tashkent International Airport

 

Bukhara International Airport

 

Urgench International Airport

 

Nukus International Airport

 
Airlines That Operate on the Route
needs. It's time to identify the airlines, which are the operating companies providing the needed aircraft to ply the UAE- Uzbekistan route. 
Etihad Cargo

 

Turkish Airlines Cargo

 

Uzbekistan Airways Cargo

 

Emirate Sky Cargo

 

Air Astana Cargo

 

Lufthansa Cargo

 

Qatar Airways Cargo

 
Each of these airlines has its schedule, capacity, and requirements. 
There are no faster means of transporting goods than air freight. So transporting goods between UAE and Uzbekistan can take as little as 24 hours and a maximum of 5 days, depending on the technicalities of the logistics.  
Customs and regulations cannot be avoided in any trade lane across the globe. They are rules and modalities set by the government to monitor, scrutinize, and track the movement of goods in and out of a country. The UAE has its customs and regulations, so does Uzbekistan. 
UAE Customs and Regulations
These are rules and documents outlined and needed by the UAE government upon entering goods into the country.  
Documentation Required for Exports and Imports
Certificate of Origin – This document clearly states the origin of the product.

 

Packing List – The packing list gives a description of the goods such as quantity, dimensions, characteristics, and weight.

 

Certificate of Conformity – Certifies that the goods exported or imported meet the standards.

 

Commercial Invoice- This will show the price of the goods, payment methods, and terms of sale.

 

Export License – May be needed as specified with special goods. Showing that the exporter is licensed for such an operation.

 

Import License – May be needed in the case of import of special goods.

 

Bill of lading – This document is prepared by the shipping company, stating that the goods have been loaded and are ready for shipment.

 

Custom Declaration – This document is used for determining the custom duties as it states the goods, their quantity and value.

 

Health Certificate – This document is required for pharmaceutical and food products, showing that they meet health and safety standards.

 

Insurance Certificate – This document shows that the goods exported or imported have been insured.

 
To successfully import goods into the UAE without constraints and breaking the rules, one must adhere to the following regulations: 
Register with the UAE custom authorities

 

Get a trade license

 

Adhere strictly to UAE packaging regulations

 

Comply with regulations on restricted items

 

Pay import duties and taxes

 
Following are the export regulations required for export operations in the UAE: 
Acquire relevant custom documentation for imports

 

Adhere to the regulations regarding embargoed goods

 

Get an export permit

 

Obey the intellectual property law

 
The UAE imposes a fair 5% import duty. However, there are other taxes beyond the import duty, including 
Excise Tax- The rate varies, and it is placed on goods thought to be harmful.

 

Value Added Tax – UAE places a VAT of 5% on goods. However, some goods are exempt from VAT. 

 

Custom Fees – These are not constant as they are placed on a a few goods, for example, luxury goods.

 
Uzbekistan Customs and Regulations
These are the government laws and required documents concerning imports and exports of goods in and out of Uzbekistan. 
Documentation for Exports and Imports
Commercial invoice

 

Bill of lading

 

Packing list

 

Purchase order (for imports)

 

Certificate of origin

 

Import license

 

Export license

 

Custom declaration

 
Uzbekistan Export Regulations
Prepare the necessary export documentation before exporting.

 

Export duties are compulsory for some goods such as precious metals, cotton, and petroleum.

 

Get an export permit, which is needed for every good.

 

Strict compliance to not exporting prohibited items such as firearms, live animals, narcotics, etc.

 

Follow through on the modalities for restricted items such as cultural artifacts, precious metals, etc.

 
Uzbekistan Import Regulations
Uzbekistan's import regulations are not so different from their exports. It kicks off with getting the necessary import documents, adhering strictly to restricted and prohibited goods rules and ends with paying import duties or tariffs. 
Tariff and taxes on goods exported out and imported into Uzbekistan fall into these two categories; 
Custom Duties – Usually depends on the type of goods. However, custom duties rate range between 5% to 70%.

 

Excise Tax – This tax rate falls between 15% – 70%.
Trade Opportunities and Challenges
Moving cargo to Uzbekistan from UAE signifies a trade lane that has a good measure of opportunities and few challenges. It's time to identify these opportunities and bear in mind the challenges. 
Key Industries with Growth Potential
The key industries such as Agriculture, Manufacturing, Construction, and Services have immensely contributed to the Uzbekistan's economy. Despite the achievements of these industries, they are projected to thrive on a growth scale. With a projected increase of 5%, there is much more to gain. 
The Agricultural industry is expected to grow further. This is due to the large arable lands, increased need for food products, and affordable labor. The population growth has influenced real estate activities, which in turn makes the construction industry viable for growth.  
Trade Agreement Between UAE and Uzbekistan
UAE and Uzbekistan have a blissful business relationship. Governments of both nations have joined hands to create lenient policies and put in place trade infrastructure to keep the trade lane healthy and booming. The agreement between these two nations has resulted in positive strides for both parties. For example, there are up to 240 enterprises with UAE investment in Uzbekistan.  
Emerging Market in Uzbekistan
With the increasing population and available labor force, marketing activities continue to increase. This has triggered changes in consumer behavior and emerging markets are the ideal solutions to meet the changing consumer needs. The emerging markets include food and consumer goods, real estate, construction, etc.  
Irrespective of the positives, the trade lane poses a few challenges. 
Language and cultural barrier
Different cultural heritage and perspectives can limit the trade of some goods. As a result, it will be difficult to import culturally unfit goods. Language barrier reduces the effectiveness of communication which is needed for a successful trade. 
The UAE is a Muslim nation that speaks Arabic as an official language. On the other hand, Uzbekistan speaks Uzbek. Although they are both Islamic nations, they differ in culture as Uzbekistan is influenced by Asian culture. This tends to affect trade as both nations use the English language as a close alternative.  
The political situation may become worrisome, as it is a factor that causes unrest, violence, and change in policy by the government. This takes a significant toll on trade as it is almost impossible to trade with a nation in crisis. 
There are no recent records of political unrest with both partners. However, we can see this as a possible hindrance to trade if it ever happens. 
Infrastructure Challenges
Uzbekistan may be doing great; however, they are not as developed as the top Asian and European economies. As a result, they will likely fall short of infrastructure, which is a key factor in establishing reputable trade relationships.  
Value Addition from Al Sharqi
Just when the challenges begin to show, we at Al Sharqi provide solutions for UAE – Uzbekistan trade lane. We offer; 
Shipping solutions, as we help get your

Uzbekistan cargo in Dubai

moving. We offer ocean freight shipping of goods via China, Iran, and other neighboring cities or countries. Our sea freight comes with different modes such as LCL and FCL.

 

We can also beat every hurdle by providing top-notch air freight. We'll transport your goods from UAE to any of the Uzbekistan airports.

 
What are you waiting for? 
We are your one-stop solution for moving cargo from UAE to Uzbekistan. Since we offer full-scale help with your logistics needs, you are just a contact away from hitting the ground running along this trade lane.  
Contact us now for more information. 
It's possible!! You can ship a parcel from Tashkent to Dubai via several transport modes and logistics solutions. The UAE – Uzbekistan trade lane is viable, and the economic prowess and growth of both countries make it all possible. The trade lane is projected to experience increased trade activities in the near future. With several sectors of the Uzbekistan economy having immense growth potential, the trade lane can only experience fruitful days ahead. Countries around the globe are beginning to identify Uzbekistan as one of the marketing powerhouses of the Central Asian region. 
Frequently Asked Questions
Our customer service team is happy to assist you with planing your next booking.