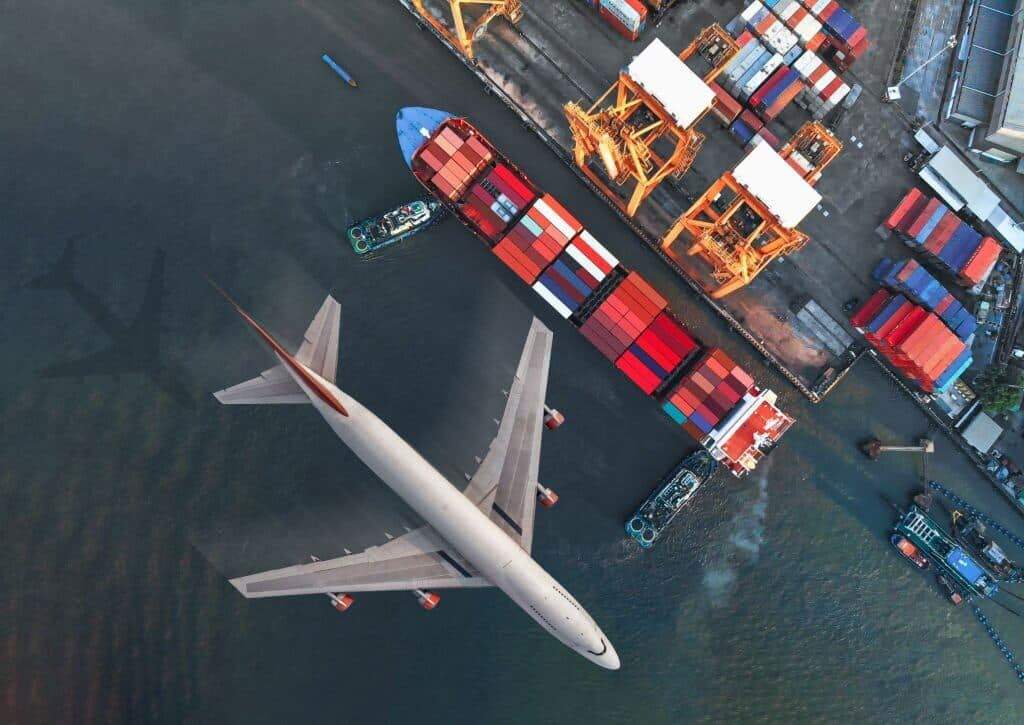 Air Freight Aircraft's & Cargo Capacity
Airfreight, or air cargo transport, is the top revenue-making aspect of cargo transport.
Beyond the profit of airline carriers, individuals and businesses seeking to import and export goods also utilize air transport for the advantages of speed, reliability, and efficiency.
Yet, not everyone is quite aware or truly understands the nature of the air freight business. That's why this article will feature the meaning and benefits of air freight, the types of aircraft used in cargo transport, and air freight cargo capacity with common examples.
Moving Cargo by Air – the Benefits
So, what is air cargo?
Air cargo refers to any good, product, or property that is transported by an aircraft. The term most commonly refers to air freight but sometimes includes air express and airmail.
Airfreight is the means by which cargo is transported by air. Of all the various means of cargo transportation, air freight has proven to be the most valuable due to the fast delivery times of goods.
Manufacturers and suppliers utilize air freight with the benefits of meeting time-sensitive demands and assurance of reliable handling and delivery despite the high costs.
Without the limitations of coastlines when shipping by sea, or inaccessible road networks in overland transport, air cargo transport offers a wider network of accessible areas. There's also the option of tracking/tracing your goods, so you'll always know your cargo is.
In addition, you benefit from airport security measures that significantly reduce the theft of goods. Reduced packaging and storage also help to save delivery time. Most importantly, the reliable operations of air freight help you keep to your delivery schedules.
Air Cargo Movement Throughout the World
The method by which cargo is transported by air is quite simple to understand.
A freight forwarder, or forwarding company, takes care of checking, registering, and moving your goods to the hands of a carrier and air cargo capacity. In between, a customs broker deals with clearance at departure and arrival of the shipment.
The carrier is responsible for moving your goods with their aircraft to the place of destination. There are two major classes of aircraft that transport cargo by air; normal passenger and specialized freighter airplanes.
Passenger Aircraft
In passenger airplanes, air freight is held in the lower deck portion (or belly) of the airplane. Therefore, air freight capacity or space in the airplane's baggage holds usually does not contain passenger items or they have air freight cargo weight limit.
Freighter Aircraft
Other names are freighters or cargo aircraft. These are specially built airplanes for transporting cargo. Hence, both the main and lower deck are loaded with air freight. Loading occurs via the nose or sides of the deck.
Asides from these two types of aircraft, there's the combination (or combi) aircraft. Here, cargo is loaded on the part of the main deck of a passenger aircraft and in the belly.
Just like with international trading, the recent COVID-19 pandemic negatively impacted passenger and cargo travel by air. Most passenger aircraft heavily involved in moving a large percentage of total air cargo were grounded, leading to a sharp increase in air travel costs and freight rates.
As a result, the innovation of another type of aircraft – passenger-to-freighter (P2F) airplanes – came into place. In P2F, normal passenger aircraft have most of their passenger seats removed, with the plane repurposed as a freighter.
A Boeing 737-800 aircraft before (left) and after (right) conversion
The benefit of passenger-to-freighter conversion to freight carriers (courtesy SATAIR)
After a shipment is cleared by Customs, the forwarding company delivers the goods in containers, whether by road or railway transport, to arranged destinations or points of pickup.
Different Types of Aircraft Carrying Air Cargo
These cargo-carrying aircraft include passenger airplanes, freighter, and converted passenger-to-freight (P2F) airplanes. These airplanes also serve different purposes according to their various air freight cargo weight limit and travel distance.
Common examples of aircraft used to transport air freight are listed below.
B747-400F
Provider: Boeing
Hold Size (L x W x H): 4,800 x 486 x 304 cm (1889" x 191" x 119")
Maximum payload (cargo capacity): 124,330 kg (274,100 pounds)
Range: 7,169 km (4,454 miles)
Purpose: Long-range air freight
Cross-section of a B747-400F aircraft showing the main deck (top) and belly (bottom)
B737-400F
Provider: Boeing
Hold Size (Length x Width x Height): 2,440 x 319 x 214 cm (960" x 125" x 84")
Max. cargo weight: 20,412 kg (45,000 pounds)
Range: 3,850 km (2,392 miles)
Purpose: Transporting goods via medium-haul flights
A300-600F
Provider: Airbus
Hold Size (L x W x H): 4,070 x 528 x 245 centimeters (1,602" x 207" x 96")
Maximum payload (cargo capacity): 47,000 kilograms (103,617 pounds)
Range: 3,943 kilometers (2,450 miles)
Purpose: Regional freighter used for carrying medium-haul cargo
A330-200F
Provider: Airbus
Hold Size (L x W x H): 4,500 x 528 x 245 centimeters (1771" x 207" x 96")
Maximum payload (cargo capacity): 65,000 kilograms (143,300 pounds)
Range: 7,400 kilometers (4,598 miles)
Purpose: Used for air freight in medium- to long-range flights
B747-8F
Provider: Boeing
Hold Size (L x W x H): 5,430 x 486 x 304 cm (2,137" x 191" x 119")
Maximum allowed payload: 140,000 kilograms (308,647 pounds)
Range: 8,130 km (5,051 miles)
Purpose: Long-range air freight
MD-11F
Provider: Boeing
Hold Size (L x W x H): 4,400 x 488 x 244 centimeters (1,732" x 192" x 96")
Maximum payload (cargo capacity): 85,000 kilograms (187,393 pounds)
Range: 6,115 kilometers (3,799 miles)
Purpose: Large freighter capable of long flights
B777-200F
Provider: Boeing
Hold Size (L x W x H): 4,412 x 582 x 315 cm (1,737" x 229" x 124")
Maximum payload (cargo capacity): 102,511 kg (227,511 pounds)
Range: 9,038 km (4,880 miles)
Purpose: Suitable for carrying bulky items on long flights
A310-300F
Provider: Airbus
Hold Size (L x W x H): 3,300 x 477 x 240 cm (1,299" x 187" x 94")
Maximum cargo weight: 39,000 kg (85,980 pounds)
Range: 7,250 km (4,504 miles)
Purpose: Medium haul transport
Prohibited Cargo
Despite the wide range of products that are moved daily via air transport, not all goods are permitted in air freight.
Reasons include possible damage to aircraft and significant risk to health and safety in the event of exposure.
These prohibited cargos in air freight include:
Dangerous goods classified by the UN and IATA
Firearms and ammunition
Flammable liquids and ignitable gases
Explosives
Biochemical products, radioactive materials, and laboratory chemicals
Power suppliers (generators and lithium batteries)
Poisonous items
Furs, ivory, and ivory items
Fine art and antiques
Strong magnetic products
Ending Note
If you're seeking to ship goods quickly without having to deal with the customs fees involved in sea transport or the limitations of overland transport, then air freight serves as the ideal option for you.
Nowadays, moving goods from place to place by air is more expensive than other available means of transport. However, the benefits of expedited shipping and reliability ensure air freight gives you your money's worth.