Senegal ECTN Certificate Waiver Services
Waiver Requirements For SENEGAL / ECTN OR CTN
An ECTN (Electronic Cargo Tracking Note) certificate is required for all shipments going to Senegal.
Advisory as of March 1st 2019
We would like to inform you that effective 1st March 2019 (BL date), a cargo Tracking Note (CTN) is mandatory for all shipments to Senegal.
It is mandatory for all Export cargo bound to a destination in Senegal to have a pre-validated CTN ( Cargo Tracking Note) per commodity item which need to be mentioned on the BL and Cargo Manifest. The Shipper must provide CTN number in the Shipping Instruction submitted to Shipping lines or Carriers.
The CTN procedure is not applicable for cargo in transit or transhipped at Senegal. Please be aware that for 'in transit' cargo it is mandatory to mentioned in the body of the BL the following remark "Container in transit for Mali". If the aforementioned requirement is not complied with there is a risk Senegalese customs authorities may block the cargo as the cargo will be considered as local Senegalese cargo.
As per Senegalese law the aforementioned CTN procedure it to be adhered to in full by all shippers moving cargo to Senegal. Non adherence may result in delays in cargo release and fines being issued by COSEC. All costs & consequences related to non-adherence of the CTN procedure will be for shipper's account.
Good news! As Al Sharqi continues to be your one stop shop for all waiver requirements to Africa, we are now accepting BESC/ECTN certicate creation for shipments bound for Senegal.
For additional inquiry you may visit our website www.alsharqi.co as chat agents are available to answer your query, you may also call us at +971 04 5233999 or send us an email to quoteme@alsharqi.co.
Shipping Ports of Senegal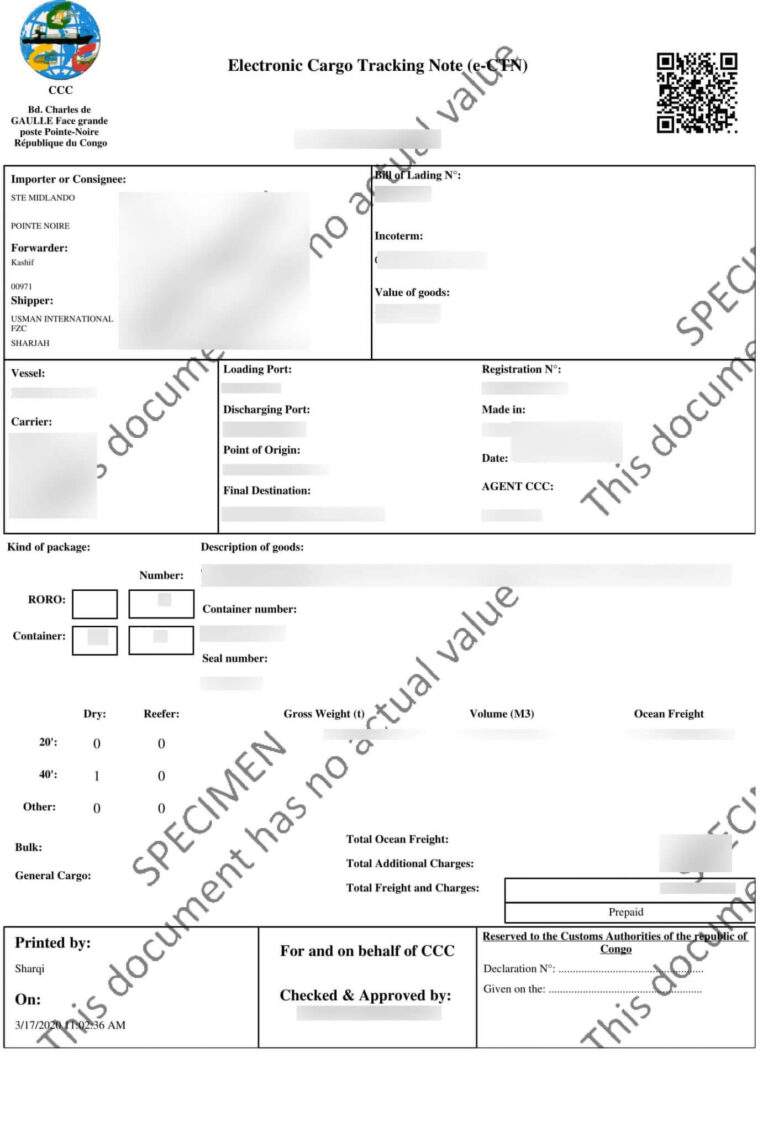 Pre-Shipment Inspection for Senegal
No preshipment inspection is required at port of loading 
Information and documents required for creating a ECTN Certificate
Shipping Goods Exempted from PR Congo ECTN Certificate
Prohibited Goods for Import to PR Congo
Restrictive Goods Shipping to PR Congo
Charges for PR Congo ECTN Certificate
For creating an ECTN certificate for PR Congo, different rates are applicable. This depends on the Port of Loading and type of shipment, like LCL,  FCL,  Breakbulk or RORO.
Additional Information about the ECTN Certificate
It is not possible to create an ECTN number for PR Congo on forehand. The ECTN number will be provided after validation of the ECTN. For Congo it is not mandatory to mention an ECTN number on the Master Bill of Lading.