Sharjah Business Summit 2017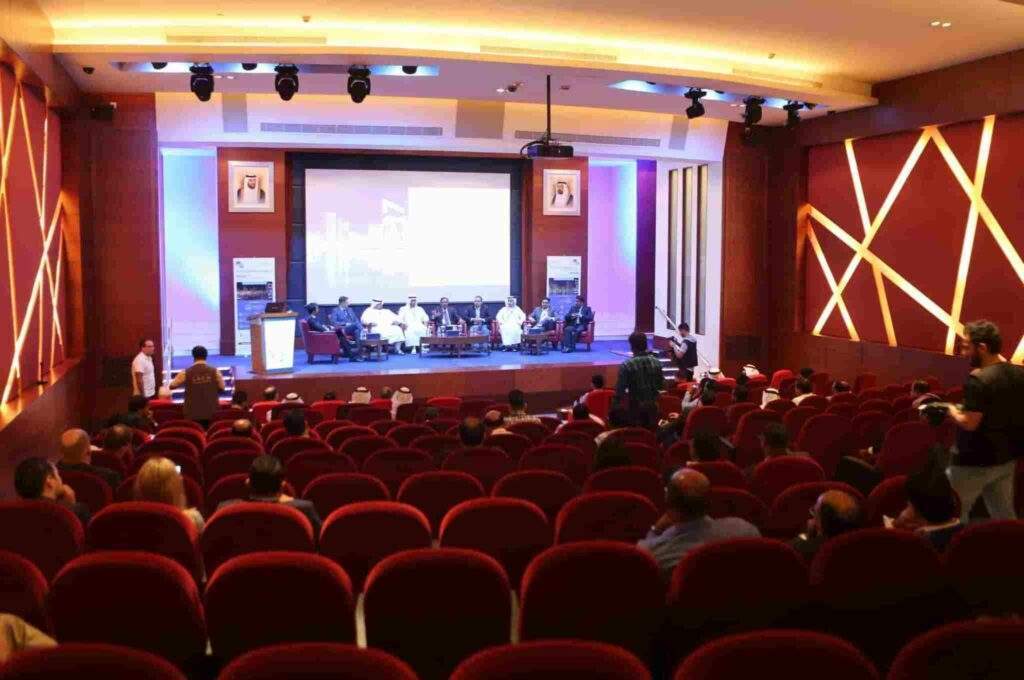 Gulftainer, along with its logistics subsidiary Momentum Logistics, co-hosted the Sharjah Business Summit with prominent local government entities and a special invitation to Al Sharqi Shipping to be part of the interactive panel discussion to represent logistics industry, due to its 2 decade of association with the emirates of sharjah, to explore the investment outlook in Sharjah and showcased logistics and supply chain solutions.
The Sharjah Business Summit featured a day-long agenda of interactive presentations and roundtable discussions that examined new investment opportunities and spotlighted innovations in the supply chain and logistics industry for the emirate.
Some of the major advantages highlighted during the event:
Sharjah has 21 Industrial Zones and 55,237 registered business
Population is between 25-34 years old and 92% literacy rate
19% of Annual UAE GDP contributed by Sharjah
33% of the UAE Manufacturing Sector is housed in Sharjah
The only Emirate with Land On Arabian Gulf, Gulf of Oman & Indian Ocean with collective 3 seaports on both Arabian Gulf and Indian Ocean
2nd Largest Air Freight Hub in the Middle east
A 4 hrs flight within one-third of the world population and 8 hrs flight within two-thirds.
A flourishing tourist industry
Hamriyah Free Zone is the 2 nd Largest Industrial Free Zone of UAE
Strategically easy access to all the Seven Emirates and Gulf States
Connectivity to major Highways
Land Bridge that connects Port of Khorfakkan to ICD and delivery within UAE as fast 14-16 hrs compared to 2 days of transit time from Port of Khorfakkan to Jebel Ali.
One of the innovations featured at the event included the Sharjah Port Authority's new integrated e-portal for customs clearance for freight forwarding and logistics companies in Sharjah.
We are pleased with the progress of Sharjah Port Authority and Customs from where it was to where it has come" says Atif Rafiq Director of Al Sharqi Shipping. We have been dealing with Ports and Customs for nearly 2 decades now and this initiative is widely welcome as part of the digital Supply chain. We have been involved in the early stage as one the users to test and provide valuable feedback to enhance the user experience.
Commenting on the event, Atif Rafiq applauded Gulftainer for bringing all the relevant stakeholders across the supply chain under one roof, giving the opportunity to interact and address concerns for a better customer experience.
Among the other esteemed guests were HE Sheikh Fahim bin Sultan Al Qasimi, executive chairman of the Department of Government Relations, HE Sheikha Shatha Al Mualla, director of the Public Health Department at Sharjah Municipality, HE Sheikha Dr Rasha Al Qassimi, deputy director general of Public Health and Central Laboratories at Sharjah Municipality, Saud Al Mazrouei, director of Hamriyah Free Zone Authority and Sharjah Airport International Free Zone Authority, Flemming Dalgaard, CEO of Gulftainer.
For his part, Abdelaziz Mohamed Shattaf, Assistant Director General for Members Services Sector at the Sharjah Chamber of Commerce, said:
The Sharjah Business Summit is aligned with its vision to support trade and business in the emirate. As part of this vision, we aim to create new opportunities for exporters in Sharjah that will require increased cooperation and coordination with the transport and logistics sector. We are confident that our collective synergies will significantly accelerate growth and innovation.
Abdelaziz Mohamed Shattaf
Assistant Director General for Members Services Sector at the Sharjah Chamber of Commerce Sharjah, UAE
Our customer service team is happy to assist you with planing your next booking.