CMA CGM honors Al Sharqi Shipping for the year 2016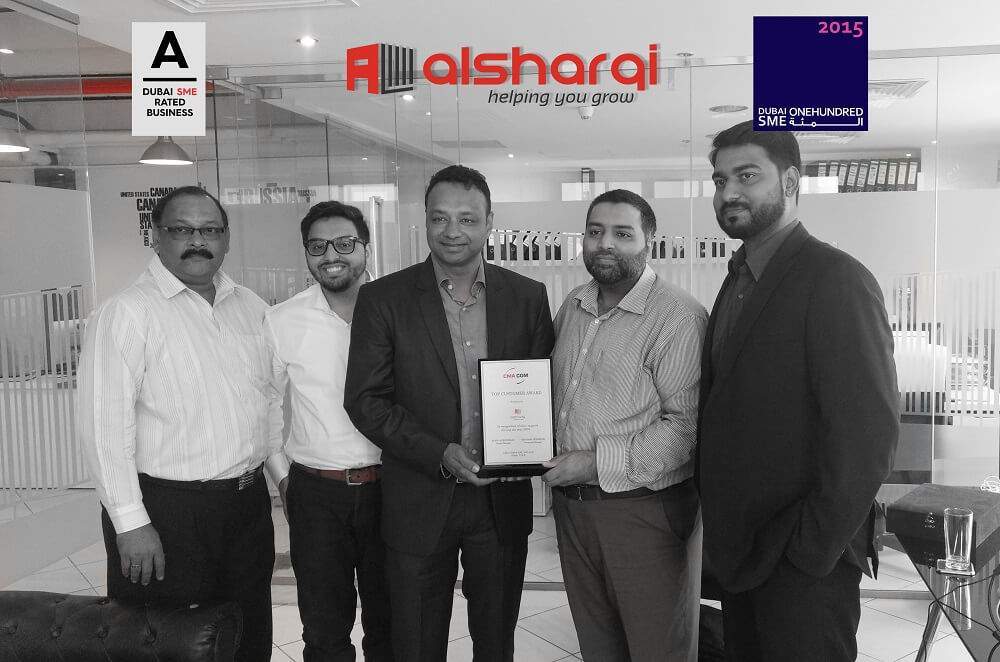 Dubai, UAE —July 18, 2017—Al Sharqi Shipping received Top official from CMA CGM Office, Santosh
 Devasper, CMA CGM Commercial Manager; Manoj Kumar CMA CGM Export Trade Manager and Pradeep Vallath, Deputy Manager VIP Desk, at their HQ in Dubai to hand over the "Top Customer Award" for the year 2016. The award was handed over to Kash Rafiq, Director Al Sharqi Group & Shipping along with the presence of Atif Rafiq, Director Al Sharqi Shipping and other key members of Al Sharqi Shipping.
"We at Al Sharqi Shipping have deep dived into our Customer's problems and turned our focus towards a more customer centric approach, improving our systems and processes. The same is true with CMA CGM with their new online portal and their customer centric team which help us deliver our SLA and guarantee quality Customer service " says Kash Rafiq Director Al Sharqi Group & Al Sharqi Shipping. He also says "this award is a testament to our commitment towards our Customers to provide them the best even when the going gets tough".
Khaleej times newspaper's coverage of Al Sharqi's CMA CGM Award in 2017 Read Now!
We are excited to receive our 4th straight award from CMA CGM since 2014, then in 2015, once again in 2016 and now. It feels good to know that our continuous efforts are acknowledged on such a scale as we have been consistent with our value of "helping you grow"- says Atif Rafiq, Director Al Sharqi Shipping.
"Winning both Maersk line, the world's largest Shipping line, Platinum Award and CMA CGM, now the world's fourth largest Shipping line (Cosco replaced CMA CGM with the acquisition of OOCL to be placed third on July 8, 2017), top customer award gives us the added advantage whereby our partners, and Customers(Shipper) alike leverage our strong relationship with both the lines to their benefit" – says Asif Rafiq, Pricing Team Leader Al Sharqi Shipping.
Read News : Arabian Supplychain Online featured "CMA CGM awards Al Sharqi with top award in 2017"
Al Sharqi Shipping, which is an award winning logistics player with its headquarters in Dubai, UAE and one of the oldest logistics companies in UAE since 1989. The family business in its 28th year has evolved from a single entrepreneurial venture to a strong regional logistics player covering the entire supply chain with core activities in Freight Management and Freight Forwarding, Customs brokerage and Compliance, and GPS enabled Trucking.
Al Sharqi with a mindset of "Helping you grow" focuses on Technology and collaboration to solve a lot of today's business problems. With numerous recognition like the Dubai SME 100 , Maersk Platinum award, CMA-CGM Customer award and many year on year awards , they are expanding their footprint across Middle East, Asia and Africa with multiple offices to serve logistics and shipping needs of their customers.
CMA CGM S.A. is a French container transportation and shipping company, headed by Jacques Saadé. It is the fourth largest container carrier company in the world using 170 shipping routes between 400 ports in 150 different countries. Its headquarters are in Marseille,[4] and its UAE headquarters is in Dubai, UAE.