Supply Chain Outlook 2022 & Navigating Uncertainty for Success in 2023
In 2022, the supply chain industry faced both growth opportunities and difficult times. Weather, geopolitical tensions, and labor strikes caused significant disruption, with the Russian-Ukraine conflict leading to scarce supplies and skyrocketing prices for some products. China's stringent lockdown further hindered supply chain operations. Transporters were additionally hampered by labor strikes around the world, resulting in transportation delays.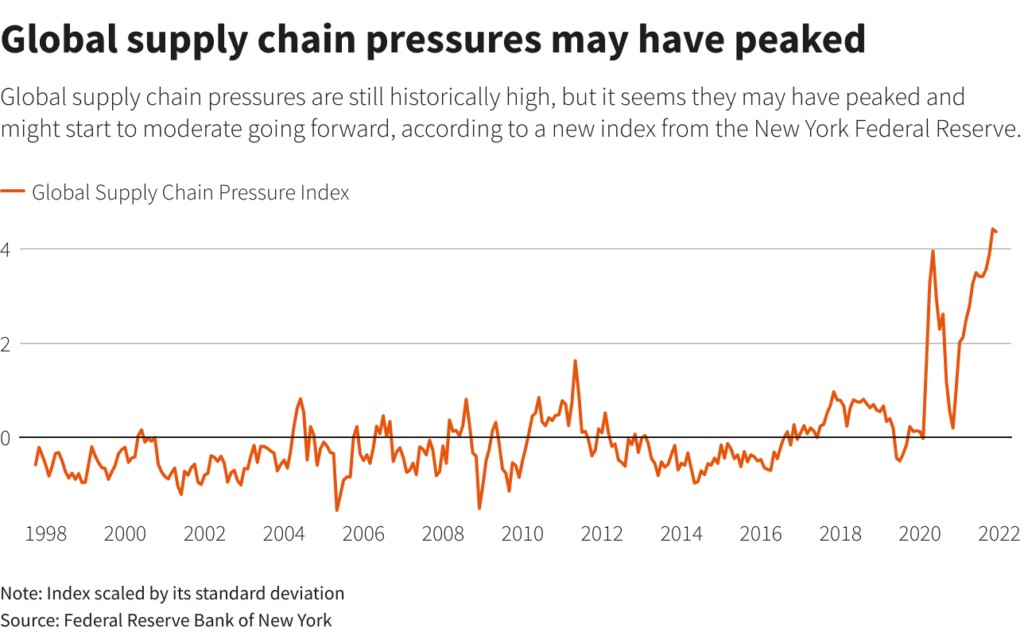 In 2022, the US West Coast (USWC) and US East Coast (USEC) experienced record levels of container congestion, with port delays of weeks. This was largely due to geopolitical tensions, high demand, and a shortage of labor due to the COVID-19 pandemic.  
Experts hope that by 2023 the USWC and USEC would see a decrease in congestion, but due to continuing geopolitical tensions and rising inflation, this may not be the case. Supply chain managers must take these predictions into account when planning for the year ahead. 
Here is a summary of the conditions in 2022 and the predictions for 2023. 
Ocean Freight – Outlook 2022 vs Predictions 2023
In the Spring of 2022, ocean freight costs began to decrease, with the rate for China to USWC coming close to its pre-pandemic level. According to a recent study done by Freightos, the rates for 40-ft containers for the trade lane from Asia to USWC dropped by 80% of its previous price in April 2022. Additionally, the prices on the East Coast were reduced by two-thirds.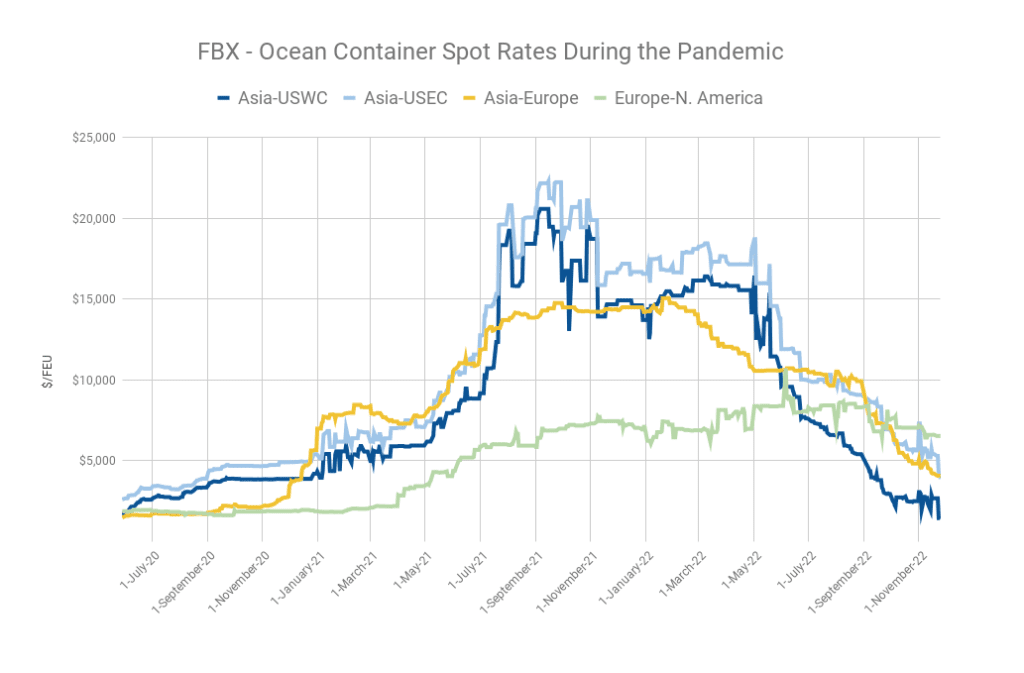 Freights data reveals that freight rates in November 2022 decreased by 21%, reaching $2,607/FEU, which is 70% lower than the 2021 level. This was partially attributed to the slow demand and high congestion levels, as well as the blank sailings issues, which caused the spot rates for all Asian lanes to decline significantly.
By the end of 2022, congestion levels at the Long Beach and LA ports, and New York had returned to normal, while congestion in Southeast and Houston ports persisted.
The US West Coast saw a dramatic reduction in volumes as shippers opted to use the East Coast and Gulf ports instead due to unresolved issues and labor dispute.
The rates on Transpacific routes reduced significantly across all coasts.
Rate from Asia-North America West Coast fell to $1,424/FEU, a 42% decrease.

The rate from Asia-North America East Coast dropped to $3,874/FEU, a 31% decrease.

For Asia-Europe, both rates and volumes decreased, with the price falling to $4,072/FEU, a 16% reduction.

Ocean freight is expected to be an unpredictable and difficult experience in 2023, with the possibility of a decrease in transported volumes of up to 2.5%. This is due to overstretching of capacity and increasing freight rates in the previous years, as well as the economic crisis, which will make it impossible for shippers to negotiate with the carriers. Comparatively, the best-case scenario would be that the volume of freight in 2023 is the same as in 2022. 
The demand for this year is projected to decline, possibly reducing congestion in ports by half to 4%. Current port congestion stands at 8% but could be lessened if conditions remain favorable in the US West Coast, US East Coast, and North Europe. 
Predictions indicate that the idling of ships will likely increase in the year 2023. 1.65m TEU will be added to the fleet, and some demolitions are expected, resulting in a 5.9% growth. This could lead to another period of overcapacity.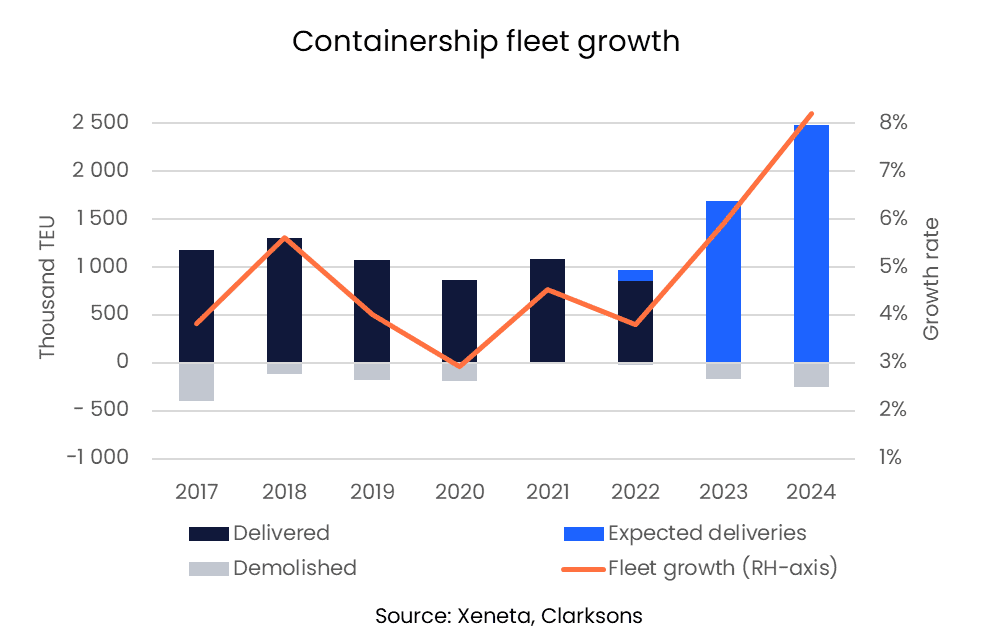 Meanwhile, the new negotiations like EEXI, CII, EU, and ETS will boost the transition to new fuel options. 
Air Freight – Outlook 2022 vs Predictions 2023
Since the start of the pandemic, air cargo demand has skyrocketed due to the need to quickly deliver vaccines. As passenger flights were cancelled, air cargo became a major source of revenue for airlines. In 2021, cargo revenues accounted for 40% of airline income, a dramatic rise from previous years. This was largely due to reduced passenger capacity and a sharp increase in cargo volumes.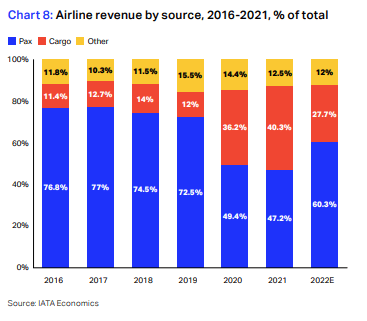 In 2022, the passenger market began to rebound while the cargo business started to decline due to global economic growth issues and geopolitical tensions. As a result, the total airline revenue rose to 87% of its level in 2019, but the total share of cargo volume revenue dropped to 28%.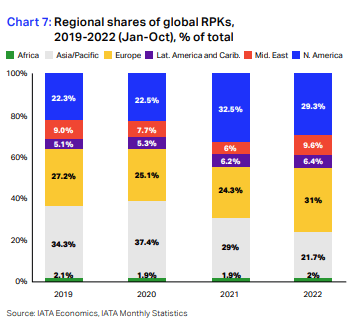 By 2023, the airline industry is projected to reach 93% of its pre-pandemic revenue. Air cargo is expected to generate US$150 billion in revenue, although the volume and yield will be slightly lower. Despite this, the revenue share of air cargo will be 50% higher than before the pandemic.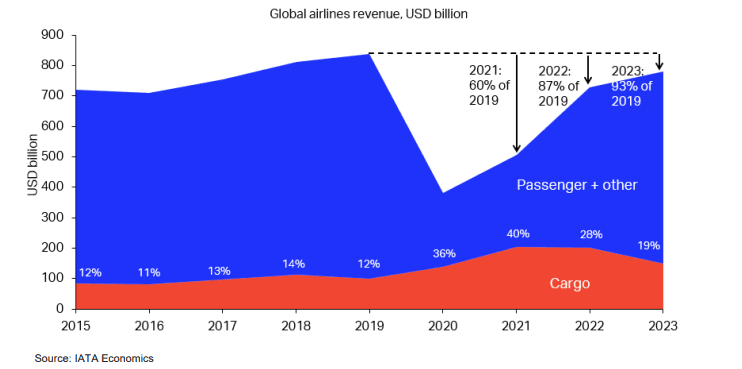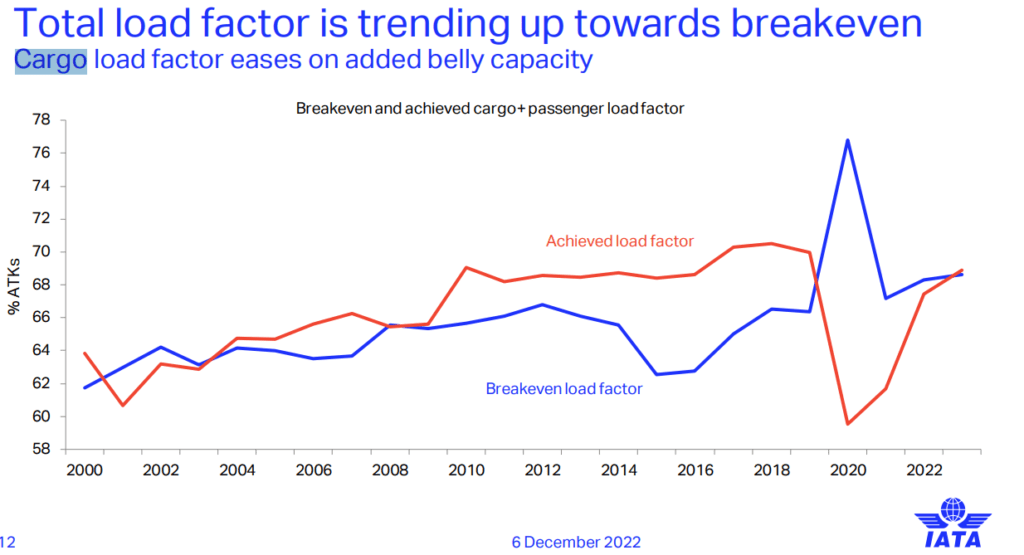 Trade Conditions – Outlook 2022 vs Predictions 2023
In 2022, global trade reached an all-time high of $32 trillion; however, the second half of the year saw a decline, and a further drop is anticipated in 2023. According to the UNCTAD Global Trade Update Report, the decrease in trade is expected to worsen in 2023 due to geopolitical tensions and tight financial conditions. 
Despite the Ukraine-Russian war, the trade of goods and services remained strong in 2022. Goods trade saw a 10% increase from the prior year, estimated at $25 trillion, while services trade saw an even greater increase of 15%, totaling $7 trillion.
UNCTAD predicts that the slowdown in late 2022 will lead to more issues in 2023, such as inflation, energy, and interest rate hikes, as well as the extended effects of the Ukraine-Russian war.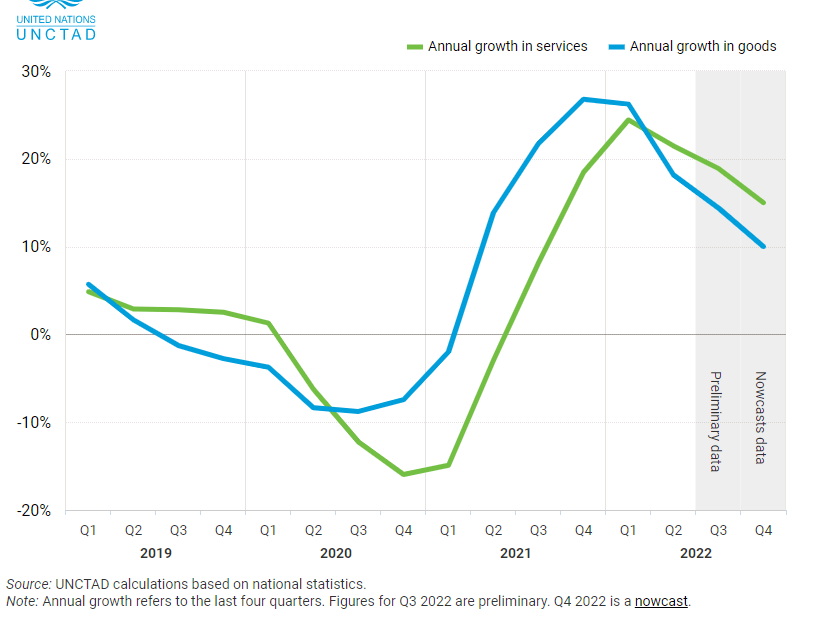 Many companies are trying to reduce the effect of these problems, and the Middle East is taking steps to make sure the global crisis doesn't have a big effect on the supply chain. Here are some of the changes that shippers and carriers are planning for 2023. 
Mirsal New Enhancements Will Be Effective From 1st January 2022
As per custom notice 5/2022, Mirsal will be implementing new enhancements that will be effective from the 1st of January 2022. These enhancements include a
CIF Value minimum threshold for Courier Declaration with low values,

Decrease in customs service charges on courier declaration

Duty exemptions on Carrier Declaration.
UAE GCAA Dangerous Goods Certified Entities List Generated
All entities mentioned in the list will be receiving their certificates for dangerous goods electronically after the changes in working arrangements after the pandemic period.
UAE GCAA Dangerous Goods Certified Entities List Generated
Hapag Lloyd has made their shipping handling process much easier. To remove the complexities, now you can get the online Bill of Lading draft amendments in under 2 hours of requesting for it on the website. 
Etihad Cargo to benefit from increased US belly capacity. Read more
JD Logistics Airlines builds cargo routes in China. Read more
IAG Cargo dismisses near future freighter investments. Read more
EV Cargo publishes inaugural sustainability report. Read more
Amazon Air is set to sell space on its aircraft to third parties. Read more
Nippon Cargo Airlines to use Neste MY Sustainable Aviation Fuel for their cargo flights reducing the emissions of cargo transport. Read more
MSC Group completes acquisition of Bolloré Africa Logistics. Read more
GoPlasticPallets invests in site expansion to support 2023 growth strategy. Read more
Kuehne+Nagel to double French airfreight business. Read more
DB Schenker to develop new airfreight facility at Oslo Airport as imports continue to grow. Read more
Air cargo demand drops further as holiday season starts: WorldACD. Read more
Maersk Completes Acquisition of Logistics Firm Martin Bencher. Read more
FMC examines shipping line compliance on anti-retaliation. Read more
Indonesian port operator takes measures for potential extreme weather. Read more
CN analysis: Box carriers' rate struggle on India trades continues amid demand challenges. Read more
Transpacific ocean rates return to 2019 levels. Read more
European recession dragging down ocean freight demand, rates. Read more
Outgoing ministers sign off on Haifa port privatisation. Read more
Rail regulators streamline process for shippers to challenge unreasonable rates. Read more 
C.H. Robinson announces major executive leadership change, with Biesterfeld stepping down. Read more
Crude tanker rates down double digits after Russia sanctions debut. Read more
MODE Global Announces Corporate Partnership with United Way of Metropolitan Dallas. Read more
AD Ports sets sights on Caspian region with Kazakh offshore and shipping tie-up. Read more
The Future of Warehouse Automation: What to Expect in 2023. Read more 
Warehouse receipt fraud: Singapore firm can't trim US$282mn damages ruling. Read more 
Maersk to build first green and smart flagship logistics centre in Lin-gang, Shanghai. Read more 
Hydrogen Storage and Distribution Are About To Become A Huge Market | Hexagon Composites, NPROXX, Faurecia, CLD. Read more 
A.P. Moller – Maersk announces new and innovative cold storage facility in Norway. Read more 
Acme records 30% growth in 2022. Read more 
Our customer service team is happy to assist you with planing your next booking.