Logistics Industry Insights – August 2023 
Highlight: Economic Trends Impact CMA CGM's Q2 2023 Revenue and Logistics
In Q2 2023, the Group reported USD 8.4 billion revenue from shipping, down 47.9% YoY. EBITDA reached USD 2.2 billion, down 76%, with a 26.2% EBITDA margin (30.7-point drop). Average TEU revenue was USD 1,491, down 10.3%. Despite a 0.3% QoQ dip, 5.60 million TEUs were transported, up 11.5% from Q1. Logistics Q2 revenue: USD 3.8 billion, EBITDA: USD 356 million (up 4.7%). Acquisitions boosted stability, while Europe's contract logistics recovered, U.S. e-commerce faced weakness, and Finished Vehicle Logistics thrived. CMA CGM proposed Bolloré's freight and logistics acquisition.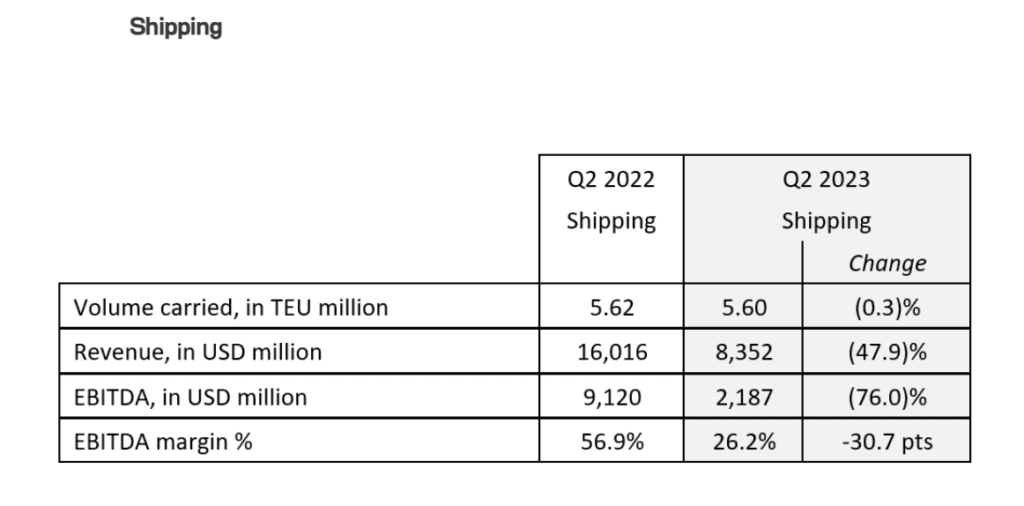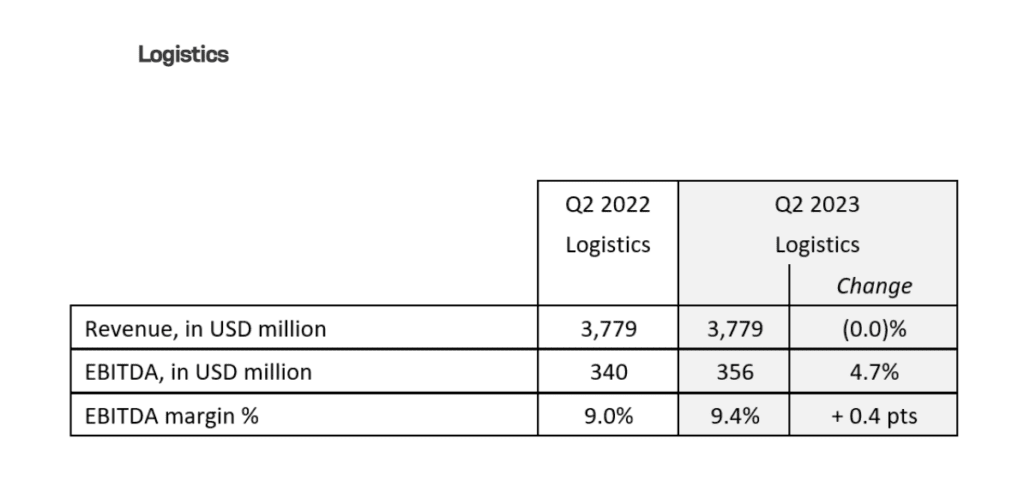 Updates on Ocean Freight – August 2023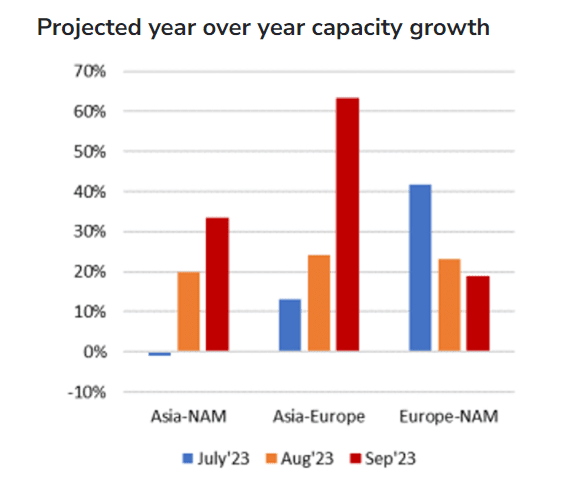 Key 

        ++          

Strong Increase 

         + 

Moderate Increase 

         = 

No Change 

         – 

Moderate Decline 

        — 

Strong Decline 
Middle East – North America
Space availability in the Gulf is tight, leading to higher volatility in rates for this trade lane.  
Capacity — (=) 
Rate — (+) 
Spot rates for this trade lane show a downward trend month over month, resulting in generally flat to decreasing rates.  
Capacity — (=) 
Rate — (=/-) 
Rates from the Gulf remain unchanged, although spot rates demonstrate an increasing trend month over month. Capacity will remain constant, with available space. 
Capacity — (=) 
Rate — (=) 
Middle East – Latin America
Rates from the Gulf remain steady, and space availability can vary weekly, while spot rates are expected to remain consistent. 
Capacity — (=) 
Rate — (=) 
Capacity and spot rates will remain stable month after month for this trade lane. Tight space conditions will contribute to rate stability. 
Capacity — (=) 
Rate — (=)  
Latin America – Middle East
Both capacity and spot rates show consistency month over month for this trade lane. However, a steady demand is anticipated after the Eid-ul-Adha holiday. 
Capacity — (=) 
Rate — (=) 
Capacity and spot rates are expected to remain steady month after month. Overall, this trade lane is stable, and space availability is relatively open. 
Capacity — (=) 
Rate — (=) 
North America – Middle East
Regular blank sailings occur in the South Atlantic ports, while tight space conditions persist with more options available from the Northeast Coast. Capacity is improving from the U.S West and Gulf coasts, although space remains constrained. 
Capacity — (=) 
Rate — (=) 
Updates on Air Freight – August 2023
Demand: Volume growth remains low for the month. However, a conservative increase in volume is expected in the coming peak season. High inventories and decreasing purchasing power contribute to low demand.  
Capacity: Current capacity is sufficient for volume levels. Belly capacity shows improvement due to high travel demand. No serious backlogs, and global capacity is now 11% higher than last year. 
Rates: Slight rate increase in some trade lanes, but market remains competitive. Stability expected in long-term rates in H2 2023. 
The Middle East and Air Carriers
Middle East airlines increased international capacity by 15.7% YoY. Despite the global decline in Cargo Tonne-Kilometers (CTKs), Middle East carriers improved their annual decline from 6.7% in April to 3.1% in May. 
Q2 2023 shows improved volumes compared to Q1. Soft demand due to the traditional slack season, expected to continue before predicted improvement by the end of Q3. No capacity issues; passenger flight capacity increased to support summer travel. Rates expected to stay stable with improvements in August.  
There are no issues related to capacity as the passenger flight capacity has been increased as a support to the summer travel demand. Furthermore, after a gradual uptick, the rates are expected to stay stable along with anticipated improvements at the end of August. 
Latin America has available capacity for key trade lanes. Aggressive spot rates are due to lower demand, while contract rates remain stable. Low season for perishable volumes across the region. North America sees manageable air freight demand between USA and China; additional capacity may impact air rates.  
On the other hand, the Felipe Angeles International Airport (AIFA) in Mexican City is now operating international cargo arrivals as well along with the domestic flights. It is expected to deal with cargo departures as well.  
Air freight demand reduces worldwide, except for peak commerce volume, notably in South China. Hong Kong sees a 2.1% rate increase for shipments to Europe. Talks of a strike among air control managers in mainland Europe, potentially disrupting summer vacation flights. 
Shipping News – United Arab Emirates
The Government of Dubai has introduced Administrative Decision No. 2 of 2023 on the transparency of local sea container charges in the Dubai Directive. This aims to ensure transparency, accountability, and competitiveness across Dubai's maritime sector, benefiting Beneficial Cargo Owners (BCOs).  Read More 
OOCL has announced the provision of the IQAX eBL for issuance, transfer, endorsement, and management of the Ocean Bill of Lading. This digital solution fulfills requirements for international trade, transportation, and financing settlements. Learn More 
Starting from July 18th, 2023, Maersk is reintroducing 'Online Payment Remittance' to enhance customer experience, leading to faster payment receipt processing. Read More 
The UAE GCC Dangerous Goods Certified Entities list was updated on July 20th, 2023, notifying entities of the renewal for Freight Forwarder DG Certification #351 of Fast Logistics Cargo FZCO, Dubai. Read More  
CMA CGM announced evacuation plans for CC MEKONG and SEASPAN AMAZON due to congestion in Mersin.  
Hapag Lloyd has updated the congestion surcharge, affecting cargo planning for shipments from Mersin, Turkey. Effective from July 17th, 2023, a new surcharge will apply to reefer and dry containers from the Far East, Middle East, and India Subcontinent. Read More 
Global Factory Output – Overview August 2023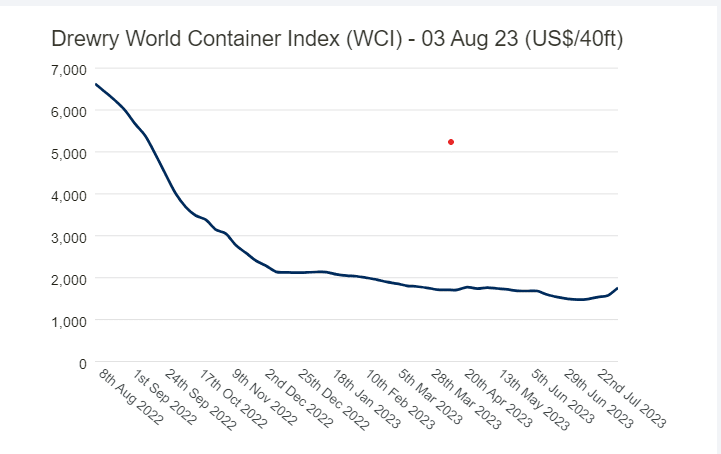 The Drewry's World Container Index (WCI) has increased by 11.8% and reached a new value of $1,761.33 per 40-ft container in the first week of August. 
United States of America (USA)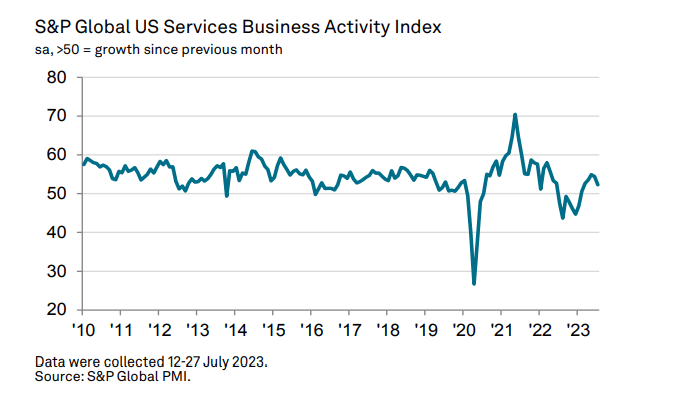 The PMI for USA services was recorded at 52.3, down from 54.4 in June. Despite the slight decrease, the service sector remains the primary driver of growth for the US economy. Business activity increased in July, albeit at the slowest rate since February. However, the rate of expansion is declining further from the peak in May due to a sharp decrease in new business growth.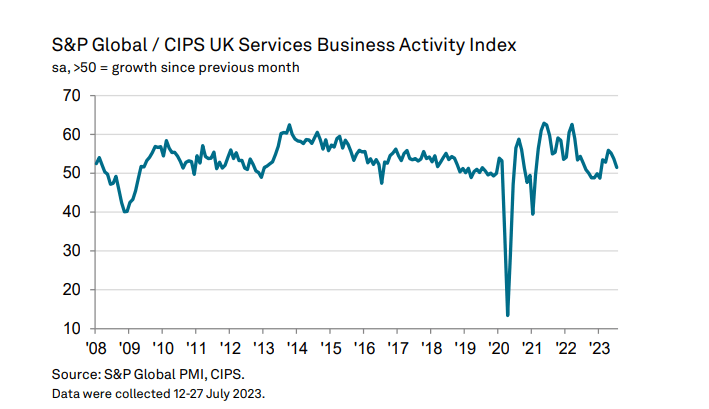 The PMI for the UK decreased from 53.7 in June to 51.5 in July 2023. This decline indicates that the UK's economy will be negatively affected by higher borrowing costs impacting consumer spending and business confidence. The service sector also experienced the weakest rise in new work in six months.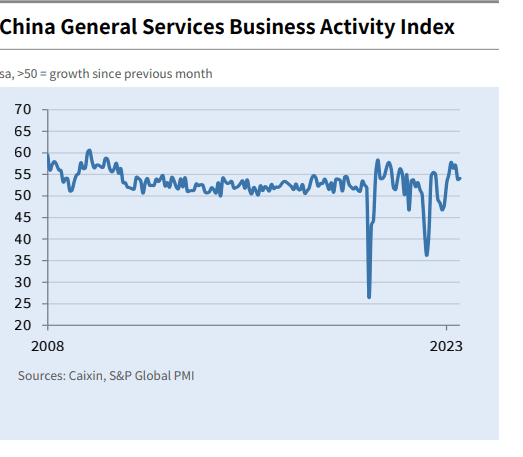 China's PMI increased to 54.1 in July from 53.9 in June 2023. This value signifies continuous expansion of business activity in China's service economy for the seventh consecutive month. Another contributing factor to the increase was the overall growth in new business in July. 
United Arab Emirates (UAE)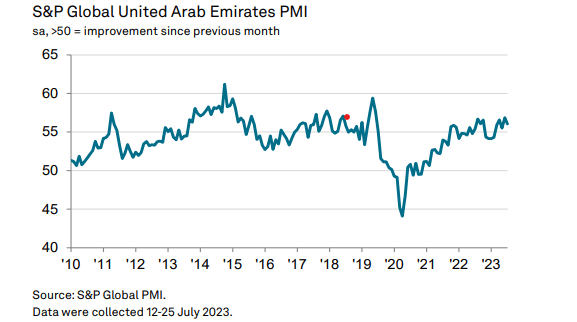 The UAE's PMI decreased from 56.9 in June to 56.0 in July. This slight change in value reflects a moderation in the strength of the UAE's non-oil economy. The growth of new businesses slowed from a four-year high in June, and output expansion also reduced slightly. However, the value of 56.0 indicates that the sector remains generally healthy, with improving market conditions and firms reporting robust rates for customer demand growth and job creation. 
Global Interesting News – August 2023
Cargo-partner offers Western Europe, Asia consolidation services  Read More 
Global airfreight rates rise 2.9%  Read More 
DHL Express to invest $192M into CVG expansion  Read More 
Digital Pulse: Qatar Cargo offers real-time, personalized e-pricing  Read More 
IAG Cargo revenue down 28.5% YoY in H1  Read More 
Maersk opens air cargo hub near ATL  Read More 
Avion Express expands fleet to 50 aircraft  Read More 
TAAG Angola to increase frequencies to Kinshasa  Read More 
Air Astana signs codeshare agreement with Azerbaijan Airlines  Read More 
cargo-partner introduces airfreight consols between W Europe and Asia  Read More 
Abu Dhabi International Airport welcomes back Air France  Read More 
Saudia Cargo expands European services  Read More 
Tailored animal transportation: From pets to conservation  Read More 
dnata's flower handling expertise takes flight in Amsterdam  Read More 
Qatar Airways Cargo and Airlink play vital role in responding to humanitarian needs  Read More 
The Future of Ground Handling: Embracing Digitalisation and Automation for Success Read More 
Qatar Aviation Services Cargo receives IATA's smart facility operational capacity certification Read More 
Qatar Airways Cargo takes fresh to the next level  Read More 
Hong Kong Air Cargo targets expansion Read More 
Los Angeles Airport takes on cargo project Read More 
Hawaiian Airlines receives first Amazon A330 freighter Read More 
Challenge Group remains committed to its Liège hub Read More 
Seafrigo acquires PML, expands operations Read More 
Transatlantic carriers must change course and rethink expansion plans Read More 
EU initiative will 'kick-start' large-scale production of sustainable maritime fuels' Read More 
Box terminal operators feel the pain as peak season disappoints Read More 
Carriers blank voyages and look for port call inducements as demand slows Read More 
Box lines slam on the brakes in a charter market feeling the pain Read More 
Maersk's bottom line saved by fuel savings Read More 
New fuel regulation could cost as much as 12,000 dollars a day per tanker Read More 
Tanker scrapping is expected to increase again from 2024 Read More 
Longshore labor unrest a new daily fact of life for North American shippers Read More 
'REGLOBALISATION' Trends Emerge in Port Call Data Read More
One Hundred Ports: Container shipping bids farewell to the boom times Read More
Saudi Arabia's Neom port 'won't compete' with regional box terminals Read More 
Ocean carriers warn FMC against regulating prices Read More 
All-time high: Shares of container company Textainer still rising Read More 
Iranian Oil Remains Stuck Off US Coast Read More 
Russia Blocks Cargo Vessel Transits Through the Kerch Strait Read More 
Tow-away regulations in Rotterdam for incorrectly moored barges Read More 
Valenciaport calls for tenders for the air quality network control service Read More 
CMA CGM enhances FAL 1 service Read More 
Hapag Lloyd increases rates from Asia to US East Coast Read More 
CMA CGM increases FAK rates from Asia to North Europe Read More 
CMA CGM revises overweight surcharge from Asia to East Africa Read More 
CMA CGM implements port congestion surcharge for reefer cargo in Cameroon Read More 
CMA CGM introduces container scanning fee in Congo Read More 
Maersk increases rates from Far East to Med ports Read More 
Adani to boost Mundra port capacity by 800,000 TEUs amid steady volume growth Read More 
COSCO, CMA CGM add La Spezia Container Terminal to MedGulf service Read More 
RTA's marine transport services between Dubai and Sharjah to resume from August Read More 
Mawani, Antwerp Port sign landmark agreement to strengthen trade relations Read More 
Saudi Spark, Hutchison ink agreement for dryport concession Read More 
King Abdullah Port: Boosting Saudi Arabia's economic shift Read More 
Mawani: Saudi Ports register 6.79% growth in June container volumes Read More 
Ukraine conflict prompts rerouting of China-Europe rail freight to bypass Russia Read More 
Nikola surpassess 200 orders for hydrogen fuel cell trucks Read More 
Tenstreet provides smoother connection between drivers, carriers through continued acquisitions Read More 
Railroads reach deals with unions on sick leave, conductor training Read More 
Railroads, car haulers scramble to meet auto delivery demands Read More 
Tracking the speed, dwell and cars of Class I railroads Read More 
Autonomous Trucks – Improving Cost, Speed, And Efficiency for Logistics Companies Read More 
The Average Price of Truck Cranes in Mexico Drops by 24% to $13,510 per Unit Read More 
Cargo-partner launches new trucking solution between China and Europe Read More
UKEF backs latest deal for high-speed rail in Turkey Read More 
Less-Than-truckload: A True Shipping Advantage Read More 
Rail freight from Canada to U.S. continues to drop after ports strike Read More 
Oman and Etihad Rail Company inks logistics agreement with integrated steel company Jindal Read More 
Development Road: Iraq launches unit to oversee $17 billion rail link with Turkey Read More 
Dubai completes major road development project, slashes journey times Read More 
GCC Railway: New rail network to connect Saudi Arabia, Bahrain, and GCC Read More 
Yellow's Competitors Likely to Seek Carrier's LTL Business Read More 
June Truck Tonnage Ticks Down 0.8% on Annual Basis Read More 
DHL Group reports 16.4% revenue drop Read More 
AIT invests in pharma shipping Read More 
Lufthansa Cargo and Kuehne+Nagel partner on paperless lanes Read More 
Overconfidence drives digital forwarder layoffs Read More 
Raft to use $30M in funding for AI solutions Read More 
Optimizing cargo loading with quantum computing Read More 
DHL takes green logistics to the next level Read More 
Hapag-Lloyd completes Americas terminals acquisition Read More 
DHL raises guidance despite weak market Read More 
Canada's strike is over, but supply chains could take weeks to recover Read More 
CMA CGM Braced for Weaker Profit Before Demand Picks up in 2024 Read More 
Walmart aims for sustainable clothing in its supply chain Read More 
Fashion brands still have work to do on supply chain transparency: report Read More 
Bolloré Logistics in the ranking of the 75 leading Green Supply Chain Partners carried out by Inbound Logistics Read More 
Freight Companies are not Expecting a Robust Peak Shipping Season Come Fall 2023 Read More 
Pallet Prices Are Still Soaring as Shortages Hurt U.S. Producers Read More 
UK Green Subsidies Need Revamp to Meet Net Zero, SSE CEO Says Read More 
C.H. Robinson Profit Tumbles on Weak Freight Market Read More 
DHL Group to acquire MNG Kargo Read More 
Businesses see biggest value in transport visibility Read More 
The 'peak' of peak season is here Read More 
Logistics technology market grappling with pandemic period overhiring Read More 
Saudi Arabia climbs eight places in Lloyd's list 2023 rankings Read More 
Saudi Arabia to establish 59 logistics zones by 2030 Read More 
AD Ports Group, China's CMEC GROUP ink agreement for global infrastructure development Read More 
Schneider Acquires M&M Transport Read More 
Cainiao opens 6-warehouse logistics park in Jakarta Read More 
DHL to acquire Turkish parcel delivery provider MNG Kargo Read More 
Maersk builds new distribution centre in Singapore to support regional logistics Read More 
Warehouse automation expected to pick up after hitting 'rock bottom' Read More 
Last-Mile Innovations: Exploring Alternative Delivery Methods Beyond Traditional Couriers Read More 
Efficient Warehouses Fit Sustainable Operations Read More 
DHL Group strengthens its presence in Turkey with parcel delivery firm acquisition Read More 
On the Heels of the Nearshoring Boom, Logistics Startup Nuvocargo Raises $36.5M to Modernize US-Mexico Trade, Expands to all major US-MX border crossings Read More 
Prozo Planning to Add 5M Square Feet of Warehousing Space by 2026 Read More 
Maersk plans SG facility for omnichannel fulfilment Read More 
How Are Companies Engaging With Customers Around Deliveries In 2023? Read More 
Understanding First-Mile vs. Middle-Mile vs. Last-Mile Delivery Read More 
The Vital Role of PPE in Warehousing Operations Read More 
Launch of Robots and Human Co-workers Collaboration Read More 
Viewpoint: Another nail in the consumer spending coffin Read More 
E-fulfillment prepared for hectic? – read the free online magazine Read More 
Retailers struggle with returns, while there is profit to be made with good organization of the process Read More 
The micro-fulfilment revolution Read More 
Maersk inaugurates first cold store facility in UAE, strengthens integrated logistics solutions offering Read More 
Georgia Distribution Center to Team NFI, Bradshaw Home Read More 
DHL Express Opens Atlanta Cargo Facility Read More 
Russian drones strike Danube grain export port  Read More 
Typhoons and downpours clog China's logistics flows and port traffic  Read More 
US lawmakers look to end sale and import of commercial kangaroo skin products  Read More 
Export of U.S. Aircraft Launching Gear Sees Mild Dip to $9.2M in May 2023  Read More 
Trade Management Market Size to Surpass US$ 2 Bn by 2032  Read More 
It is Official – UK Electronic Trade Document Bill becomes Law  Read More 
War-Weary Ukraine Farmers Curb Plantings in Blow for Food Supply  Read More 
UK export minister kicks off Barclays-ICC UK trade digitisation taskforce  Read More 
The Dutch are Europe's biggest online fashion shoppers  Read More 
Weathering Drought in the Panama Canal  Read More 
Ecommerce Logistics News (H3) 
UPS, Teamsters reach tentative labor deal avoiding strike  Read More 
BigCommerce Launches Google Cloud Ecommerce Features  Read More 
How eCommerce Professionals can Use Supply Chain Visibility to Delight Customers  Read More  
E-commerce managers Swinkels: 'E-fulfilment is spearhead in customer experience'  Read More 
Amazon Fresh Offers Grocery Delivery to Non-Prime Members Read More 
Amazon to Double Number of Same-Day Delivery Facilities  Read More 
FedEx Pilots Reject Proposed Multiyear Contract  Read More 
Amazon Prime Day Drives All Online Sales Up 6.1%  Read More 
Amazon Fleet Electrification Sees 5,000 Rivian Vans on Roads  Read More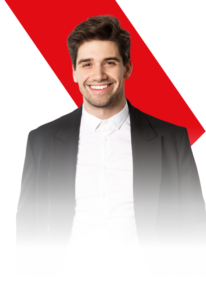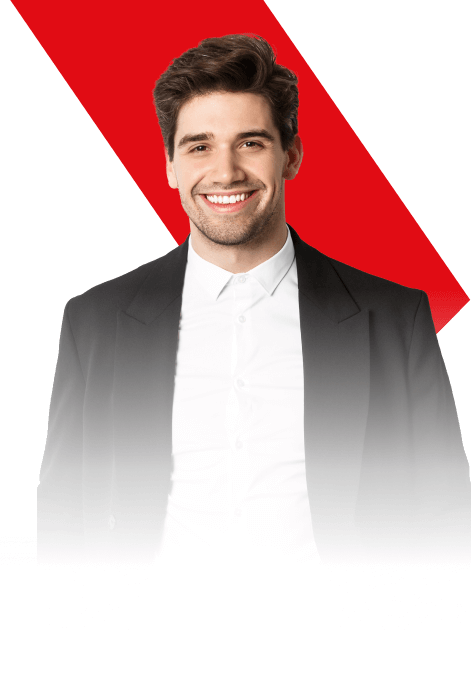 Get answers to our most commonly asked questions by visiting the Plivo support page, reading our documentation, and checking our pricing and coverage pages.tex