Logistics Industry Insights – February 2023 
Fluctuating Prices Causing Supply Chain Troubles
The problems across United States East Coast (USEC) are expected to remain intact as last year; because of port congestion on United States West Coast (USWC) amid Covid. There is a slight trend of shifts back that resulted in price reduction; however, the current rates are still triple for the Europe-USEC as compared to pre-pandemic levels. Plus, they are more than triple for the market of Aisa-USWC. 
On the other hand, South Korea is trying to control the capacity to prevent the prices from reducing even further. Recent research shows the expected freight rates are to be determined by the cargo demand and supply by the liners' operators. The decision was taken after the shipping lines agreed the stabilized freight rates will result in increased profits.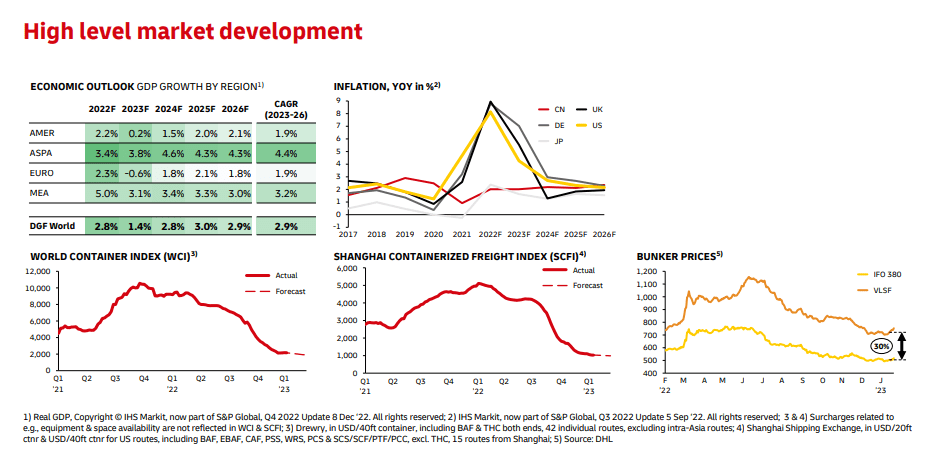 Ocean Freight Updates – United Arab Emirates February 2023
Key 

++ 

Strong Increase 

+ 

Moderate Increase 

= 

No Change 

– 

Moderate Decline 

— 

Strong Decline 
Middle East – North America
USEC and USWC have available space, and IN2 is the only direct service to USEC. Despite this, FAK rates are still higher than pre-COVID levels, though carriers are offering competitive NAC deals. 
Capacity — (+)  
Rate — (=)  
Note: Book 4-5 weeks in advance. 
For the markets of Middle East and Asia, the carriers are offering open allocation. As far as the rates go, they continue to decrease.  
Capacity — (+)  
Rate — (-)  
Note: Booking of 4-5 weeks prior to order is recommended.
For this trade lane, allocations and space are available; whereas the freight rates are expected to be stable for the next 2 quarters of the current year.  
Capacity — (+)  
Rate — (=/-)  
Note: Overall stable market despite slight softening rates.  
Middle East – Latin America
The space is available with several carriers for this market. In response to this, the service availability is likely to increase throughout the Q1 of 2023. 
Capacity — (+)   
Rate — (=) 
Note: Book at least 2 weeks before.  
The demand for MENAT, especially in Africa, has been expected to be lull until the Lunar New Year Holidays end. The shortfall is also high due to increasing Covid cases in January. After LNY, tight space and pick up rates are the expected possibilities. 
Capacity (–)  
Rate — (-)  
Equipment – Available 
Note: In the last month, we've seen 40% blank sailings to EMED.  
North America – Middle East
The capacity for the Middle East and Africa is opening, while the carriers are hinting for softening rates. Further improvements are expected as Port Charleston is being added in Indamex2 (CMA and Hapag). 
Capacity — (+)  
Rate — (-)  
Note: The Indamex2 addition will provide direct services to Jeddah from mid-January.
Latin America – Middle East
As the slots remain open from MX EC to MED, carriers are now pushing more to MEDGULF. In this season of contraction, South America East Coast (SAEC) demand continuously softens, the market trend is quickly going down.  
Capacity — (=)  
Rate –– (=)
The rates for this market are slightly reducing. Currently, capacity is available in the East Med, while the rates are softening for both long- and short-term contracts.  
Capacity — (=)  
Rate — (=/-) 
Note: Space and equipment are available.
Air Freight Updates - United Arab Emirates February 2023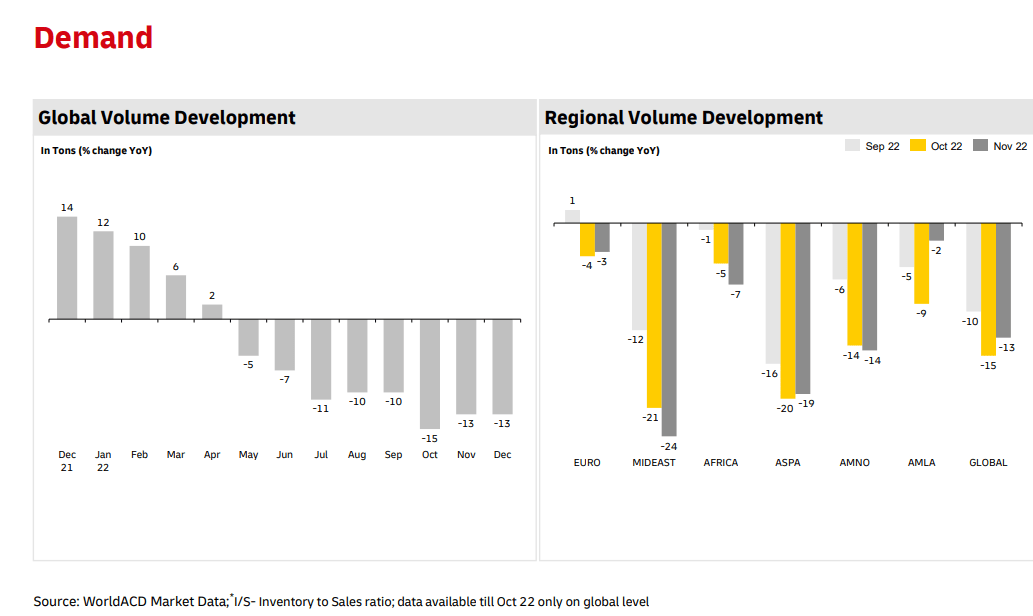 Demand: High inflation continues in 2023; and the volume remains low. The growth in volumes will remain flat for at least the first two quarters of the year 2023. 
Capacity: The current capacity is enough to meet the demand level. Furthermore, the belly capacity has also increased for the year. 
Rates: There is an aggressive spot market for most trade lanes. The rates are expected to increase over time as the market is coming back to normal. 
The Middle East and Air Carriers
The Middle East air freight market is expected to witness a positive growth in 2023 due to robust economic growth in the region. This growth is being driven by the increasing demand for air freight services from various industries, including automotive, manufacturing, healthcare, and e-commerce. 
The Middle East region hosts some of the world's busiest airports and this is expected to support the growth of the air freight market in the region. Additionally, the region is experiencing rapid development of infrastructure and improved air connectivity, which is expected to further support the growth of the air freight market in the region. 
Furthermore, the development of trade agreements and free trade agreements between the Middle Eastern countries is expected to positively impact the air freight market in the region. The increasing focus on digitalization and automation of air freight processes is expected to further boost the growth of the market. 
Moreover, the emergence of new technologies such as blockchain, artificial intelligence, and predictive analytics is expected to drive the growth of the air freight market in the region. This is expected to lead to improved transparency and efficiency in delivery times. 
Overall, the air freight market in the Middle East is expected to witness strong growth in 2023, due to the increasing demand for air freight services in the region. 
In North China, the rates are slightly starting to decrease after the spike during LNY; whereas, in South China, the Covid measures in the mainland are lifted due to which the cross-border traffic is expected to resume.  
The Taiwanese market is operating normally. However, as the LNY has ended, and operations are expected to be resumed, there is a potential of cargo offload.  
In Korea, the market demand in Trans Specific East Bound (TPEB) is picking up after the holiday; whereas, in Far East West Bound (FEWB) is still going downwards. 
In Southeast Asia, the demand remains low, and the capacity is widely available, except for Hanoi, where there was a holiday rush at the end of the last month. 
Overall, in the American market the demand is stable. The airports are working at a normal pace, along with the increase in capacity; especially in Europe. Furthermore, the rates are getting stable week after week. 
As the holiday season ends and production starts to become normal, the demand increases, which is also causing the rates to increase for the market.  
The airline utilization is high, the uplift can be acquired within 2 days of Cargo Ready Date (CRD); which is why the lead days are stable. There are no disruptions recorded in the EMEA region and no congestion across point pairs. 
Shipping Local News - United Arab Emirates February 2023
UAE GCAA has updated Dangerous Goods Certified Entities, which will be effective from 1st of February 2023. Due to the current COVID-19 situation, all organizations are now approved to use the PDF version of their dangerous goods certificate for the time being. Read More 
CMA CGM is pleased to announce that our Bill of Lading and Delivery Order Fees for UAE will be revised, effective 1st March 2023. Read More 
CMA CGM Group is introducing a Peak Season Surcharge (PSS) of USD 500 per dry container on all cargo shipped from the Indian Subcontinent, Middle East & Red Sea to North Europe, the Mediterranean, and North Africa. This surcharge will be effective as of February 15th, 2023. Read More 
Maersk has decided to integrate brands, like Hamburg Süd and SeaLand, among others to make the supply chain easier, more flexible, and more resilient by providing more options. Read More 
Maersk and MSC have decided to end their 2M alliance from January 2023. Read More 
Global Factory Output – Overview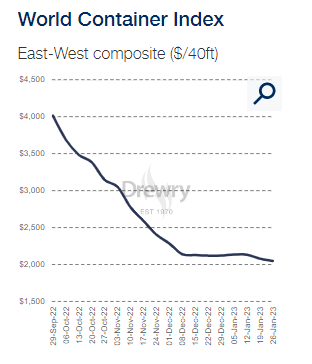 The composite index of the Drewry WCI increased by 0.7% – the first such increase in 43 weeks. When compared to the same week last year, the index has dropped by a staggering 77%. The peak of $10,377 seen in September 2021 is now 79% lower than the current index of $2,135 per 40-foot container. Although there is now a return to more normal prices, the index remains 50% higher than the average 2019 (pre-pandemic) rate of $1,420. Across the year-to-date, the composite index has averaged $2,135 per 40ft container and is $559 lower than the 10-year average. 
United States of America USA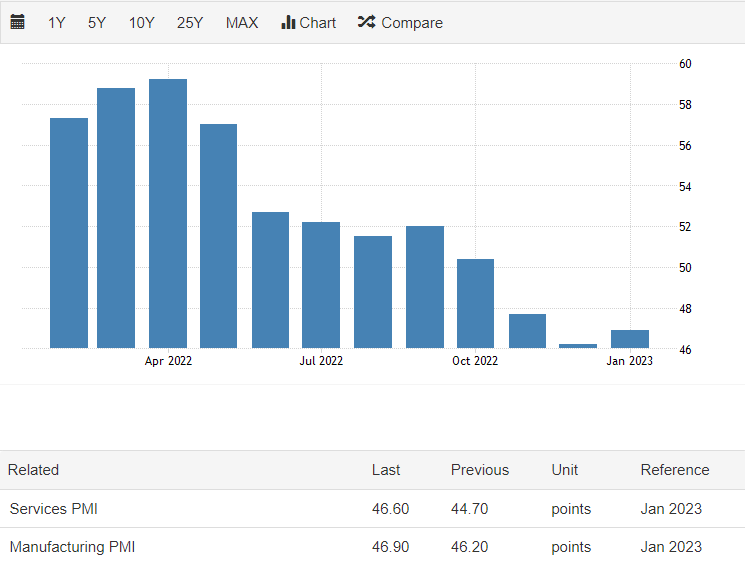 The Market Manufacturing Purchasing Managers' Index in the United States is a reliable measure of the performance of the manufacturing sector, generated from a survey of 600 industrial companies. The index is composed of five factors, each contributing a different weight to the overall score: New Orders (30%), Output (25%), Employment (20%), Suppliers' Delivery Times (15%) and Stock of Items Purchased (10%).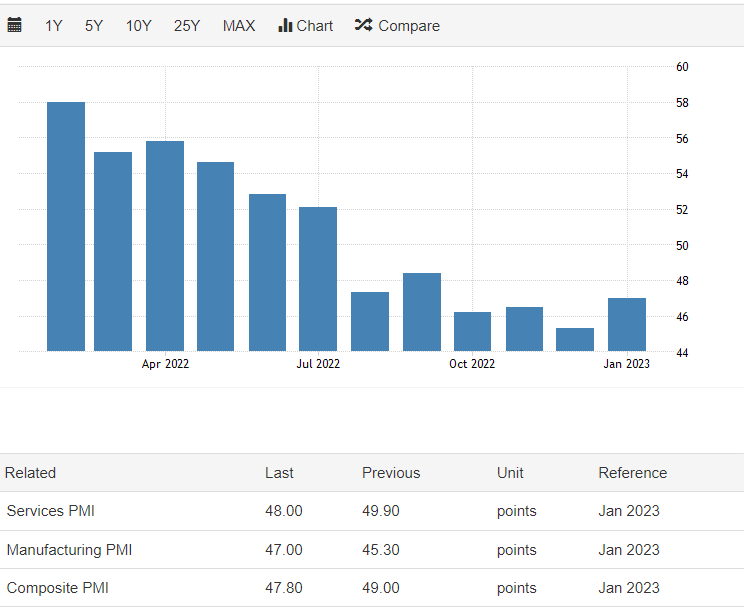 The Manufacturing Purchasing Managers Index (MPMI) from Market/CIPS UK is a measure of the performance of the manufacturing sector that is determined from a survey of 600 businesses. The MPMI is an amalgamation of five separate indexes, with each being assigned a specific weighting: New Orders (30 percent), Output (25 percent), Employment (20 percent), Suppliers' Delivery Times (15 percent) and Stock of Items Purchased (10 percent).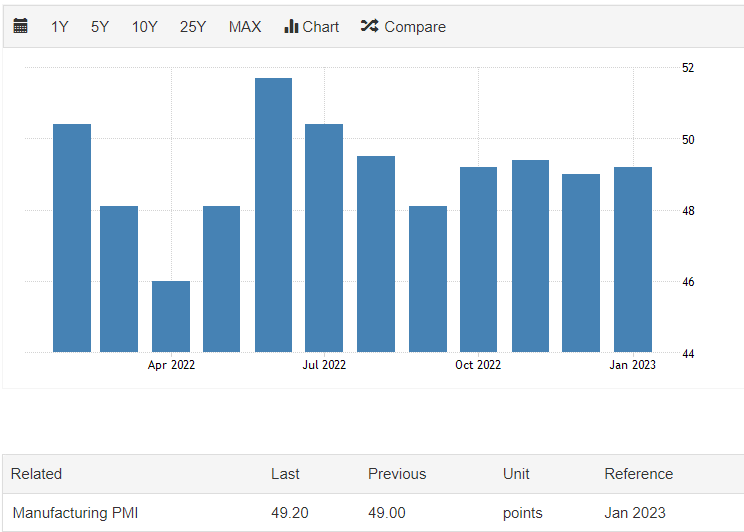 The Caixin Manufacturing PMI Purchasing Managers' Index in China is a survey-based metric that evaluates the performance of the manufacturing sector, taken from a pool of 430 private industrial companies. The survey uses five individual indexes to calculate the score, with their respective weights being New Orders (30%), Output (25%), Employment (20%), Suppliers' Delivery Times (15%), and Stock of Items Purchased (10%).  
United Arab Emirates (UAE)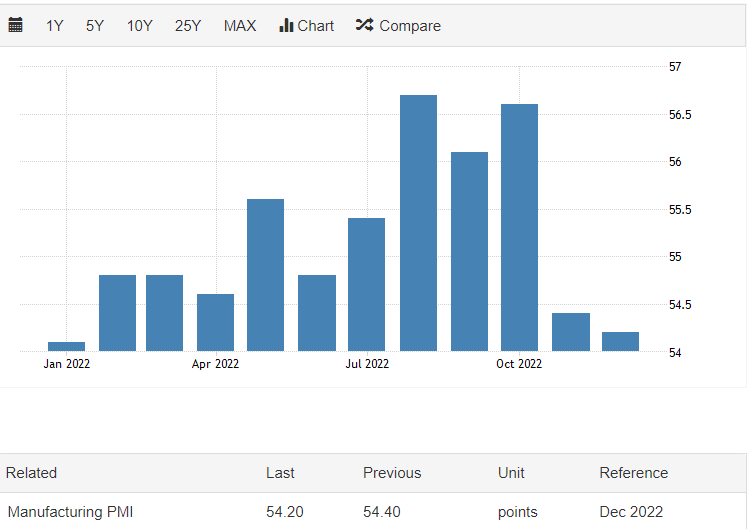 In the United Arab Emirates, the Emirates NBD UAE Purchasing Managers' Index is a measure of the performance of non-oil private sector companies and is determined through a survey of 400 firms, including manufacturing, services, construction and retail. This index is based on five constituent indexes with the following weights: New Orders (30%), Output (25%), Employment (20%), Suppliers' Delivery Times (15%), and Stock of Items Purchased (10%). 
Teesside Airport approved for perishable handling Read More 
No signs of Chinese New Year rise in air cargo demand Read More 
FFAF Cargo launches subsidiary in India Read More 
American Airlines' cargo revenue tops $1.2B despite market slide Read More 
Comac to convert ARJ21 airliner into a freighter Read More 
Singapore Airlines awards WFS domestic cargo trucking contract to connect 18 UK airports Read More 
Globe Air Cargo Japan premieres with Air Premia's Japanese launch Read More 
DB Schenker launches global CO2-neutral air freight offer Read More 
Gulf Air and Unilode extend partnership Read More  
Challenge Group offers capacity from Türkiye Read More 
Qatar Airways secures Li-batt certification Read More 
dnata, Emirates Leisure Retail, SEGAP start operations in Zanzibar airport Read More 
 Four new, more sustainable freighter aircraft for KLM Group Read More 
Kuehne+Nagel teams up with Lenovo to reduce carbon footprint Read More 
Air Canada Cargo expands freighter services to Liege, Basel Read More 
Hamilton Airport gets C$46.9mn funding for infra projects Read More 
Etihad Cargo bolsters its global customer service centre operations Read More 
Amazon Air takes off in India Read More 
Antonov carries 169 tonnes sensitive cargo from Europe to Canada Read More 
KLM accelerates sustainability efforts with Martinair A350F order Read More 
WFS goes green across cargo and ground handling operations at Spanish airports Read More 
Air France Embarks on WhatsApp for a Direct Relationship with its Customers Read More 
Container rates are 'like a fighter aircraft that has been shot down' Read More 
Shipping hurt by weak demand for Chinese goods Read More 
More than 50 sailings from Asia to Europe blanked in first seven weeks Read More 
Surplus tonnage cascading a threat to smaller box ships Read More 
Carriers take short-term rate hit and eye post-CNY demand surge Read More 
International airfreight rates hit turbulence and ocean freight prices sink. Will shoppers' benefit? Read More 
Carrier alliances shaped by decade of crises, price war and major acquisitions Read More 
How will Maersk-MSC split redraw container shipping landscape? Read More 
Port of New York-New Jersey sees imports softening after a record year Read More 
FMC reports over 200 charge complaints against ocean carriers since June Read More 
Maersk to integrate Hamburg Süd and Sealand Read More 
King Abdulaziz Port launches container terminal development project Read More 
Brazilian President confirms reversal of port privatisation plans Read More 
Saudi ports record 13 per cent annual throughput growth in 2022 Read More 
Shipping Platform Freightos Goes Public in SPAC Deal Read More 
West Coast Port Labor Contract Talks Remain in Limbo Read More 
Maersk rebrands Hamburg Süd and several other well-known subsidiaries Read More 
Singaporean competition authorities to probe DSME sale Read More 
Maritime supply chains need urgent investment to boost resilience to future crises Read More 
UK driver shortage adds to ocean freight 'perfect storm' Read More 
Electric vehicles will have tough audience in LTL carriers Read More 
The Uber-ization of US Trucking is only Speeding Up Read More 
Fleet Advantage Helps Corporate Truck Fleets Certify GHG Output For New SEC Climate Disclosure Proposal Read More 
Railway Talks with China Terminated as Uganda Turns to Turkey Read More 
U.S. Container Imports on Downward Track in 2023 Read More 
Intra-Italy railway line resumes operations amid Yilport's ongoing investments in Taranto terminal Read More 
Port of Valencia enjoys rail traffic growth Read More 
UK van drivers will need new goods vehicle operating licences to enter EU from May Read More 
Gebrüder Weiss boosts operations in Bulgaria Read More 
European road freight prices reach record highs Read More 
Russian rail companies struggle with volume collapse as sanctions bite Read More 
LTL players up their game and rates head up despite volume slowdown Read More
Electric trucks and ships? Metals for batteries 'will run out by 2050' Read More 
EU relaxes state aid rules to drive 'greener' multimodal transport Read More
DP World projects further declines in freight rates Read More 
Maersk scraps name of German forwarder Read More 
Russian Oil Price Cap: Complexity, Disruption and Unintended Consequences Read More 
73% of Supply Chain Professionals Predict Chaos on Cards due to Early Chinese New Year and COVID Infections in China Read More 
The World Bank is Forecasting a Recession – Good News for Some Read More 
MPC Container Ships, INERATEC to explore new alternative fuel for shipping Read More 
CMA CGM announces new peak season surcharges worldwide Read More 
Cargo theft increased by 15% in 2022; a total of $223 million was stolen Read More 
Freight Forwarder Flexport Is Laying Off 20% of Its Workforce Read More 
Etihad Cargo boosts China capacity with additional Shanghai freighter service Read More 
Project by UNCTAD port programme graduate saves fresh water in Malaysia Read More 
UK logistics and warehousing lags behind Europe on solar power Read More 
A Prominent Freight Forwarder Faces Impending Layoffs Read More 
As Cargo Volumes Slow, Maersk Invests in Flagship Shanghai Warehouse Read More  
Dnata breaks ground with new cargo warehouse in Iraq Read More 
Amazon is moving to a single monthly storage cap for FBA sellers Read More 
Prologis Says Warehouse Demand Remains Strong in Slowing Economy Read More 
Warehouse Leasing Tumbled at the End of 2022 Read More 
Bolloré Logistics Strengthens Commitment to Thailand with SMILE HUB, a Modern Warehouse & Distribution Centre Read More 
Warehouse automation market growth is expected to cool in 2023 Read More 
Low emission warehousing: operational efficiency with a positive environmental impact Read More 
Bolloré warehouse fire raises new concerns over lithium battery safety Read More 
Xcell Logistics Services, a B.I.G. Logistics Company, Expands Warehousing Presence in Laredo, TX with Second 3PL Facility Read More 
Last-mile logistics growth in the U.S. continues to grow strongly Read More 
Amazon to close three UK warehouses and open two new mega DCs Read More 
Bottleneck at LA distribution center eats away at Dr. Martens earnings Read More 
Co-Warehousing Space Market May Set New Epic Growth Story | Flowspace, Waredock, Saltbox Read More 
UAE Third-Party Logistics Market to Worth US$ 6,529.7 Million By 2030 | Import and Export Activities Determine Right Path for Market Growth | Astute Analytica Read More 
The Global Automotive 3PL Market is forecast to grow by $93.48 bn during 2022-2027, accelerating at a CAGR of 6.6% during the forecast period Read More 
The Transatlantic Relation in the Era of Friend-shoring Read More 
Iran sanctions evasion network used UAE, Panama front companies Read More 
Demand-supply gaps and geoeconomic confrontation top WEF risk report Read More 
African states to get US$150mn trade finance from IsDB Read More 
Trade costs rise as war risk cover cancellation takes effect Read More 
UK links up with Thailand on digital trade Read More 
US banks throw weight behind sustainable finance, but corporates remain indifferent Read More 
Pakistan faces ongoing commodity shortages as dollar crisis and lack of LCs take effect Read More 
UNCTAD customs automation programme to bolster trade for Tajikistan Read More 
An urgent appeal to the shipping community: Help the UN avert catastrophe in Yemen Read More 
New cargo verification data rules costly and testing for UAE importers Read More 
Thailand Opens First Digital Free Trade Hub Read More 
China's trade tumbles sharply in Dec, clouds 2023 growth outlook Read More 
Returns a costly and speeding juggernaut for Amazon and parcel carriers Read More 
FedEx to Pare Sunday Deliveries Again as E-Commerce Wanes Read More 
EFW redelivers its 10th aircraft to DHL Express in time for ecommerce and cargo demand Read More 
Emirates SkyCargo adds UK to Home Delivery Shopping Platform Read More 
How Amazon plans to transform Indian e-commerce with air service Read More 
Cross Border eCommerce Logistics Market Growth Factors, Applications, Regional Analysis, Key Players and Forecast by 2029 Read More 
Walmart, Amazon Lead Shift to Boost Last-Mile Delivery Options Read More 
Veho and Shipium Partner to Reinvent the E-Commerce Delivery Experience Read More 
Ethiopian Airline, MailAmerica launch e-commerce logistics services Read More 
Radial Selects Covariant to Automate eCommerce Fulfillment with AI-Powered Robotics Read More 
Why shippers will add more FedEx and UPS competitors to their carrier mix in 2023 Read More 
Shopee to increase investments in Malaysia Read More 
Alibaba Plans Logistics Hub at Istanbul Airport, Data Center Near Ankara Read More 
FedEx, UPS and Amazon look to shore-up margins in a slower market Read More 
PH, China sign MOU on e-commerce Read More 
Our customer service team is happy to assist you with planing your next booking.