Latest Insights on Supply Chain & Logistics Industry – September 2023 
Updates: Panama Canal Water Levels and Wind-Powered Cargo Ships Shape Freight Landscape
Panama Canal Low Water Levels Drive Ocean Freight Diversification
Water levels in the Panama Canal are declining, reinforcing the need for diversification in ocean freight routes. The low water levels are affecting the carrying capacity of ships passing through the canal, leading to potential delays and increased costs. As a result, shippers are exploring alternative routes and options, emphasizing the importance of flexible supply chain strategies. 
Innovative Wind-Powered Cargo Ship Initiatives by Cargill and Bartech
Cargill and Bartech are pioneering wind-powered cargo ships in response to climate concerns. The vessels, designed to harness wind energy, aim to significantly reduce carbon emissions and environmental impact in the shipping industry. This innovative approach demonstrates a growing commitment to sustainable transportation solutions and addresses the industry's role in mitigating climate change. 
Ocean Freight Overview– September 2023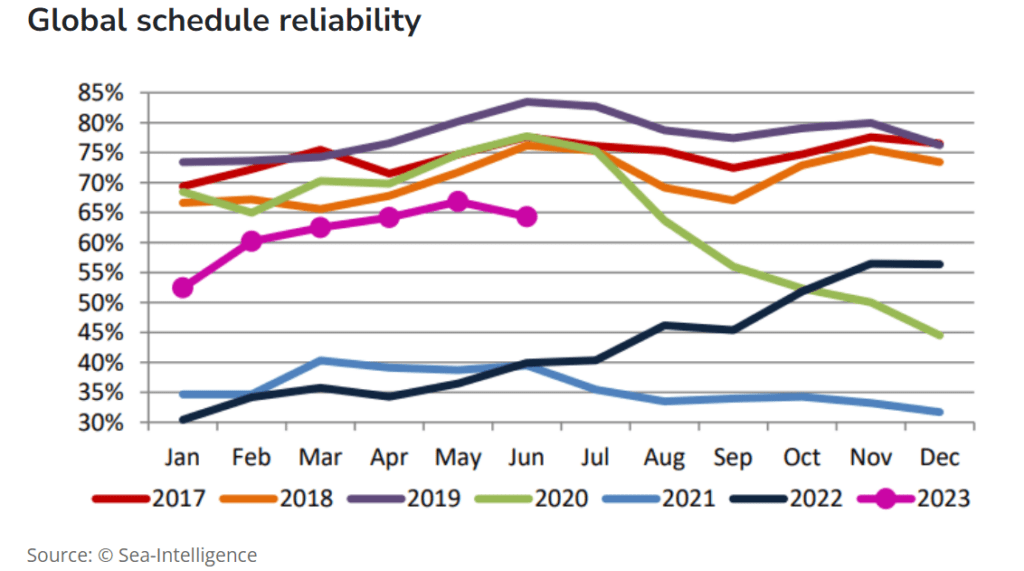 Key 

++ 

Strong Increase 

+ 

Moderate Increase 

= 

No Change 

– 

Moderate Decline 

— 

Strong Decline 
Middle East – North America
The rates are more volatile from the Gulf, and the available space is tighter, which can cause negative impact on the transit times. 
Capacity — (+) 
Rate — (=) 
For this trade lane, the capacity is trending upwards month over month; whereas the rates generally remain flat to down. 
Capacity — (+) 
Rate — (=/-) 
Ample space is readily accessible, notwithstanding the fact that this serves as a prominent volume destination originating from the Middle East. 
Capacity — (=) 
Rate — (=) 
Middle East – Latin America
Latin America is one of the most challenging destinations outside of the Middle East. The rates are flat to down; whereas the transit times are a bit volatile in the case of several transshipment points on the given route.  
Capacity — (+) 
Rate — (-) 
 The space remains tight for this trade lane, which leads to stable rates throughout the month.  
Capacity — (=) 
Rate — (=) 
North America – Middle East
There are regular blank sailings out of South Atlantic Port, causing tighter space. However, more options are available on the Northeast Coast. The capacity is improving outside of the US West and Gulf coasts with more carrier options.  
Capacity — (=) 
Rate — (=) 
Latin America – Middle East
The trade lane is relatively stable, but there is equipment shortage out of Colombia. Some of the low-rate carriers have experienced high demand, leading to full booking of their vessels as much as three weeks ahead of time for services that encompass North Europe ports. 
Capacity — (=)  
Rate — (=) 
Overall, this trade lane is stable, with the space relatively open. Furthermore, the capacity and the spot rates are flat month over month.  
Capacity — (=) 
Rate — (=) 
Air Freight Overview – September 2023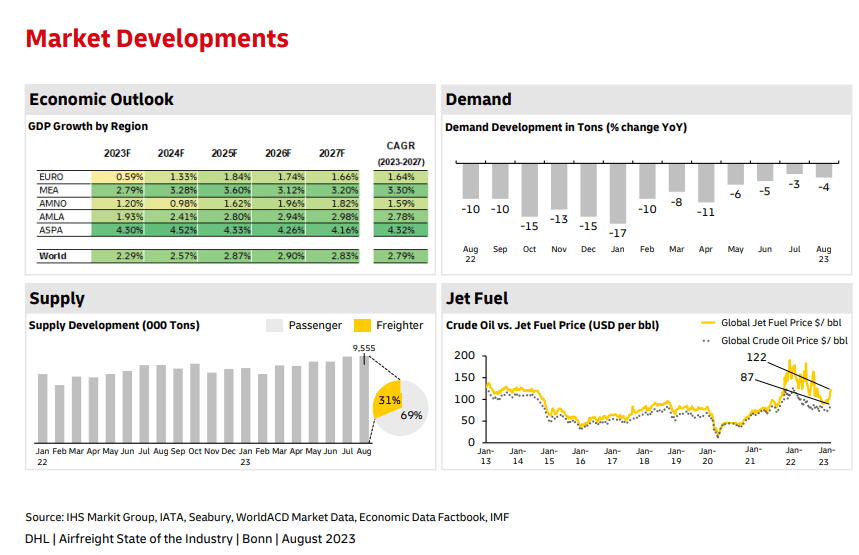 Demand: Volumes continue to remain low and showcase flat month over month growth. High inflation, elevated inventories, and reduced purchasing power are the main causes of low demand. However, a conservative increase is expected in the upcoming peak season.  
Capacity: The current capacity is sufficient for the current volume. Belly capacity continues to improve due to an increase in travel demand. Global capacity is 12% higher than the previous month, with no significant backlogs.  
Rates: Market rates remain competitive, with a slight increase for some trade lanes. However, stability is expected in the long-term rates in the fourth quarter of 2023.  
The Middle East and Air Carriers
Middle East carriers experienced a 0.5% increase in cargo volumes in June 2023 compared to the previous year, making a strong rebound from May 2023's 2.9% year-on-year decline. Additionally, capacity also grew by 11.1% in June. 
Both Middle East- Europe and Middle East-Asia routes witnessed annual growth. However, cargo demand for the first half of 2023 dropped by 5.6% compared to last year, despite a capacity increase of 11.2%.  
Ample passenger capacity has been added in the midst of the summer holidays; however, the freighter capacity has been removed on an ad-hoc basis due to ongoing c-checks.  
The demand remains flat and weak during the traditional slack season. This trend is expected to be continued throughout September 2023, where there will be a slight increase towards the end of the 3rd quarter.  
Expect rates to remain relatively stable until the year's end, although potential shifts in peak season demand could impact rate trends. While demand remains subdued and indirect passenger capacity grows, there's a likelihood of frequent freighter cancellations. 
In North America, the demand for US exports remains stable, supported by available capacity. Some capacity from the US to Asia has been redirected to California and Washington for cherry season, potentially affecting capacity for other destinations. As Q4 approaches, reduced passenger travel demand may lead to capacity exiting the market. In Mexico, cargo-only aircraft operations are being shifted from AICM-MEX to AIFA-NLU following a government decree, causing operational challenges, delays, and backlogs. The relocation deadline has been extended to September 1, 2023.  
For Latin America, currently there's abundant capacity across major trade routes in the region due to reduced demand, leading to competitive spot pricing options from carriers. Contract rates have remained stable with minimal adjustments. The ongoing low season for perishable goods further contributes to this situation. As a result, demand for northbound cargo is low due to the seasonal drop in perishables. On the other hand, southbound capacity from Miami is widely accessible, resulting in aggressive spot pricing opportunities for shippers in most lanes. 
Europe, Transatlantic capacity and demand remain stable, with the overall lower demand maintaining market stability for European and United States exports. Furthermore, passenger aircraft capacity has reached its peak during this travel season. Due to the reduced demand, there are a lot of opportunities to save costs in the spot market.  
EUROCONTROL, which manages European airspace, has warned about potential air-traffic control labor strikes during the summer, which could have implications across the entire Europe.  
Local Shipping News – United Arab Emirates – September 2023
CMA CGM Group has announced new peak season surcharges, applicable from September 17th, 2023, to enhance reliable and efficient services to customers. Learn More 
Dubai Maritime Authority (DMA) introduced administrative decision no.2. of 2023 on local sea container charges in Dubai directive. Read more details. 
Swire Shipping, following a safe carriage review, now permits the transport of electric vehicles in containers subject to the IMDG Code and additional requirements specified. Read details here. 
Maersk UAE has launched an active live chat for customer queries related to exports and imports, available from 7am to 9pm (Monday to Friday) and 8am to 5pm (Saturday).  Read More 
Swire Shipping has implemented compliance measures for seamless exports from the Middle East, requiring BL shippers to complete sanction check questionnaire here.  
DP World has announced tariff revisions for Jebel Ali Port and Mina Rashid, effective November 1st, 2023. Read More 
After implementing the Safety of Life at Sea (SOLAS) requirement for flexi bag approval verification, Maersk is offering further details applicable to this requirement. For import/cross trade, contact ae.import@maersk.com and get in touch at ae.import@maersk.com for export queries.  
Global Factory Output – An Extensive Overview - September 2023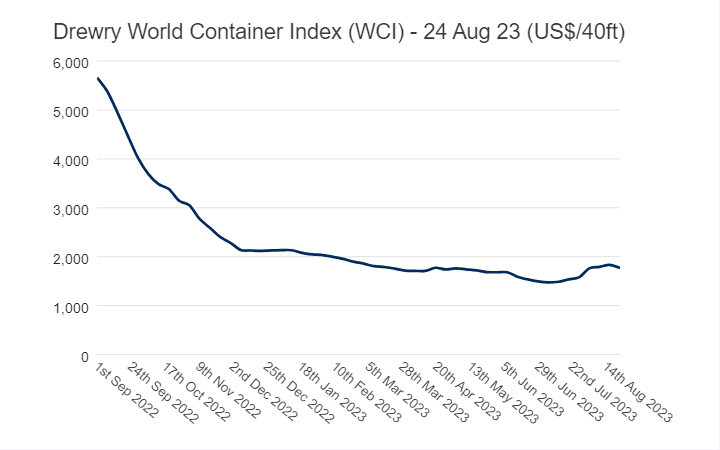 For the last week of August 2023, the World Container Index (WCI) decreased by 3.5% per 40ft container and reached the value of USD1,768.33. 
United States of America (USA)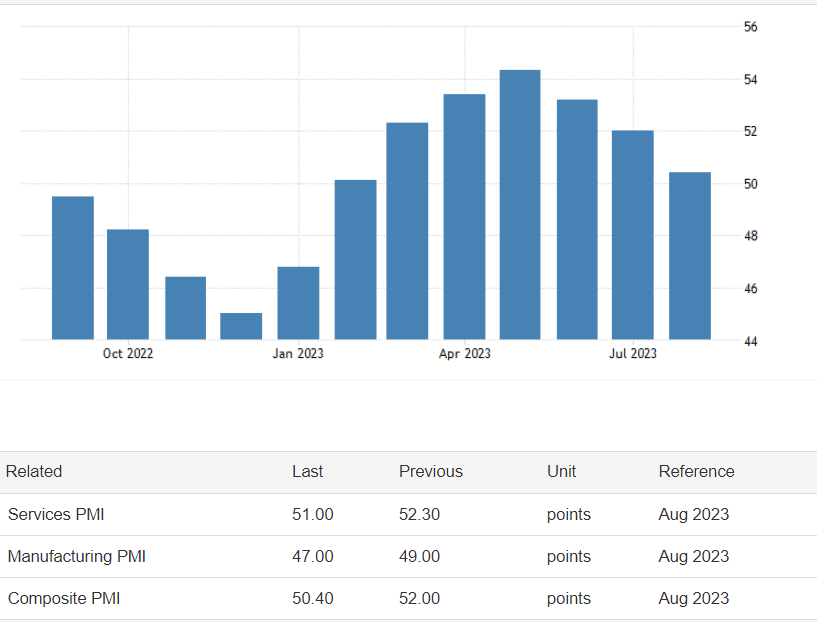 In August 2023, the S&P Global US Composite PMI fell to 50.4, lower than the expected 52.0. This indicated weaker growth in the private sector, mainly due to a significant decline in manufacturing activity and slower service sector growth. New orders dropped for the first time in six months, and job creation slowed to a three-year low due to inflation and high interest rates. Backlogs of work decreased at the fastest rate since May 2020. Input costs increased notably due to higher fuel, wage, and raw material expenses, although the rate of selling price inflation slowed. Despite these challenges, US companies were more optimistic about future output due to expectations of stable interest rates, increased demand from clients, and reduced-price pressures.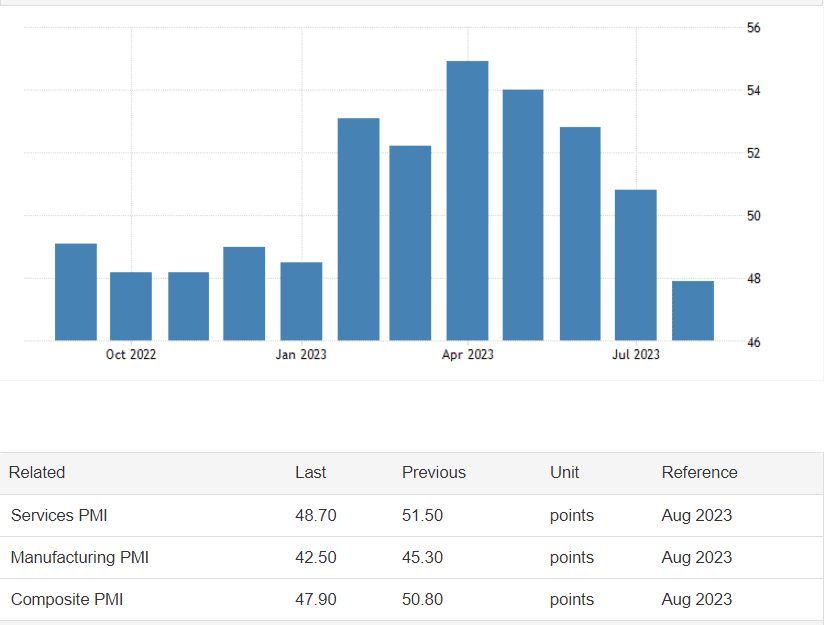 In August 2023, the S&P Global/CIPS United Kingdom PMI fell to 47.9 from July's 50.8, which was below the expected 50.3 according to an initial estimate. This marked the most significant contraction in the UK's private sector since January 2021. The decline was driven by a sharp contraction in the service sector, the fastest in 31 months, along with a worsening manufacturing downturn, now extending for six consecutive months. New business inflows saw the most substantial drop since November 2022, and backlogs of work decreased at the quickest rate since June 2020. Private sector employment slightly increased but at the slowest pace since March. In terms of prices, average costs rose at the slowest rate since February 2021, and the inflation in charged prices eased to the lowest level in two and a half years. Business confidence about growth in the next year dropped to its weakest point since December 2022.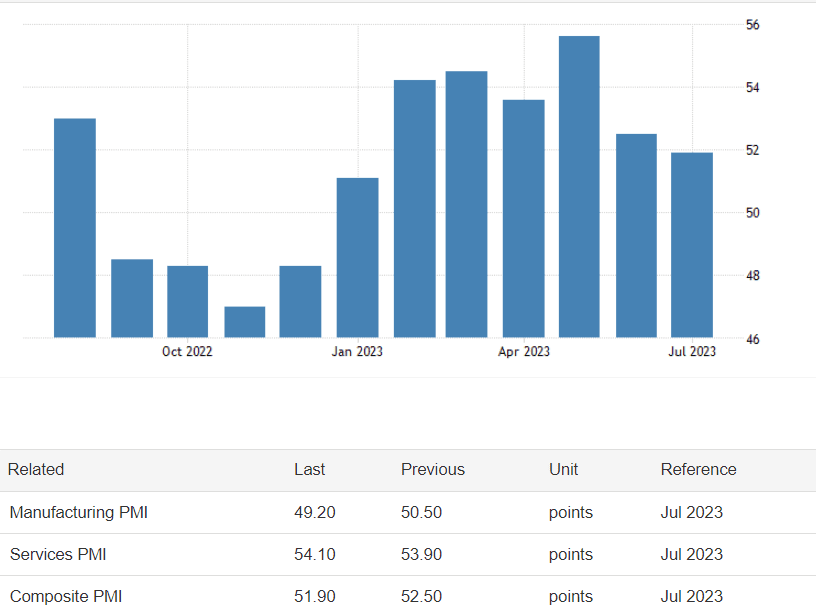 In July 2023, the Caixin China General Composite PMI decreased to 51.9 from June's 52.5. This marked the seventh consecutive month of growth in the private sector, but at a slower rate since January. The manufacturing sector contracted for the first time in three months, while the service economy sustained its growth streak for the seventh month. New orders saw the weakest increase in six months. Notably, service providers experienced stronger sales growth, while factory orders shrank for the first time since April. Employment slightly increased for the second consecutive month, driven by the service sector, while manufacturers continued to shed jobs. Regarding prices, input costs went up slightly, while output charges fell for the fourth consecutive month. 
United Arab Emirates (UAE)
In July, the PMI data for the UAE's non-oil economy indicated a slight adjustment in its strength. Although new business growth slowed from its four-year high in June, the overall output expansion also decreased. However, the headline PMI reading of 56.0 indicated that the sector remained healthy, as market conditions improved, and companies reported strong growth in customer demand and job creation. This positive outlook led firms to be confident about future growth, with optimism reaching its second-highest level in over a year. A reduction in input cost pressures allowed firms to lower their selling prices and increase stock holdings. Overall, the findings suggest that the UAE's non-oil sector will likely continue expanding in the latter half of the year. Yet, the notable decline in sales growth, if sustained, might indicate that the peak of the demand surge has been reached. 
Global Logistics and Supply Chain News – September 2023
Air Force invests $235M in sustainable aircraft startup JetZero Read More 
AI in airfreight: It's already in the name Read More 
Finavia pilots hydrogen fuel at Helsinki Airport Read More 
Airfreight prices fall moderately Read More 
Canadian North doubles cargo facility at YOW Read More 
Swissport DUS Cargo to rely on Cargospot Read More 
IAG, Microsoft co-fund purchase of 14.7K tonnes of SAF Read More 
DB Schenker relies on dogs for detection at LHR Read More 
Niger airspace closure prompts air cargo diversions, cancellations Read More 
Tallinn Airport takes off into new horizons with real estate development Read More 
WFS invests in fifth, new-build cargo terminal in Madrid to provide growth capacity Read More 
Etihad Cargo ramps up cargo capacity for China Read More 
Reshaping regional cargo dynamics Read More 
Chapman Freeborn announces Aviation Emergency Services Read More 
Airblox platform announces partnership with Avianca Cargo Read More 
FL Technics to establish 20 000 sq. m. hangar in Punta Cana Read More 
Brussels Airport ships 48,000 tonnes of cargo Read More
London Gatwick's sustainable growth plans accepted for 'examination' Read More 
Oman Air announces major transformation plan Read More 
Avianca Cargo boosts the Brazilian air cargo market Read More 
Freighter airline Raindo United Services gains AOC Read More 
Cargo operations disrupted at Namibia's Hosea Kutako Airport Read More 
Hong Kong International cargo volumes continue to recover Read More 
AFRAA to Join Focus Africa Initiative Enhancing Aviation's Economic Contribution to the Continent Read More 
Strong First Half of the Year Ends on a Positive Note for the Industry Read More 
Improving Air Traffic Management in Asia-Pacific. Also: Cargo Contraction Eases & Looking At Baggage Tracking Read More 
Qantas orders 12 more Boeing 787 Dreamliners Read More 
Cargo-focused airports outpace peers with passenger traffic Read More 
Amazon, FedEx and United Airlines join Hawaiʻi fire recovery efforts Read More 
TIACA Launches Air Cargo Forum 2024 with a New Partnership Read More 
Oman Air Cargo Continues to Achieve Sustained Growth with a 42% Increase in Volumes for H1 2023 Read More 
Omni Logistics and Forward Air merge services across US, Canada and Mexico Read More 
Qatar Airways Cargo offers customers real-time price with PROS' solution Read More 
Etihad Cargo arrives at Ezhou Huahu Airport Read More 
Indonesia's Express Cargo Airlines starts operations Read More 
Bolloré expands in Africa with Qatar's Kigali hub Read More 
WFS to open fifth cargo terminal in Madrid Read More 
Etihad Cargo adds new freighter route to Guangzhou Read More 
Etihad Cargo operates inaugural freighter flight to Ezhou Read More 
Europa Air & Sea expands into India Read More 
Asia-North Europe rates sinking again as GRIs 'run out of steam' Read More 
Panama Canal problems may prompt strategy re-think in shipper boardrooms Read More 
Container lines look set to be sailing in 'choppy water' Read More 
Zim pulls Asia-Australasia services to launch VSA with MSC Read More 
OOCL reports a 'robust' H1 performance as demand see-saws Read More 
More blanked voyages and a 'newbuild elephant' approaching the room Read More 
Transatlantic carriers must change course and rethink expansion plans Read More 
Asia-US container spot rates keep rising amid more blank sailings Read More 
Maersk company set do deliver offshore charging facilities for UK carrier Read More 
Port of Hamburg has handled more containers since turn of the year Read More 
Carriers hold fast to trans-Pac capacity cuts amid unclear import demand Read More 
Revamped Southeast chassis pool to charge 'penalty fee' to unregistered users Read More 
Russia's ghost ships and the evolution of a grain-smuggling operation Read More
Second merchant ship departs Ukraine using new corridor Read More 
There's more coal being shipped by sea than ever before Read More 
POLA and POLB July volumes see annual declines Read More 
US Coast Guard Joins Papua New Guinea Maritime Security Operation Read More 
Ukrainian, Turkish Foreign Ministers Say Black Sea Deal Must be Renewed Read More 
CMA CGM implements new surcharge in Turkish port Read More 
CMA CGM applies new FAK rates from Med to US East Coast & US Gulf Read More  
Latest data is 'a wake-up call' for shippers, as Xeneta argues now is the time to negotiate long-term rates Read More 
Hapag-Lloyd increases rates from India's West Coast to US West Coast Read More 
MSC junks India-US rate push as market stays soft despite peak season expectations Read More 
Hapag Lloyd increases rates from UAE to North Europe, West Med and North Africa Read More 
SCFI rises for second consecutive week as North America rates increase Read More 
Hapag Lloyd implements new peak season surcharge from East Asia to North America Read More 
Absolute zero-focused North Star to power vessels using offshore wind Read More 
South Korea takes the next step forward in autonomous shipping Read More 
COSCO and Sinopec venture readies LNG carrier orders Read More 
Mississippi River Careens from Floods to Low Water, Threatening Barge Traffic Read More 
China Passes Greece as Top Shipowning Nation by Gross Tonnage Read More 
Spanish Government grants APM Terminals Barcelona 3.9 million euros for Straddle Carrier electrification pilot project Read More 
Maersk company set do deliver offshore charging facilities Read More 
ONE overtakes Evergreen as the world's sixth largest container carrier Read More 
Box freight rates face summer lull Read More 
Panama Canal Authority extends water restrictions Read More 
Dubai Maritime Authority launches rights awareness campaign to protect traders and cargo owners Read More 
AD Ports Group launches comprehensive programme to enhance customer experience Read More 
Jeddah Islamic Port records highest monthly container throughput in July Read More 
Germany and Italy splash out in a bid to shift more cargo from road to rail Read More 
Omni Logistics purchase to expand Forward Air's LTL, global reach Read More 
Averitt Express staying elastic amid LTL volume surge Read More 
Port-bound rail volumes approach prestrike levels in Canada Read More 
Borderlands: Mexico's truckers plan nationwide strike, blockades Read More 
Truckload capacity tightens in August Read More 
Rail trade group says federal safety hotline could be misused Read More 
Falling grain exports will affect US railroads' capacity needs, expert says Read More 
STG Logistics plans to expand intermodal network in Canada Read More 
New Orleans Public Belt Railroad completes France Road rail yard expansion Read More 
Railroads, car haulers scramble to meet auto delivery demands Read More 
Tracking the speed, dwell and cars of Class I railroads Read More 
Export of Railway Goods Wagons in the United States Sees a Modest Rise to $54M in June 2023 Read More 
US trucking firm Yellow files for bankruptcy, blasts Teamsters Read More 
Truck driving shortage impacting cost of goods Read More 
France: road transport prices increased sharply in July Read More 
Will Cross- Border Trucking Boost the Economy? Read More 
Ashley's Trucking Fleet Keeps Furniture Moving Read More 
CEVA Logistics to expand presence in India Read More 
'Shippers are Clearly Not Happy' with Freight Rates, Expert Says Read More 
DP World to spend half a billion dollars on new terminal in India Read More 
Chinese ports brace for Typhoon Kanu Read More 
'Reglobalisation' Trends Emerge in Port Call Data Read More 
Walmart posts strong quarterly results, lifts guidance Read More 
Cross-border risk management helps companies win nearshoring game Read More 
Walmart aims for sustainable clothing in its supply chain Read More 
How food freshness sensors could impact supply chains Read More 
The Global Agricultural Robots Market is estimated to be worth $30K Million by 2032 Read More 
Arkansas could be the Future of US Lithium Production Read More 
Retailers Gearing Up for Halloween Earlier Than Normal Read More 
Maersk aims to handle all cargo by means of artificial intelligence Read More 
Companies Put AI to Work Outside the Cloud, Trimming Costs Read More 
Why Can't U.S. Ports Get Automated? Read More 
SGL to integrate AI-supported software into its products Read More 
CEVA Logistics to Acquire Stellar Value Chain Solutions in India Read More 
Yusen Logistics Becomes a Member of Smart Freight Centre Read More 
Saudia Cargo expands European Services with Jan de Rijk Read More 
C.H. Robinson Profit Tumbles on Weak Freight Market Read More
Hapag-Lloyd and three other companies submit bid on HMM Read More 
DHL reports of increased demand for green solutions Read More 
Maersk company has violated merger rules and faces fine Read More 
Carriers urged to cut more capacity ahead of China's October Golden Week Read More 
Online shoppers want information about sustainability of shipping options Read More 
4 Ways AI Can Help Food and Convenience Distributors Read More 
How AI is Revolutionising Workflow Orchestration Read More 
Retailers are preparing for a discount-heavy, down holiday season: CNBC survey Read More 
Subsidy zero-emission van stops – AanZET will be adjusted Read More 
Tristar issues 11th Annual Sustainability Report highlighting ESG achievements Read More 
Saudia Cargo, Jan de Rijk Co. ink strategic agreement to expand European services Read More 
Cosco Shipping to deliver from European yards to Chinese doors Read More 
How parcel shippers are leveraging accurate SKU data to save millions Read More 
Walmart, Alphabet's Wing partner on Dallas drone delivery Read More 
Target's operating profit leaps 273% after long battle against inventory Read More 
Staples taps DoorDash for same-day delivery Read More 
Tesla enhances auto parts distribution with New York facility Read More 
Parcel delivery provider Sendle speeds up shipping services Read More 
How top 3PLs are Automating Warehouse Cross Docking Read More 
Onboard Logistics Partners With Raft to Pioneer New Levels of Warehouse Automation with AI Read More 
Time to Put the Optimization into Inventory Optimization Read More 
Kwik Opens KwikShelf Fulfillment Warehouse in Nigeria Read More 
Evri Rolling Out E-Cargo Bikes in More U.K. Cities Read More 
Olympia Consolidates 12 DCs Into Three Without Compromising Efficiency Read More 
Panasonic Accelerates the Autonomous Supply Chain with Acquisition of Blue Yonder Read More 
Walmart+ Leverages Grocery Delivery; Gains 8 Million New Paid Subscribers Read More 
FedEx launches 'Picture Proof of Delivery' in Singapore Read More 
Emirates brings seamless parcel delivery to Kuwait Read More 
Nippon Express Opens New Warehouse in Dublin Read More 
Emirates Delivers Launches in Kuwait Read More 
DHL Group to acquire Turkish parcel delivery provider MNG Kargo Read More 
Target Goes Local to Speed Up Order Deliveries Read More 
Southern California's Hot Warehousing Market Is Cooling Off Read More 
Why Warehouse Rents Keep Going Up While Demand Is Dropping Read More 
Cosco Shipping to deliver from European yards to Chinese doors Read More 
5 Strategies for Boosting Warehouse Automation Software Profitability Read More 
Freez'up space with e-grocery automation Read More 
How automated checklists prioritise safety in the warehouse Read More 
Unigloves launches new sustainable safety gloves Read More 
Trying Times Give 3PLs an Opportunity to Prove Their Worth Read More 
Walmart, Alphabet to Test Wider Drone Deliveries Read More 
Last-mile city hub Zoetermeer ready for use Read More 
UK exporters urged to act swiftly as new customs platform transition looms Read More 
HMRC backtracks to phased switchover to CDS for UK exports Read More 
US and Canada battle over lumber imports Read More 
OFAC Issues Venezuela General License 8G Extending Authorization of Certain Transactions for U.S. Oil & Gas Companies Read More 
Decline in June 2023: U.S. Imports of Canned Mushrooms Plummet to $11M Read More 
ICC and Swift launch API standards for Bank Guarantees and Standby Letters of Credit Read More 
Sugar Heads Toward Two-Month High on Concern Over Indian Exports Read More 
U.S. Importers Are Absorbing Higher Shipping Costs This Summer Read More 
High growth, low volumes: Africa's SCF problem Read More 
Sime Darby, MUFG close first Islamic green trade finance facility Read More 
Egypt and Abu Dhabi's Adex sign US$500mn wheat deal Read More 
Amazon Shipping relaunches, offering sellers delivery on outside channels Read More 
DHL leans into automation in new Chicago e-commerce facility Read More 
OnTrac announces service expansion into three key U.S. markets Read More 
Amazon Restarts Delivery Service It Paused During the Pandemic Read More 
Amazon and Nestle join public-private plan to save world's forests Read More 
FedEx, Adobe Agree to Integrate E-Commerce Sales, Service Platforms Read More 
Etihad Cargo stretches express moves on e-commerce Read More 
Shaping the future of e-commerce logistics with JDL Read More 
Cathay Pacific reports active e-commerce cargo in July Read More 
E-commerce sector urgently needs to make tough choices Read More 
Our customer service team is happy to assist you with planing your next booking.