Supply Chain and Logistics Outlook – June 2023 
Highlight: MSC Surpasses 5 million TEU Fleet Size, Securing Global Dominance in Container Shipping
In an impressive feat, MSC has become the first carrier to achieve a fleet size of over 5 million TEU slots, solidifying its position as the world's largest container line. Surpassing Maersk by a significant margin of 800,000 TEU in just over a year, MSC's rapid growth without relying on mergers and acquisitions is commendable. With expectations to exceed 6 million TEU by 2024, MSC is poised to operate an independent global network while maintaining selected partnerships. Despite industry-wide slower vessel speeds, MSC's accomplishment showcases its commitment to delivering exceptional service and capacity in the face of evolving challenges.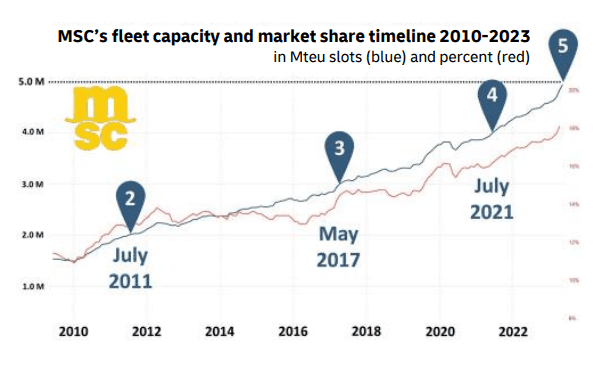 Ocean Freight Rundown – June 2023
Key

++

Strong Increase

+

Moderate Increase

=

No Change

–

Moderate Decline

—

Strong Decline
Middle East – North America
The space out of the Gulf is fairly tight; however, the rates are trending upwards for this trade lane.  
Capacity — (+) 
Rate — (+) 
The capacity for this trade lane is flat over the month, as the Gulf services are still facing the seasonal rebound in demand. 
Capacity — (=) 
Rate — (=) 
The spot rates are trending upwards for this trade lane, and the space is getting tighter out of the Gulf.  
Capacity — (=) 
Rate — (+) 
Middle East – Latin America
The spot rates for this trade lane are increasing month over month. Furthermore, the Gulf services are still experiencing seasonal demand rebound. 
Capacity — (+) 
Rate — (+) 
The overall increase in the market along with the carrier's blank sailings is pushing the rates upwards. The East MED market is strong, but the GRI plans are not that effective due to the additional capacities offered by small carriers, which is sufficient to accommodate the market volume.  
Capacity — (-) 
Rate — (+) 
Note: The overall equipment situation is relatively in control in the region; however, 20'GP shortage is prevailing, especially in North China.
North America – Middle East
There is aggressive competition in the market in the Mideast as the rate continues to decrease and more concessions are made on side conditions.  
Capacity — (=) 
Rate — (-)
Latin America – Middle East
The export rates of Central America have started to showcase a sharp decline. Mexico's export rate to Middle East have softened. 
Capacity — (=) 
Rate — (-) 
Note: Vessels are open. 
Rates for this trade lane are decreasing; however, there are no issues with equipment availability. Capacity into the East MED is also available, while the rates continue to soften for short and long-term contracts. 
Capacity — (=) 
Rate — (=/-) 
Note: Space is available. 
Air Freight Rundown – June 2023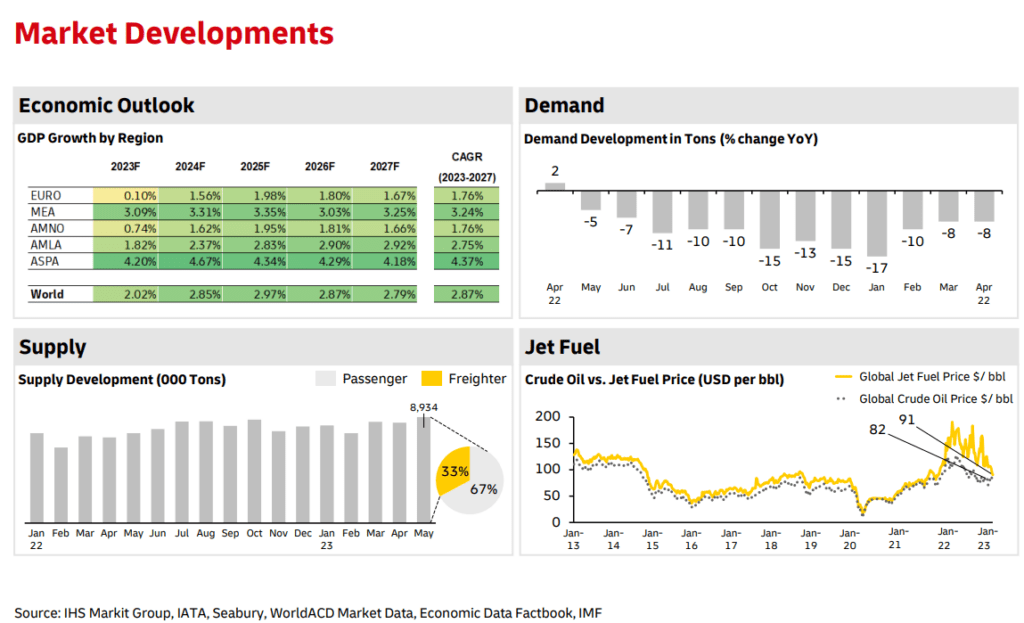 Demand: Volume continues to remain low; however, some trade lanes are experiencing month-on-month increase. Furthermore, there is a minor increase in hi-tech demand outbound in the Asia Pacific region.   
Capacity: The capacity remains sufficient, even though the volume is currently low. Moreso, the passenger volume has increased, along with the belly capacity. Overall, the global capacity has increased by 14% with no significant backlogs.  
Rates: There are competitive spot rates across most trade lanes; however, they are slightly increasing for some countries. Furthermore, expect the long-term rates towards H2 of 2023 to be more stable. 
The Middle East and Air Carriers
The Middle East carriers have experienced a year-on-year cargo volume decrease of 6.8% in the month of April 2023. The current value is a slight decrease in the performance in comparison to the value of last month (-5.5%). However, the capacity has increased by 10% in comparison to April 2022. 
In Asia, due to the softening air cargo demand and recovery of belly cargo capacity on passenger flights, the industrial level Air Cargo Load Factors (CLFs) are experiencing a downward trend. The air cargo demand decreased in March; however, the rate of decline is slower than the previous months. This indicates that there is a trend of improvement in the market. Furthermore, the capacity for air cargo increased by 9.9% year-on-year basis, due to rise on the belly-hold capacity from passenger aircrafts.  
The strength of air cargo drivers, mainly trade and manufacturing exports, continues to diminish as the global new export orders remain weak for the entire year. 
In the Latin America region, the inbound capacity is sufficient, the rates are reducing with higher PAX. Whereas the outbound rates are increasing because of the higher cargo volumes in perishables and flowers seasons.
On the other hand, in North America, the direct passenger flight between United States and China has decreased by 73% this year. Currently, the US-based airlines are only allowed 12 rounds to China. Due to this, the air freight demand between the two countries remains relatively low; however, reasonable for the current capacity. In case if the additional capacity adds up, air rates will reduce even further.
The European market continues to be impacted by inflation, higher interest rates, and geopolitical situation. The global air freight volumes for this region have reduced by 11.1%, and the capacity has increased by 4.5% in comparison to the same period last month.
The rate development has remained inconsistent throughout April, where some countries experienced decrease due to less pressure on the supply chain; on the other hand, some countries saw little to no change as a consequence of unpredictability in supply and demand.
Shipping Local News - United Arab Emirates – June 2023
The notification is informing valued customers that starting from July 1st, 2023, a General Rate Increase (GRI) will be applied to all cargo loaded from the Middle East to various locations such as the USA East Coast, USA Gulf Coast, USA West Coast, and San Juan. Read More
Hapag-Lyoyd informs customers about an update regarding Marine Fuel Recovery (MFR). The MFR is a surcharge applicable to all trades in the container shipping industry. The update includes new MFR values that will be effective for sailings starting from July 1, 2023. The MFR will be reflected as a separate surcharge on customers' invoices and Bills of Lading. Read More
Starting from May 15th, 2023, the Gambian government has made it mandatory for all exports and imports, including in-transit shipments, to obtain a Cargo Tracking Note (CTN) certificate. This regulation applies to all cargo being exported to or imported from Gambia. Read More
Maersk is transitioning to the SAP S/4HANA financial system and updated the credit note issuing process. Changes have been made to prevent multiple partial credit notes, and instead, a completely new invoice will be issued for revised charges. Support is provided for any questions or concerns during the transition. Read More
To improve service delivery and streamline the process, customers are now required to submit all invoice dispute requests through the CMA portal starting from May 15th, 2023. This change aims to provide convenience and ease of business for customers. Read More
Global Factory Output – Overview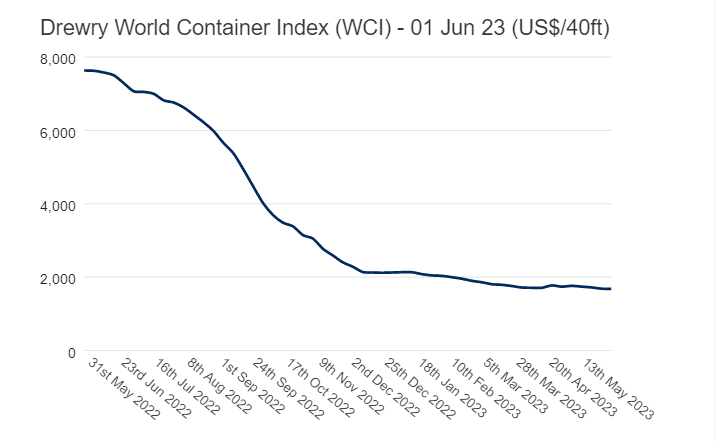 The Drewry's World Composite Index (WCI) has reduced by 0.2% and reached $1,682.10 per 40-ft container in the last week of May 2023. 
United States of America USA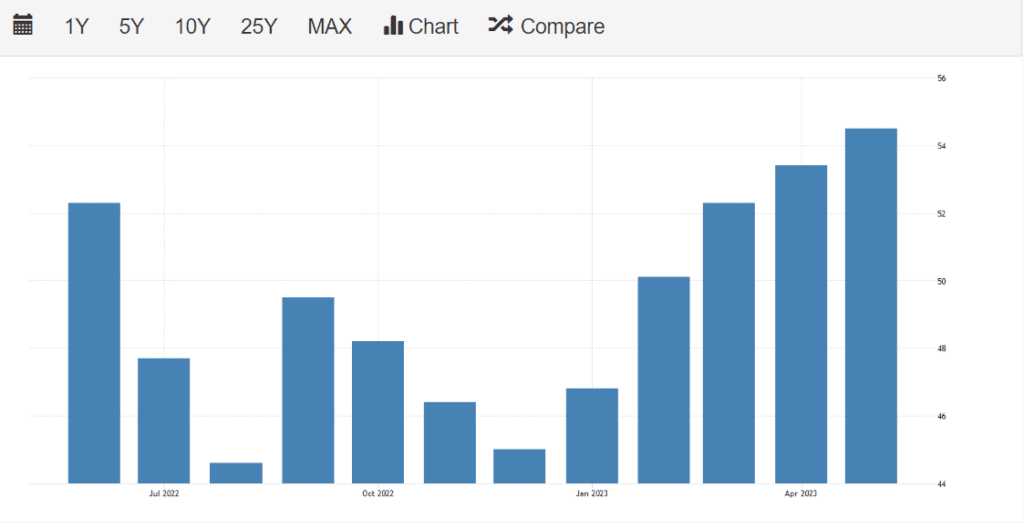 The US Composite PMI for May 2023 rose to 54.5, indicating the fastest expansion in the private sector since April 2022. Service sector growth was boosted by stronger demand, while manufacturing production saw only marginal growth. Employment levels increased, and input prices for manufacturers fell for the first time in three years. Business expectations improved due to the anticipated increased demand and investment.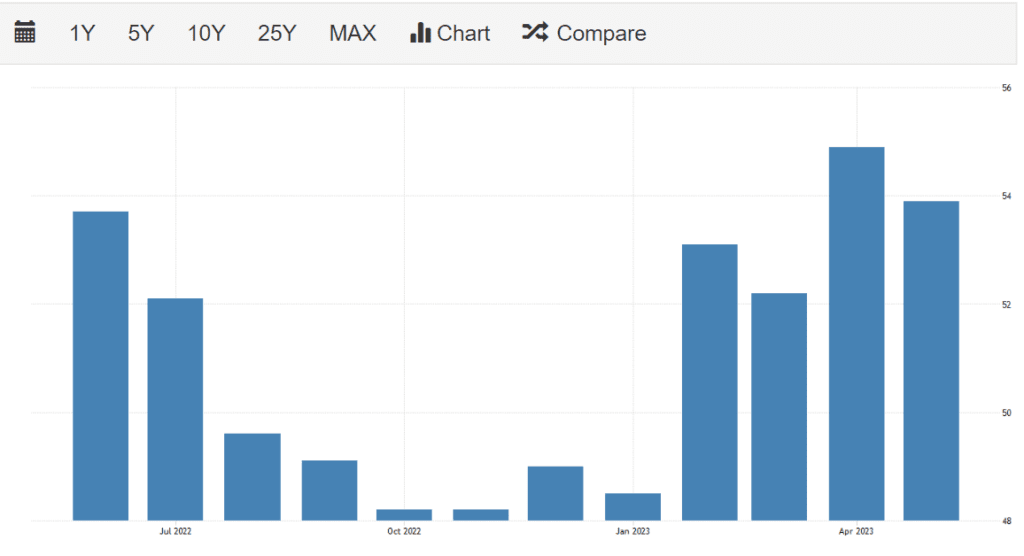 The UK Composite PMI for May 2023 dropped to 53.9, reflecting slower growth in the private sector. Manufacturing output declined for the third month, while service sector expansion slowed despite strong demand for consumer services. Budget pressures, economic uncertainty, and higher borrowing costs were cited as challenges to growth, leading to decreased business optimism.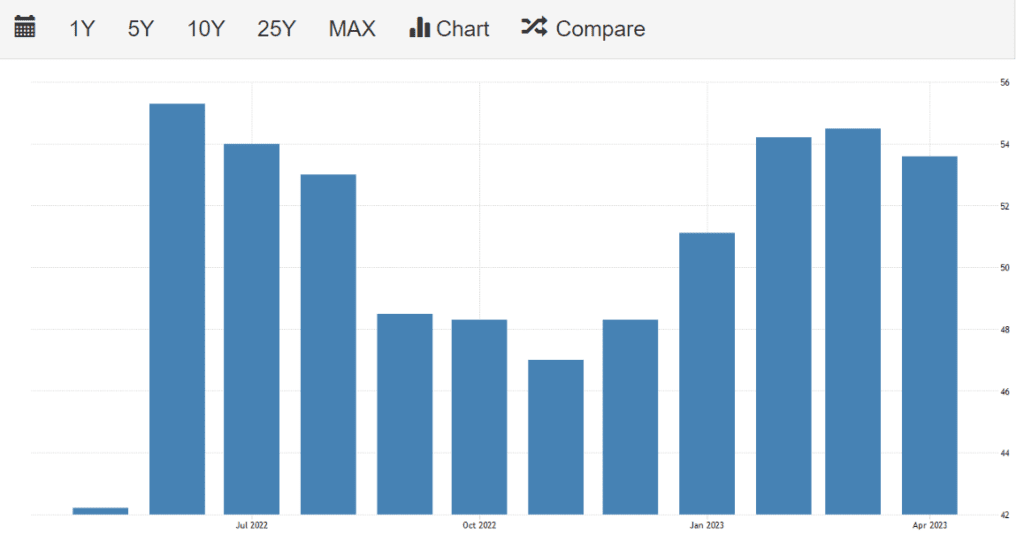 The Caixin China General Composite PMI decreased to a three-month low of 53.6 in April 2023. Both manufacturing and service sectors experienced slower output growth compared to March, while new orders and employment saw modest increases. Input cost inflation slowed, driven by lower manufacturing input prices, and output cost inflation dropped for the first time since September. 
United Arab Emirates (UAE)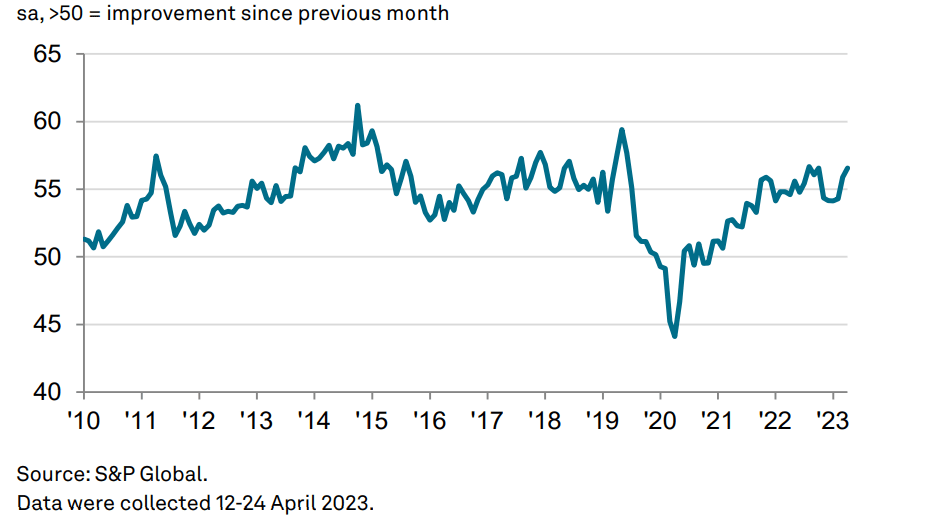 The UAE PMI continues to rise, indicating a strong expansion in the non-oil economy. This growth was driven by increasing new orders and decreasing inflationary pressures. Companies offered price promotions, leading to a sharp increase in sales. Efforts to improve services and boost marketing contributed to robust activity growth. Employment numbers also increased, and confidence for future activity reached its highest level since September 2022. 
IATA: Air cargo market decline slows in April Read More 
Nauru Airlines plans nonstop service to Guam Read More 
Cainiao trials IATA's ONE Record system successfully Read More 
WFS opens air cargo terminal in BLR Read More 
Belly cargo capacity to surge on trans-Atlantic routes this summer Read More 
Qatar Airways Cargo, Envirotainer to provide sustainable pharma shipping Read More 
Swissport refines cool chain solution at Nairobi air cargo center Read More 
Menzies Aviation expands partnership with i6 Read More 
IAG Cargo officially launches state of the art cargo handling facility Read More 
FedEx launches FedEx Innovation Lab to fuel digital capabilities Read More 
Cargo iQ joins forces with FIATA and ASA to drive global standards across all sectors in air cargo Read More 
Korean Air gains IATA CEIV battery certificate Read More 
Air Partner and Worldwide GSA join forces in APAC Read More 
Airlines that adapt quickly will survive likely freight pain in H2 Read More 
Cathay Pacific nears Boeing 777-8F freighter order Read More 
Boeing looks to sell at least 150 737 Max jets to Riyadh Air – Bloomberg News Read More 
Flydubai and Air Canada announce a codeshare partnership Read More 
FedEx agrees to tentative deal with pilots Read More 
AIR FRANCE Chooses PORSCHE for Exclusive Car Transport at the Airport Read More 
LATAM Cargo, Kuehne+Nagel and Elite Flower invest in sustainable aviation fuel (SAF) Read More 
Ethiopian Cargo partners with digital enabler cargo.one to lift off its digital sales Read More 
Airport Master Planning seminar for Kazakhstan's airports Read More 
Abu Dhabi Airports Free Zone Reports a Two-Fold Increase in Leased Out Spaces and Properties Read More 
Qatar Airways Cargo launches Kigali Africa Hub in partnership with RwandAir Read More 
Bolloré Logistics launches new Air Charter Service Read More 
WFS grows partnership with Qatar Airways Cargo Read More 
Kenya to shift 50% of horticultural exports to sea freight Read More 
Freight slump does not stop US inland ports' advance Read More 
Carriers look for trade mix to stay in the black Read More 
Alliance rivals ready to cash in if 2M divorce gets messy Read More 
Carriers struggle to hold transpacific GRIs as rates come under pressure Read More 
Ocean trade emerges from pandemic haze to face new realities Read More 
CMA CGM attempts peak season surcharge for India-US trade Read More 
Piracy and maritime crime incidents on the increase Read More 
DP World granted millions of euros to expand Black Sea port Read More 
UN to begin emptying dangerous tanker vessel of oil in the Red Sea Read More 
Ukrainian grain exports inactive despite corridor renewal Read More 
Spain fines ship that caused concerns for Maersk Tankers Read More 
Improving time schedule reliability for container ships Read More 
Union Pacific expands intermodal service at Port Houston Read More 
Freight Industry must Resist the Tidal Wave of Drug Smuggling Read More 
Technology Solutions from Israeli-Based Docktech Improving Freight Movement Through the Global Port System Read More 
CMA CGM Acquires La Méridionale, New Ship Orders Planned Read More 
Ukraine Says Russia Prevents Black Sea Grain Deal Port Operating Read More 
LNG bunker costs now competitive Read More 
DHT bags 2018-built VLCC for $94.5m Read More 
Positive developments in container safety in liner shipping – World Shipping Council Read More 
GEODIS Announces Acquisition of Southern Companies Read More 
2 ocean carriers fined for Ocean Shipping Reform Act violations Read More 
Cargo ships lost 661 containers at sea in 2022, WSC report says Read More 
ONE increases Africa, India, Middle East service frequency to weekly Read More 
MSC adds King Abdulaziz Port to Upper Gulf Express service Read More 
DP World launches CARGOES Community vessel status dashboard in Saudi Arabia Read More 
DP World launches first direct ferry service between UAE and Iraq Read More 
Shippers, regulators muddle through 'grey area' of rail storage fees Read More 
California Dems lobby DOT for $700M electric truck charging project Read More 
FRA proposes rules for certifying train dispatchers, signal employees Read More 
Canadian Pacific Kansas City expands Mexico intermodal reefer rail service Read More 
Hylane adds Iveco as FCEV supplier with €25 mn funding boost Read More 
Tracking the speed, dwell and cars of Class I railroads Read More 
Truckers threaten to boycott Florida over migrant crackdown Read More 
Flexport Taps Uber Freight Executive to Build Truck Brokerage Read More 
Europe: general decline in road transport prices Read More 
Road container transport: merchant haulage makes its comeback Read More 
Rail data shows reality of current supply chain Read More 
PSA and Kazakhstan Railways sign Trans-Caspian rail corridor pact Read More 
Gulf railway project: Saudi Arabia in talks for a railway link with Kuwait Read More 
Etihad Rail map: Unveiling the UAE's $3 bln railway network Read More 
Etihad Rail, DHL enter new major partnership agreement Read More 
Oman and Etihad Rail Company ink logistics agreement with mining giant Vale Read More 
Cargo thefts up 41% in first half of 2023 Read More 
Consultant's Insight: Reshaping globalization through nearshoring Read More 
Cold chain technology: Ensuring temperature control during air transportation Read More 
Global IoT Communication Protocol Market to Surpass US$ 24.6 Billion by 2032 Amid Skyrocketing Demand for Smart Home Appliances Read More 
Top Shipper of Russian Oil Secures Indian Cover as Western Certifiers Exit Read More 
Singapore logistics service provider Janio secures fresh funding Read More 
Saudi Arabia and U.K. Ink Critical Minerals Supply Chain Deal Read More 
Ford inks long-term lithium supply contracts Read More 
How a DHL center in Seattle moves 4,000 packages daily Read More 
Nike CFO takes on procurement oversight Read More 
Maersk opens supply chain innovation center Read More 
AI opens new frontier in supply chain planning Read More 
Logistics providers expand operations in Mexico, leveraging nearshoring as a strategy Read More 
Shein invests $70M toward upgrading its supply chain Read More 
Maersk Warns of a Downturn in Global Trade Read More 
Building a transparent, traceable, and sustainable Middle East food supply chain Read More 
Pros and Cons of Using AI for Inventory Forecasting Read More 
Wingcopter, Germany's drone delivery startup, raises another $44M from the EIB Read More 
Cold-chain startup Figorr raises $1.5M, backs the rollout of data-driven perishables insurance Read More 
Delhivery agrees to invest in SaaS provider Vinculum Read More 
Drone Delivery Startup Zipline Boosts Valuation To $4.2 Billion Read More 
UPS Healthcare Opens New Logistics Facility in Singapore Read More 
Deutsche Bahn Open to Strategic Buyer for Schenker Read More 
Wood vs. plastic: Which pallets are more sustainable? Read More 
FedEx Express ramps up robotic arms use at its Memphis World Hub Read More 
Nippon Express opens Temperature-Controlled Warehouse in Shanghai Read More 
5 Key Steps to Optimize Across Modes for Last-Mile Delivery Read More 
As back-to-school, holiday orders begin, this is what may be the new 'normal' in peak retail trade season Read More 
Amazon doubles storage capacity with new fulfilment centre in Riyadh Read More 
Qatari SARCO to set up $50mln logistics centre in Oman Read More 
Passenger Car Price in UK Increases to $36,155 per Unit Read More 
U.S. Prisms and Mirrors Export Soars to $109M in March 2023 Read More 
Recession in Germany to Cast Shadows on Europe's Peak Season Imports Read More 
Panama Canal Imposes Shipping Restrictions to Cope With Worsening Drought Read More 
As trade grows, US and Mexico race to invest in ports of entry Read More 
Convoy Beverage Alliance joins Northeast Florida's Foreign Trade Zone Read More 
US government warns trade finance lenders over breaches of Russia export controls Read More 
Flexport eyes global e-commerce market with Shopify takeover Read More 
Amazon Turns to AI to Weed Out Damaged Goods Read More 
Shopify to Lay Off 20% of Its Workforce as It Sells Logistics Business to Flexport Read More 
NAP, ATEM launch NeX e-commerce supply chain logistics network Read More 
Saudi logistics: CJ Logistics to set up global e-commerce centre in Riyadh Read More 
The future of e-commerce tech and SaaS logistics in third party logistics companies Read More 
WEE Marketplace Taps into UAE's 12.7 billion USD E- Commerce Market with Its Quick Delivery Service Read More 
Swisslog Will Showcase Cutting-Edge Automation Solutions for E-Commerce and Retail Industries at Seamless Middle East 2023 Read More 
Our customer service team is happy to assist you with planing your next booking.