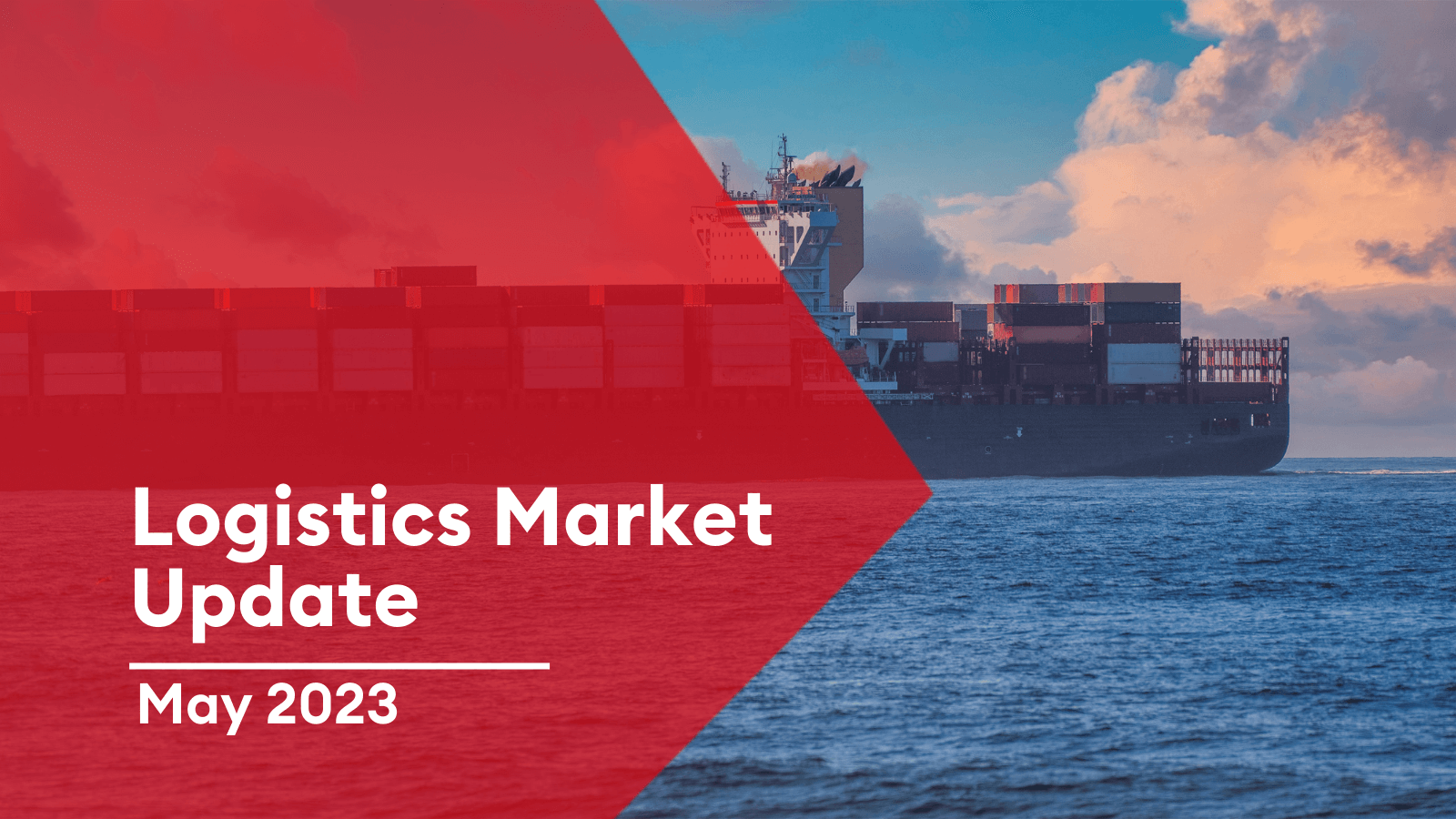 Global Logistics Market Updates – May 2023 
Highlight: Sharp Increase in Ocean Schedule Reliability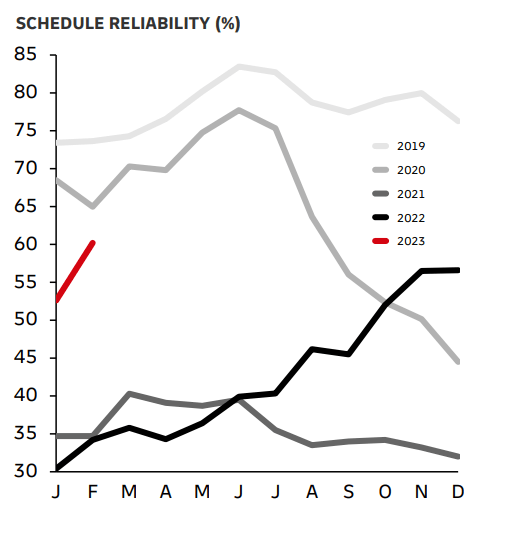 After a sideward trend for the past 3 months, Ocean Schedule Reliability experienced an increase of 7.7% in February, reaching 60.2%. Similarly, the YoY level has seen an astonishing 26% points increase. The schedule reliability in February improved in half of 34 trade lanes with Oceania-Asia experiencing the biggest improvement (51.9% in Feb 2023 rising from 38.7 in Jan), while Oceania – North America experienced the largest decline of 16.2 points, reaching 44.9% in February. Here's an overview of some other major trade lanes:
Reliability points decreased by 4 for Asia to North America West Coast, reaching 30.2%. However, for Oceania-North America, the reliability increased by 3.5 points and reached 39.2% MoM.

For Asia-North Europe, there was an improvement of 1.1 points MoM, and the reliability reached 53.2%, while for the Asia-Mediterranean route, the reliability decreased by 9.3 points, reaching 44.5%.

For Transatlantic Eastbound the schedule reliability decreased by 2 points to reach 49.2%; however, it increased by 6.2 points to 44.3% for Westbound trade.
Global Ocean Freight Updates – May 2023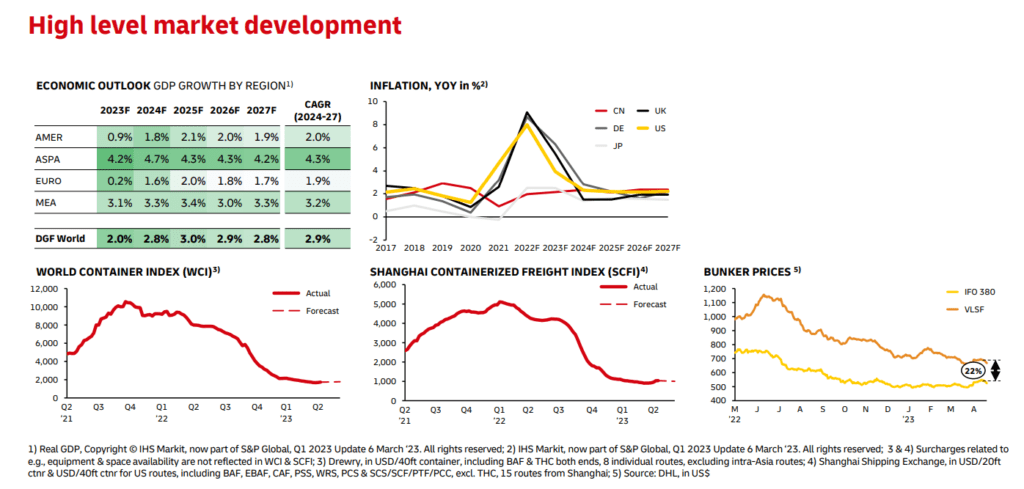 Key 

++ 

Strong Increase 

+ 

Moderate Increase 

= 

No Change 

– 

Moderate Decline 

— 

Strong Decline 
Middle East – North America
Services to Gulf are facing seasonal demand rebound after Ramadan ended in the Middle East. The rates are trending upward in the region. 
Capacity — (+) 
Rate — (+) 
Note: Space is fairly tight out of the Gulf.
The shipping rates from Middle East to Chinese ports are coming back to its pre-pandemic level (i.e., the three digits). The capacity is generally above demand.  
Capacity — (-) 
Rate — (-) 
Note: After Ramadan, the Gulf services are facing seasonal demand rebound.
The rates out of the Gulf are stable and capacity remains above demand. There are no space issues prevailing in the market for this trade lane. 
Capacity — (=) 
Rate — (=) 
Note: The space out of Gulf is available. 
Middle East – Latin America
The rates out of the Gulf are increasing. After Ramadan in the Middle East, the Gulf services are facing a seasonal demand rebound.  
Capacity — (+) 
Rate — (+) 
Note: Space is available.  
Rates for MENAT, especially Gulf/Red Sea have increased. The GRI are taking place strongly at USD 300-400/TEU. The demand is strong, which is why the GRIs is expected to come in May as well. Blank sailings are still taking place on this trade lane, especially from The Alliance that is causing capacity constraints.   
Capacity — (-) 
Rate — (+) 
Note: Space in East Med is very full. 
North America – Middle East
The ongoing aggressive competition in the market to Mideast has caused the rates to decline and increased concessions on side conditions. 
Capacity — (=) 
Rate — (-) 
Latin America – Middle East
Due to the current market conditions, the Central America's exports are softening. In the middle of the contracting season, there is a downward trend for the Med market. However, the rates are back to pre-Covid levels. 
Capacity — (=) 
Rate — (-) 
Note: Vessels are open. 
The space available for this trade lane is ok; however, the rates are decreasing slightly. The capacities are available in the East Med and rates continue to soften for both short- and long-term contracts.   
Capacity — (=) 
Rate — (=/-) 
Note: No issues with equipment. 
Global Air Freight Update – May 2023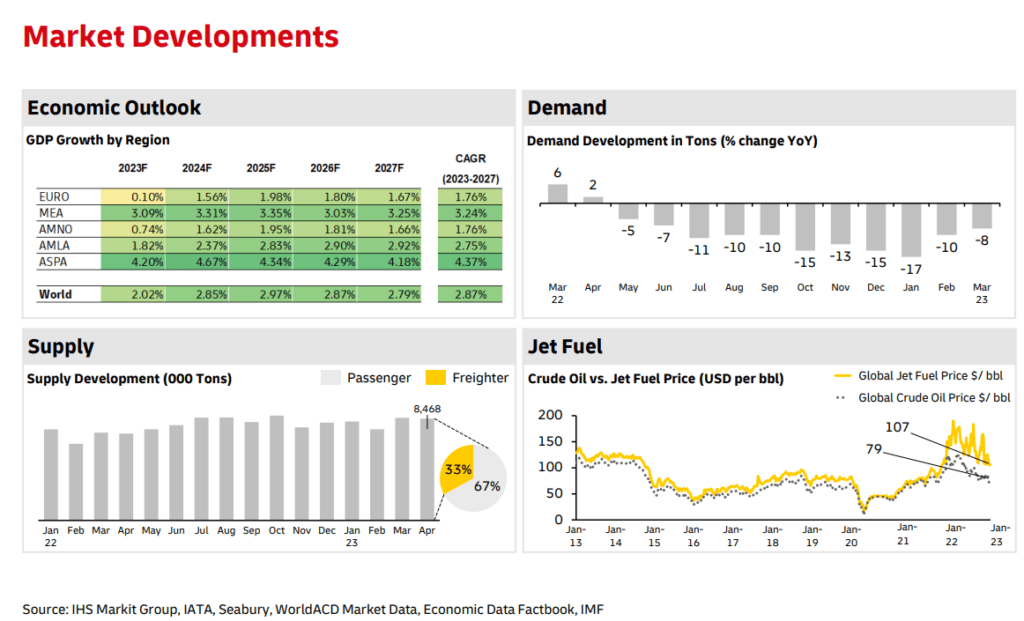 Demand: The volume continues to remain low. The lower export orders from the Asian Pacific region are causing the volume decline. Due to the Easter holidays, the demand volumes from US and EU also reduced. The major world economies are expected to be more resilient in the next 2 quarters to recover from the volume decline.  
Capacity: The capacity is sufficient for the current level of demand; the belly capacity is following the same pattern as the passenger volume is increasing. However, the current labor disputes around the globe can have operational impact.   
Rates: There is a competitive spot market across different trade lanes with a slight increase in charter and ad hoc rates. Furthermore, stability is expected in the 2nd quarter of 2023.  
The Middle East and Air Carriers
The carriers in the Middle East experienced a 5% year-on-year decrease in volume in March 2023. This is an improvement from the last month's decrease of 7.1%. Furthermore, the demand from the Middle East to Europe has been increasing recently. Additionally, the overall capacity has increased by 9.7% as compared to last year in March.  
The air market is stabilizing as the year progresses. The rates will increase in comparison to the first quarter, while the demand is recovering and is expected to remain relatively stable over time. Few of the freighter capacity in Transpacific are retiring. As the summer approaches, it is expected that the overall capacity (passenger + freight) will remain relatively stable and the balance between supply and demand will be maintained.  
The export capacity in the United States is open and the rates are decreasing. However, in the coming traveling season, it is predicted that additional capacity will be added, which will support the traveling demand. 
On the other hand, the export conditions are mixed. The seed season in Chile, Argentina, and Uruguay started in the early March, which will continue till the mid-May due to the support from different charter programs. Furthermore, the capacity and rates out Brazil remains stable for all the major routes. Similarly, Columbia had its peak flower season from 3rd – 22nd April that created additional southbound capacity in Miami and attractive spot rates.
In spite of the lower consumption and inflation in the market, the volume decline has been reduced, and the air freight conditions are improving. The capacity outside of Europe is slightly up when compared to last year; this is mainly due to easing covid restrictions in China. The trends in the rate are mixed; stable for some routes and declining for others. 
Local News UAE – May 2023
CMA CGM has announced to implement extra risk coverage surcharge for Sudan, effective from May 1st, 2023. The charges of USD 500/TEU will be implemented on dry and reefer cargo from North Europe, Scandanavia, East Med, Poland, Baltic, North Africa, Black Sea, Morocco, Adriatic, Red Sea, Middle East Gulf, and Indian Subcontinent to Sudan. Read More 
CMA CGM is implementing new overweight surcharge on dry cargo from Asia and Indian East Coast to Nigeria from April 28th, 2023. The charges of USD 250/20' container (with gross weight of over or equal 18 tons) will be implemented on short-term contracts only (3 months and below). Read More 
A new era for partnerships for Dubai Maritime Authority (DMA). With the implementation of Law no. (3) of 2023, Dubai Maritime Authority now spans over whole Emirates of Dubai, which includes special development zones and free zones. Read More 
Swire Shipping has announced new Pacific Weekly Express (PWX) services, which will operate on an unparalleled 7-day frequency from Southeast Asia to Papua New Guinea, Soloman Islands, Fiji, and New Caledonia. It will also include connections via Fiji and New Caledonia to Pacific Islands of Tonga, Samoa, Vanuatu, Tahiti, and American Samoa. Read More 
To continue the reliable and efficient services, CMA CGM Group wants to update the customers about the General Rate Restoration (GRR). The updates will be applicable from 7th of May 2023 on all cargo including Dry and reefer from UAE and Upper Gulf to West Africa. Read More 
OOCL has revised local charges in UAE to improve the service quality. The new charges will be effective from 1st April 2023 for non-regulated trades and 1st of May 2023 for regulated trades. Read More 
Hapag-Lloyd has updated their inland tariff charges that will be effective from 1st of May 2023. Read More 
Global Factory Output – May 2023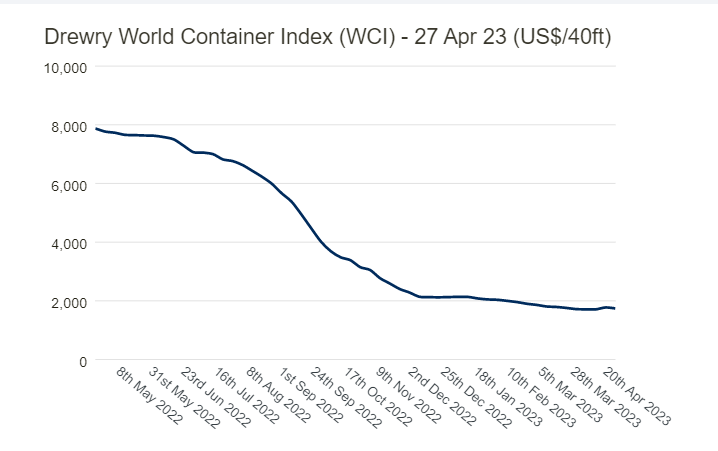 The World Container Index (WCI) has decreased by 2% in the last week of April 2023, and reached the value of USD 1,740.26/ 40ft container. The current value is 83% below the peak value reached in September 2021. The reduction in the index indicates a return to normal price levels.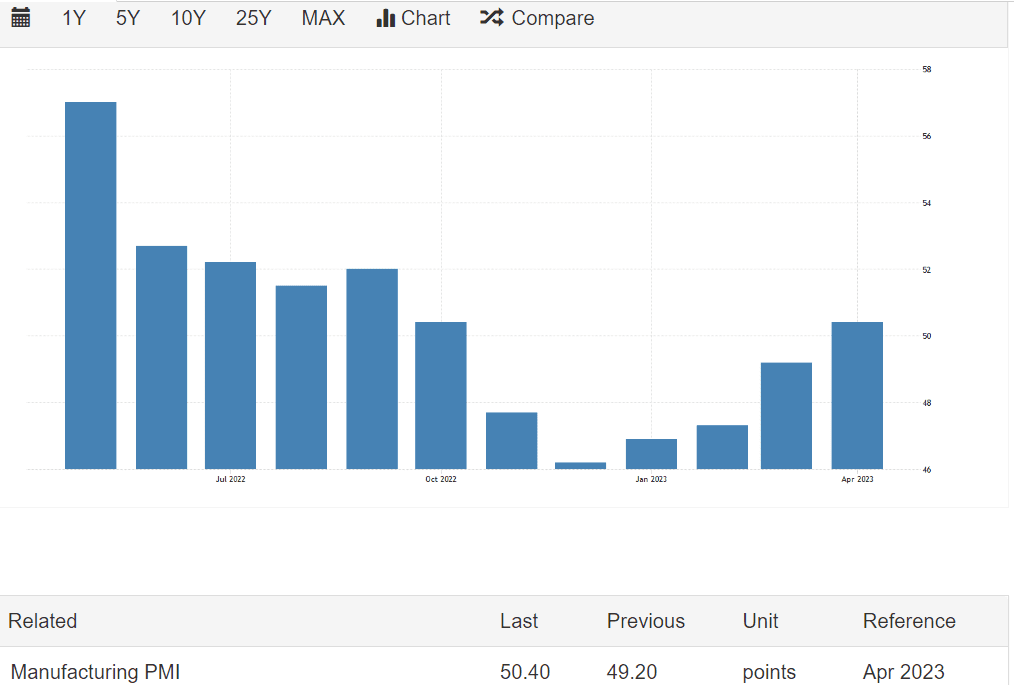 The US manufacturing PMI has increased from 49.2 in March 2023 to 50.4 in April 2023. The change resulted after a first expansion in factory activity in six months. The production levels were moderately increased along with the new sales level. When it comes to price, the rate of increase for operating expenses was the fastest since November of last year.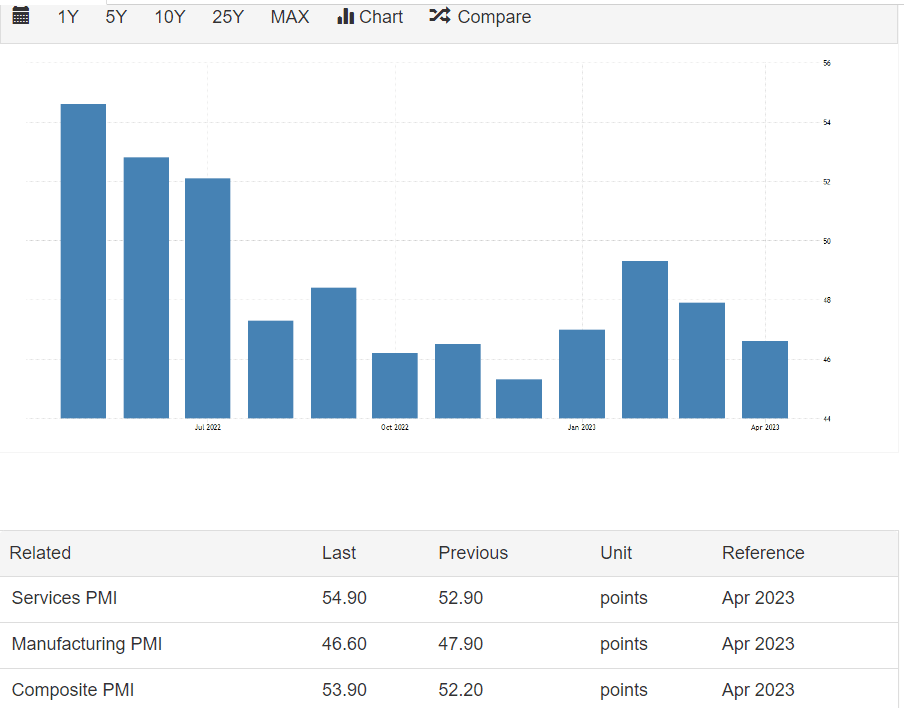 The manufacturing PMI of the UK has declined to 46.6 in April 2023 from the value of 47.9 in March 2023. The reduction in prices is a result of the contraction in the manufacturing sector in the last four months. Production decreased along with the fall in the new orders and there was job shedding. At the same time, the supply chain continues to improve amid the higher raw material availability and lower demand.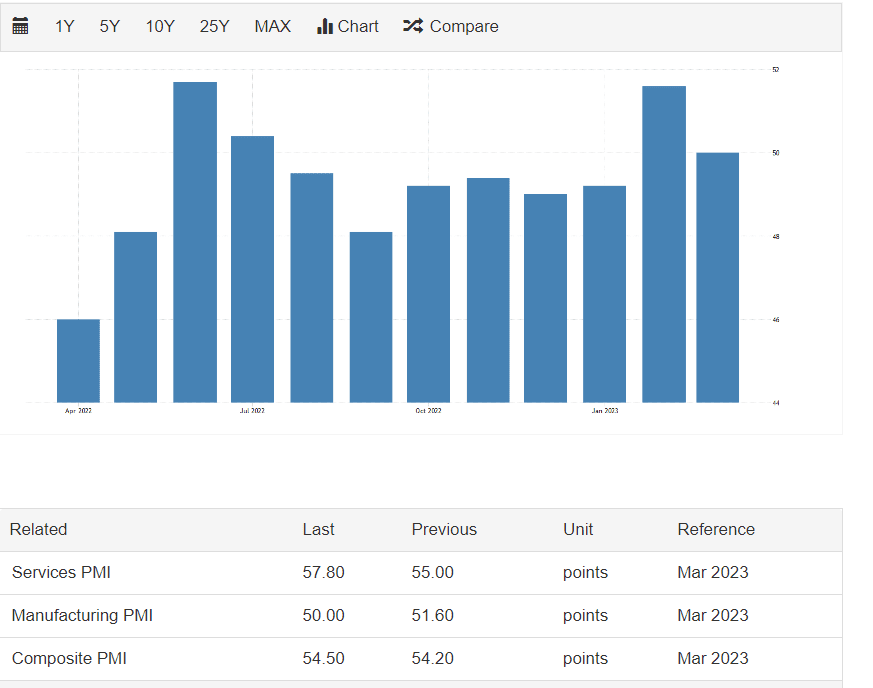 China's manufacturing PMI unexpectedly fell in March 2023 to 50.0 from February 2023 value of 51.6. This reduction was a result of growing concern about the recovery momentum of Chinese strength, ongoing property downturn, and financial uncertainty. The new orders and the output increased, while the employment and foreign sales decreased. Furthermore, the supplier capacity and stock availability helped in improving the vendor performance
United Arab Emirates (UAE)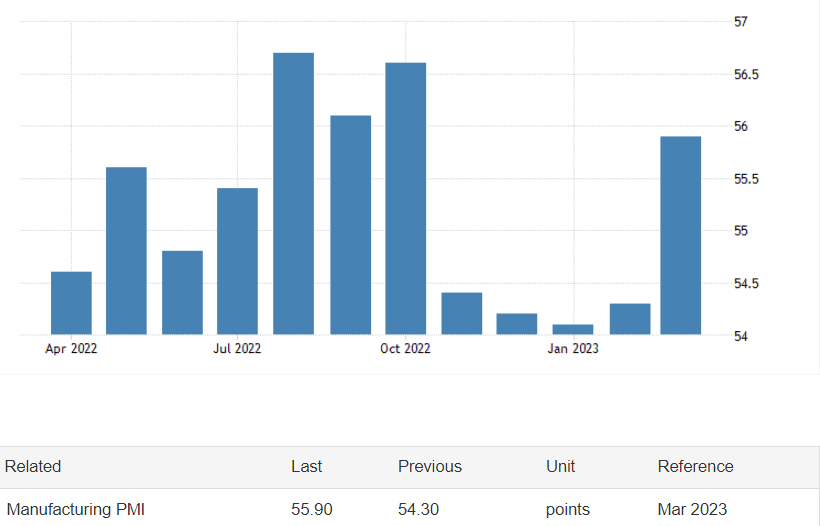 The manufacturing PMI of the UAE has increased to 55.9 in March 2023 from 54.3 in the previous month. The increase indicates quick improvement in the non-oil private sector. The new orders have reached their 5-month higher value due to an increase in tourism and market demand. Furthermore, the output has grown at the fastest rate in the 5 months. As far as the prices are concerned, inflation was mild, amid the increase in the prices of input.  
Global Interesting News – May 2023
Air France-KLM and CMA CGM officially launch their long-term strategic air cargo partnership Read More 
LATAM Cargo and Swiss Airtainer Win 2023 IATA Air Cargo Innovation Awards Read More 
Aviation Provides Critical Relief in Crises Read More 
Incheon Airport constructing $28M global distribution center for e-commerce Read More 
Industry 'falling behind' on lithium battery detection, AfA's Fried says Read More 
DHL, Turkish Cargo sign MOU to improve ops Read More 
New route between HKIA SkyPier and Pazhou in Guangzhou begins trial Read More 
Turkish Cargo and Avianca Cargo sign an MoU to further enhance their cooperation with global reach Read More 
Qatar Airways Cargo relaunches its Next Generation Pharma product Read More 
WestJet Cargo and the GTA Group celebrate inauguration of dedicated freighter in Toronto Read More 
Kyte strikes strategic partnership with Air Canada Read More 
Saudia Cargo agreement with Tower Cold Chain extends choice in Middle East pharmaceutical shipments Read More 
Etihad Cargo and SF Airlines connect their mega hubs Read More 
Bolloré Africa Logistics rebrands following takeover Read More
Kuehne+Nagel and Atlas Air team up on Sustainable Engine Alliance Read More 
FedEx pilots to vote on strike after contract negotiations fail Read More 
Qatar Airways Cargo Launches a Direct Freighter Service from Bogota to Dallas Fort Worth Read More 
Cathay Cargo integrates mail handling data with new mail service to improve visibility Read More 
Abu Dhabi Airport welcomes first SF Express cargo flight Read More 
Hongyuan joins the cargo. one online marketplace to boost digital sales Read More 
IAI establishes a freight conversion hub in South Korea Read More 
South Korea to Develop 777F conversion facility Read More 
Saudia Cargo unlocks Tower Cold Chain Read More 
DHL Express orders Mammoth-converted freighters Read More 
Geodis boosts pharma offering in Asia, Middle East Read More
Qatar Airways deploys 777F on BOG-DFW route Read More 
Maersk Air Cargo starts new US-China service Read More 
Airport Master Planning seminar for Kazakhstan's airports Read More 
UAE and Canada to increase flights to 21 per week Read More 
Wizz Air receives Airline Of The Year award at Air Transport Awards Read More 
IATA Air Cargo Innovation Award winners revealed Read More 
Qatar Airways Cargo and Hactl partner in canine detection to sniff out lithium batteries Read More 
Container shipping heading for $10 billion loss in 2024: Drewry Read More 
CMA CGM places major order for green ships at Chinese yard Read More 
Shipper savings to rocket in 2023 at expense of carrier profits: analysts Read More 
Slow steaming can partially offset newbuilding surge, says consultant Read More 
Transpacific rates shoot up as carriers prop up GRIs with more blanks Read More 
e-Shipping the latest carrier to launch Russia service Read More 
Protecting Offshore Energy Sources via USV Read More 
CMA CGM Offers $5.5 Billion for Bollore Logistics Unit Read More 
Berlin Reviewing Decision to Allow Chinese Investment in Hamburg Port Terminal Read More 
Chinese port halts resuming crew Covid testing after backlash Read More 
Saudi Ports Log 21.14% Growth in March Container Numbers Read More 
Invasion of Ukraine Caused Steep Drop in Black Sea Container Traffic Read More 
California container ports sign data system development agreement Read More 
Port of Gothenburg achieves container growth despite slump in imports Read More 
DP World reports 19.5 million TEUs in 2023 first quarter Read More 
Bangladesh grants permanent transit of Indian cargoes using Chittagong, Mongla ports Read More 
COSCO Shipping Ports boosts first quarter profits with flat container volumes Read More 
Port of London Authority to upgrade its VTS system Read More 
CMA CGM announces overweight surcharge update from Asia and India East Coast to Nigeria Read More 
April sees tanker orders rain in Read More 
Freight Forward: Breakbulk in the Spotlight Read More 
Freight Forward: Ocean Carriers Take Flight Read More 
The economy is in a 'freight recession,' with China trade decline continuing Read More 
Berlin reexamines COSCO's Hamburg port plans Read More 
Three Canadian ports hit by cyber attacks Read More 
CMA CGM's secondhand splurge since 2020 surpasses the 100-ship mark Read More 
MoEI backs UAE Maritime Week to build a skilled workforce Read More 
Dubai Maritime Authority launches series of workshops to bolster partnership with industry stakeholders Read More 
Aero Africa launches sea-air freight service from Asia to Africa via Dubai Read More 
AD Ports Group Starts New UAE-Qatar-Kuwait Container Shipping Service Read More 
India-Russia explore market access in railways, agriculture and pharmaceutical sectors Read More 
Yellow looks to reopen Teamster contract, negotiate consolidation Read More 
Bulk carrier Trimac acquires AIP Logistics Read More 
Federal Railroad Administration urges caution on train lengths Read More 
California could phase out diesel locomotives Read More 
Walmart Adds First-of-its-Kind Truck to Transportation Fleet Read More 
JD Logistics pilots emissions tracking platform Read More 
Road transport prices in France were "marking time" in March Read More 
Road transport: a coveted German market Read More 
Electric Freight Trucks: Not Happening Anytime Soon For Long-Haul Moves Read More 
Rail data shows reality of current supply chain Read More 
Where the trucking and rail recession is showing up in the logistics data Read More 
Kazakhstan's KTZ Express, Russia's RZD Logistics organize first dispatch of reefer train to China Read More 
Massive Frederickson distribution and logistics complex lands national tenant Read More 
European Road Freight Transport Market is anticipated to register a CAGR of 3.57% during 2023 – 2028 – Market Size, Share, Forecasts, and Trends Analysis Report by Mordor Intelligence. Read More 
Land secured for Beveridge Intermodal Freight Terminal Read More 
Saudi infrastructure activity brisk in 2022; 56 new roads built Read More 
Egypt signs transport investment deal with Japan valued at about $700mln Read More 
6 transportation systems coming to the UAE Read More 
Other 
Container shipping warning: Green shoots are 'transitory illusion' Read More 
MPV sentiment improves even as short-term demand softens Read More 
Lufthansa aims to halve carbon emissions by 2030 Read More 
Digitalizing perishable shipments allows real-time recovery, data insights Read More 
DSV reports profit, revenue, volume declines Read More 
C.H. Robinson sees 32.3% revenue dip in Q1 earnings Read More 
DHL unveils sustainability milestones and a new tool at industry-first global summit Read More 
Qatar Airways Cargo launches a direct freighter service from Bogota to Dallas Fort Worth Read More 
Cargo.one launches new platform to speed up import bookings Read More 
Protective Face Mask Market To Hit US$ 25.78 Billion By 2032 Read More 
Transformers Market Size to Reach USD 93 Bn by 2030 Read More 
Sudan unrest poses no immediate risk to shipping Read More 
Lloyd's Register wins IMO green corridors challenge Read More 
Investment from Maersk propels Danish fuel-startup forward Read More 
Maersk pauses freight to Sudan due to intensifying conflict Read More 
Maersk joins collaboration on access to green methanol in Melbourne Read More 
Global Food Roundup: Shift to Discount Grocers and Aussie Wine Woes Read More 
Nearshoring Shift Brings Production Hurdles Closer to Home Read More 
Vessel ownership information a major indicator of illicit trade risk, report finds Read More 
Tanker newbuild orders hit two-year high Read More 
UPS Healthcare expands in Blonie Read More 
CILTSA Leads the Discussions on Warehouse Automation at its Free-to-Attend Conference Read More 
DHL Supply Chain facility is showcasing how automation, humans can coexist Read More 
CMA CGM's start-up initiative to set up Asia-Pacific hub Read More 
Full warehouses and labour issues soften Long Beach's volumes Read More 
Warehouse Jobs Drop to Lowest Level in 15 Months Read More
A.P. Moller – Maersk expands warehouse offering for its customers in UK Read More 
Warehouses Find Insulation From U.S. Banking Crisis Read More
Last Mile Delivery Grows Up with Ron Richardso Read More 
How Lithium Forklift Battery Data Solutions Can Help Estimate Battery Health Read More 
How Warehouse Automation Keeps Cold Food Chains Moving Read More 
Reducing energy usage in temperature controlled rooms Read More 
Thorn and Zumtobel to showcase innovative lighting solutions at IWLEX Read More 
Unbox Robotics brings its innovative "UnboxSort" to the UK and EU in partnership with L.A.C Logistics Automation Read More 
Enhanced Fire Protection from Hörmann UK Read More 
Inflation's inventory gluts are here to stay and will hit the bottom line in weaker economy: CNBC Supply Chain Survey Read More 
Industrial, logistics sector leasing up 26% in Jan-Mar: Report Read More 
Automotive Logistics Services (3PL and 4PL) Market Research Report 2023-2031 Market – Major Technology Giants in Buzz Again Read More 
New 3PL Announces Jacksonville Cold Storage Facility Read More 
Automyze Fulfillment Center eyes growth with SnapFulfil Read More 
China's ports dominance undermines western aims to loosen trade ties Read More
Tensions mount at US west coast box ports over labour talks Read More
Freight movements halted as conflict in Sudan kills hundreds Read More
IMF: Germany & UK enter recession in 2023 Read More
US sanctions Türkiye-based shipowners for ties to Russia Read More
UAE's extended links to Russia supports sanctions circumvention Read More
US demands Iran release oil tanker seized in Gulf of Oman Read More
Indonesia's export of coal increases with demand in Asia Read More
A Global Analysis: How friendshoring is impacting trade with China and the Far East Read More
Port Labor Disputes Raise New Fears Over U.S. Import Disruptions Read More
China-Germany Trade following China's Reopening Read More
Facilitating trade and transit in developing countries Read More
Sudan unrest poses no immediate risk to shipping Read More
Timor-Leste expands electronic single window to boost international trade Read More
Shipment from abroad stuck at ports after new payment system glitches Read More
UAE-India's planned 'green corridor' will fuel smoother customs process, higher trade flows under CEPA Read More
UAE-Israel Cepa comes into force Read More
Azerbaijan's trade turnover with CIS countries up Read More
EAEU Integration Plans With China, India and MENA Gain Momentum Read More
FedEx to consolidate companies, pilots frustrated over contracts Read More
Amazon Air's team balloons to 14,000 Read More
Alibaba's logistics arm Cainiao Ranks Top 10 in Global Unicorn Index 2023 Read More
Gol to increase e-commerce cargo fleet in May Read More
Amazon Institutes New Returns Fee To Reduce Shipping Costs Read More
Challenge Group makes ground in e-commerce Read More
Online Shopping's Fast-Delivery Race Is Slowing Down Read More
The Parcel Delivery Revolution: How Newspapers Can Leverage Technology and Infrastructure to Diversify Revenue Streams Read More
OneRail Solutions Now Available on the Shopify App Store to Accelerate Omnichannel E-Commerce Read More
Ecommerce consumers add to cart while AI helps logistics and supply chain deliver Read More
India's e-commerce logistics space on the fast track for growth Read More
E-commerce logistics industry to cross 10 bn shipments by FY28: Report Read More
Changing Landscape of the UAE E-Commerce logistics Market post-Pandemic: Explore the key trends that are driving AED 500 Mn Market: Ken Research Read More
Our customer service team is happy to assist you with planing your next booking.