Warehousing Services in Fujairah
The success of any goods-oriented business depends mainly on warehousing. Hence, developing an effective warehouse process for manufactured goods is crucial for quality service delivery and business growth. 
Manufacturers and distributors of physical products need warehousing as the number of product units increases. Warehousing also helps suppliers to keep their goods safe from theft or damage.  
Warehousing is a mid-phase, connecting the supply chain's beginning and the end phases. It plays a significant part in supply chain management success, though the latter comprises different aspects. Raw products are delivered from the ports to warehouses then distributed to the manufacturer or distributors.  
Data from the U.S. Bureau of Labour Statistics show the increase of private warehousing establishments from 15,203 in 2008 to 18,182 as of 2018. The average size of warehouses in 2000 was about 65,000 square feet. 
However, it rose to 181,370 in 2017, showing the demand for more warehousing capacity. With more physical goods on sale, the need to stock and preserve products increases. According to Statista, the online sales of physical goods are projected to surpass $735 billion in 2023, from $504.6 in 2018.  
Companies with effective warehousing services have enjoyed revenue-related benefits from warehousing. According to a Deloitte analysis of supply chain leadership, 79% of companies whose supply chains are high-performing achieve more revenue growth than other companies with averagely performing supply chains. 
As it is globally, warehousing services are highly operational in Fujairah, and this article provides valuable information on the concept.  
Free Zone Warehousing and Non-Free Zone Warehousing
The need to comprehend warehousing services as business solutions inform the various warehousing types.

Free zone warehousing solutions encourage reduction or elimination of duty charges because they do not undergo custom entry processes. The regulations guiding this solution are not as strict as those of non-free zone warehousing. Businesses can inspect, repair, and repack their goods when stored in a free zone warehouse. By doing so, they can remove damaged goods before being released into the market.  
Non-free zone warehousing services allow goods to move between bonded warehouses and permit unlimited storage time. This will enable businesses to delay the introduction of products to the market until they are assured of existing market demand. In cases where a company is unable to find buyers for its product in the country of the warehouse, the goods can be exported without duty charges. 
How Does Free Zone Differ From Non-Free zone?
| | |
| --- | --- |
|                       Free Zone Warehousing  |                       Non-Free Zone Warehousing |
| It was introduced around the 1930s to improve international competition and trade for American firms.  | It became popular in the 1800s to enable government supervision of dutiable goods before payment of duty.  |
| Manufacturing, repair and repacking, or destruction of goods.  | Movement of stored goods among non-free zone warehouses.  |
| Goods can remain in a warehouse for as long as possible.  | Imported goods can be stored in a warehouse for about five years in the United States.  |
| Best for the storage of local goods or imports.  | Best for the storage of foreign goods meant for export.  |
The Dynamics of Al Sharqi Warehousing Services in Fujairah
Al Sharqi logistics and warehousing services in Fujairah offers various warehousing solutions that cater to the dynamic needs of businesses. The services are highlighted below.  
Warehousing Services on Timely Basis
Al Sharqi warehousing and distribution service in Fujairah offers two essential warehousing solutions – the short-term warehousing storage and the long-term warehousing storage. 
Short-Term Warehousing Storage
This entails the storage of goods for less than 90 days. A short-term storage solution allows manufacturers and retailers to meet increasing product demands without long-term commitment or processes. 
Long-Term Warehousing Storage
Long-term storage lasts for 90 days (three months) or more. Items kept in long-term storage are meant to be protected from possible damages that may occur when left unsold for a month or years.  
Based on Budget and Requirements
Al Sharqi logistics and warehousing services in Fujairah offer both shared and dedicated warehousing services to accommodate businesses' budgets and requirements. 
With shared warehousing solutions, multiple businesses can utilize the same distribution facility and share resources, thus reducing the financial weight of a single company. The costs are also spread across the industries using the facility equally. A shared warehouse can be a more flexible solution lasting 1 to 3 years. 
A warehousing facility is handed to a single occupant with reliable warehousing services. The occupant handles costs and expenses incurred in running the facility. A dedicated warehouse typically involves 3 to 7 years of commitment. 
Warehousing Services on Storage Facility Basis
This will be based on warehouses' operating facilities and structure.  
An open yard warehouse system is a planned open space for efficient storage and handling of goods and materials. It also entails an acknowledgement document without a transaction type. Open yard storage allows the storage of farm produce for 30 days at most. 
These warehouses have multiple storage units. As closed storage areas, all units are connected without separation to ease the handling and storage of goods. 
Imported goods can be stored in a dry warehouse without paying tax duties. A dry warehouse is a safe zone for the goods until they are either re-exported or sold with duties proceeding from sales profit. 
Closed Temperature Warehouses
As a temperature-controlled facility, closed temperature warehouses are usually required by the food and beverage, pharmaceutical, and cosmetic industries. The house products need to be kept within a closed temperature range.  
Warehousing Services Based on Cargo
This places more focus on the cargo or inventory itself. Businesses have different forms of stocks and cargo storage. 
General cargo storage allows you to transport goods individually in one piece through pallets, packages, barrels, or boxes. 
Dangerous Goods (DG) Storage
Storage space is dedicated to the safe handling dangerous goods such as explosives, gases, flammable liquids, etc. Hazardous goods can be stored in this facility without causing any form of damage created. 
Temperature-Controlled Storage
Temperature-controlled warehouses shelter products must be kept at a specific temperature for preservation. These storage facilities can operate at four different temperature ranges: 59°F to 86°F (Ambient), 50°F to 59°F (Cool), 32°F to 50°F (Refrigerated), and -22°F, to 32°F (Frozen).  
Warehousing Services on Packaging System Basis
Goods are placed on a pallet for shipment or storage in logistic supply chains. In palletized warehousing, the products are stacked in patterns to achieve balance and stability despite their volume and weight. 
The utilization of pallets is not included here, and it involves goods such as machinery and piece of carpentry. These goods cannot be transported on a standard pallet due to their shapes and sizes. Hence, they are transported without further packaging. 
This storage system has goods placed on flat surface levels within the warehouse rather than on racks. 
This kind of racking allows storing goods in horizontal rows with multiple levels on structures called racks. Pallet racking increases the storage density of the stored goods. 
Hanger Racking For Fashion Clothing
As a variant of the conventional model of warehouse storage, this is suitable for clothing products. Rather than lay them on shelves, they are hung on tubular bars.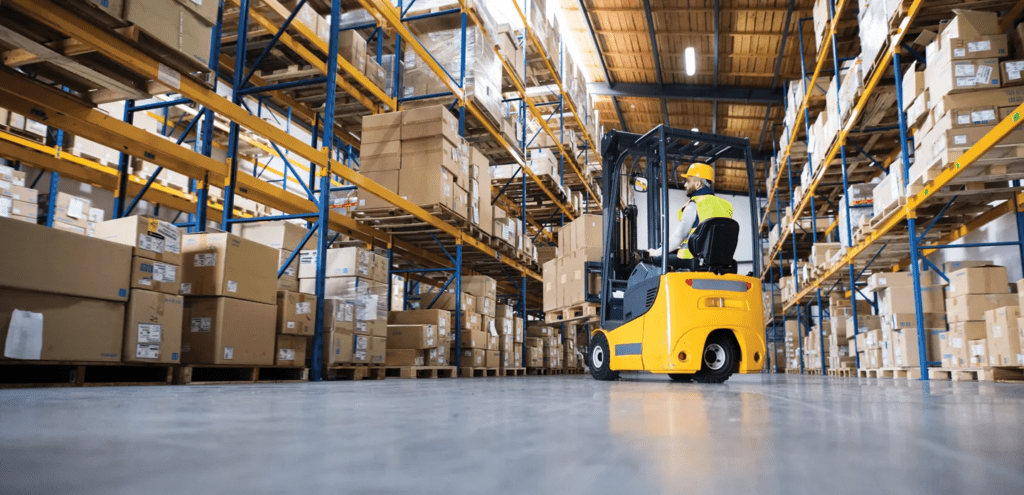 Specialized Warehousing Services
As a storage model authorized by customs authorities for the storage of goods, payment of duties is deferred until they have been passed for domestic consumption. With a bonded warehouse, the authorities ensure the company does not lose money when its products are released. Metal and merchandise industries utilize bonded warehousing.  
This involves the storage of goods specifically for online sales. The process includes warehouse personnel management, demand forecasting, inventory management, and product safety. Major e-commerce companies and online retail stores utilize e-commerce warehousing. 
A food-grade storage warehouse is a specialized facility providing different types of storage for food products. It serves as a link between food produces, retailers, and consumers. Food and drink production industries utilize food-grade storage warehousing.  
Hazmat and Chemical Storage
This warehousing service provides safe storage for hazardous materials and chemicals that cause health hazards. This is done through proper labelling of containers and regulation of environmental temperature. Pharmaceutical, agricultural, and chemical production industries are the primary users of this warehousing. 
Why Choose Fujairah For Warehousing?
Considering the ideal location to store your goods and inventories, here are reasons that make Fujairah suitable for warehousing.  
Industrial and Economic Zone
Logistics and warehousing services in Fujairah have gained massive development and relevance in previous years. New hotels have sprung up almost daily to accommodate the crush of tourists. Infrastructural development is growing in leaps and bounds with modern facilities like parks, schools, and colleges that have given the city a new look. These developments have made the region industrial-friendly and a powerful economic booster.  
Presence of High-Quality Warehouse and Logistics Firms Like Al Sharqi
With the offers of reputable warehousing services in Fujairah, such as Al Sharqi, you can easily find variety and quality warehousing services facilities.  
The great road networks in Fujairah makes transportation of inventories in and out of the warehouse hassle-free. As a result, goods can reach their destination without delays saving time and transportation costs.  
Availability of Airports and Seaports
The availability of airports and ports creates proximity to shipping areas. Having warehouses in cities with shipping ports and airports is ideal for effective operations and transportation of goods.  
What are the Idea Locations for Warehouses in Fujairah?
The Fujairah Industrial Area is near Al Wifaq and close to Al Ahli. Established in 2012 as a landscape contractor, Fujairah industrial area aims to improve green technology and warehousing services. The vision is to make the United Arab Emirates a rugged landscape and, consequently, an ideal location for logistics and warehousing services in Fujairah. 
The Fujairah free zone is a special economic zone located just north of the emirate's capital and run by the Fujairah free zone authority. The site is close to the Fujairah Oil Industry Zone and the Port of Fujairah, making it a viable economic region. The Fujairah  Free Zone is one of two prominent free zones in Fujairah, the second being the Fujairah Creative City. 
What Does Al Sharqi Provide in Warehousing Solution?
Exclusive Warehousing Solutions
Al Sharqi provides a complete solution of a typical warehousing company in Fujairah, such as the types and forms highlighted in this article. With this range of services, you can be assured of receiving warehousing services that fit your business needs.  
Optimized Smart Technology Processes
Due to its passion for innovation and service proficiency, Al Sharqi utilizes automation and digitalization tools in performing warehousing services such as documentation, record keeping, movement, and placement of inventories, to optimize its operational processes. This involves the use of automation and digitization in the different aspects of warehousing, such as;  
Documentation and records. 

 

Movement and placement of Inventories in the warehouse.
Safety and Security of Inventories
Al Sharqi's highly structured security system ensures the safety and security of inventories. With this system in place, storage and transaction records are well documented and quickly available for reference.  
Al Sharqi offers more comprehensive benefits to its customers through its value-added services and increases their satisfaction. These services are usually tailored to meet customers' specific needs and achieve a more efficient and flexible supply chain. Value-added services provided by Al Sharqi include the following: 
Warehouse stamps and labels place goods in proper storage locations according to their accurate specifications. This makes goods easy to identify and manage. 
Packaging and Repackaging
This service ensures products are packed and delivered to their destination uniformly and on or before the expected date. Products can be repacked when they need to be moved into the company's branded packing material or due to unique customer demand. 
This is an orderly picking process in which individual items of an order are picked and then packaged before shipping to the customer. Though it is a labour-intensive process, it guarantees the accurate distribution of goods. 
Promo packing activities offers a comprehensive solution to all your packaging needs. It encompasses services such as co-packing, sleeve wrapping, etc. 
This service involves picking a product in entire case or carton quantities from various storage mediums into pallets, carts, or conveyors. 
Cross stuffing refers to cargo loading in empty containers and sealing them. This is done before the containers are transported to the carriers.  
As a product-based business, having your warehousing handled by the right company offers you numerous advantages. From having your products safely secured to streamlining your operations to be more effective, A warehousing company in Fujairah like Al Sharqi proves your ideal consideration for warehousing services. Its range of warehousing solutions ensures there is a package for your business. 
Our customer service team is happy to assist you with planing your next booking.