DR CONGO Waiver FE​RI Certificate Services
Waiver Requirements For DR CONGO / ​​FE​RI
A FERI (Fiche Électronique des Renseignements a l'Importation) certificate is required for all shipments going to Democratic Republic Congo.
One FERI certificate is required per Bill of Lading (BOL) and must be obtained in the country of loading.
Shipping Ports in DR Congo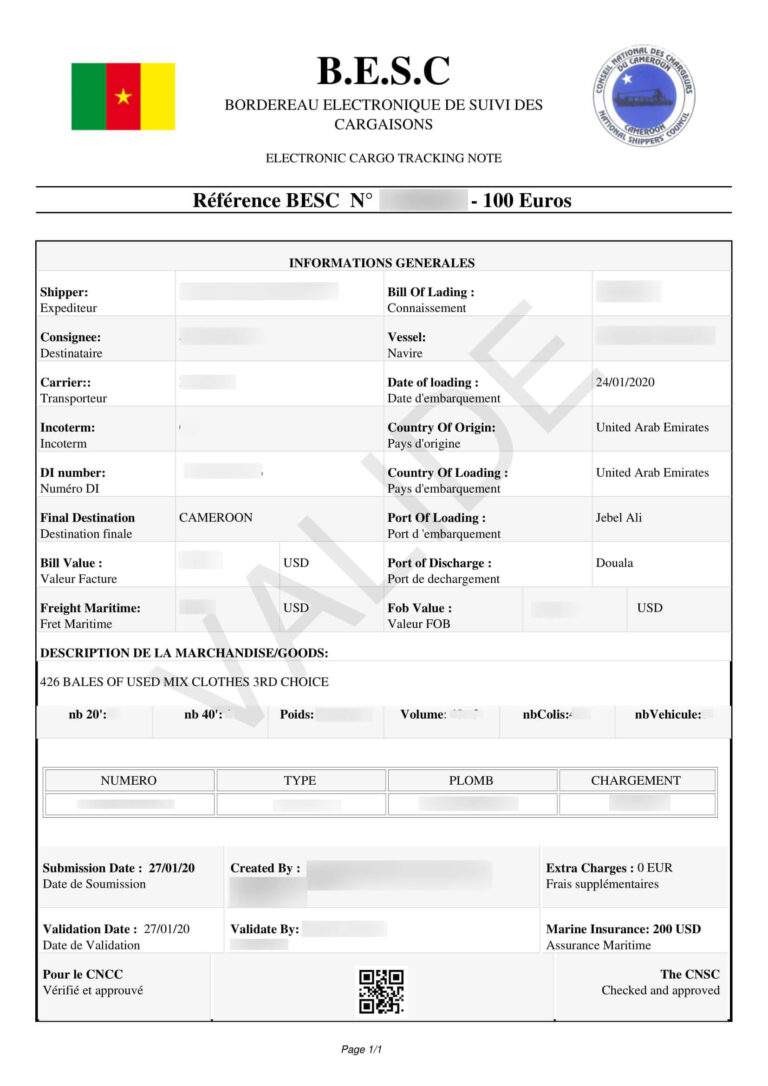 Pre Shipment Inspection for DR Congo
Pre-Shipment Inspection of imports for the Democratic Republic of Congo (DRC) is mandated by the DGDA (Direction Générale des Douanes et Accises) and OCC (Office Congolais de Contrôle), Ministry of Commerce.
Information and documents required for creating FERI Certificate
Shipping Goods Exempted from DR Congo FERI Certificate
Prohibited Goods for Import to Cameroon
'Mc Ray' scotch wiskey
'Ibéro' oil and 'Turkey Brand' vegetable oil
Skin treatment creams:
'Crusader' skin toning cream

'Mipipo' skin treatment cream

'Mipipo' hydroquinone lotion

'IKB' medicated cream

'Symbi' cream

'Elegance' skin toning cream

'Renue' super bleaching cream

'Amba' cream

'Desire' complexion cream

'Nice' super cream

'Tura' medicated cream
'HG 12' germicidal soap

'Jabiru' antiseptic germicidal soap

'Tura Savon' germicidal soap

'Mipipo' germicidal soap

'Roberts' medicated soaps

'Sukissa Bango' antiseptic soap

'Bexo' antiseptic soap

'Skin Guard antiseptic soap

'Bicu' soap
Captafol, dinoseb acetate (aretit), dinoseb, binapacryl (morocide), cyhexatin, dieldrin, aldrin, heptachlor, 2-4-5 TCP Trade names of these pesticides are listed thereafter:

Made from captafol: difolatan, folcid, merpafol, crisfolatan, folstaf, haipen, mycodifol, ortho difolatan 80, captalatan 80

Weed killers made from aretit: HOE 002904, evosit, phenotan

Made from dinoseb: subitex, vertac, Dinitro Weed Killer, basanite, chemox general, chemox, chemsect, dynamite, elgetol, hel-fire, kiloseb, nitropone, sinox general, unicrop, caldon, dinitro, DN289, gebutox, premerge, subitex, vertac

Made from binapacryl: acricid, ambox, dapacryl, dinoseb, endosan, morocide, HOE 2784, NIA 9044

Made from Dieldrin: alvit, dieldrite, octalox, panoram D-31

Made from Aldrine: alvit, dieldrex, dieldrite, octalox, panoram D-31, aldrex 30, aldrite, aldrosol, drinox, octalene, seedrin liquid

Made from heptachlore: drinox, H-24, heptamul
Restrictive Goods Shipping to Cameroon
Charges for Cameroon BESC Certificate
For creating a BESC certificate for Cameroon different rates are applicable. This depends on the Port of Loading and type of shipment, like LCL,  FCL,  Breakbulk or RORO.